When former Bosco presenter and actor Frank Twomey was asked to appear on Agony OAPs, the new 6-part advice show from RTÉ's The Lab, his first response was trepidation.
"What I was worried about was that it would be anachronistic", he tells RTÉ LifeStyle. "Old people trying to get in on the back of an online thing when they'd be better off at home saying their rosary!"
What it was, he says, was a natural and easy swapping of stories, life lessons and the kind of sage advice that's best doled out with a laugh. Sharing the couch with the likes of GAA legend Pat Spillane and former TD Mary O'Rourke, Frank joins our exalted gang of Agony OAPs answering questions about everything from fixing your phone to having a threesome. 
We need your consent to load this Instagram contentWe use Instagram to manage extra content that can set cookies on your device and collect data about your activity. Please review their details and accept them to load the content.Manage Preferences

But it's not the first time Frank has shared his wisdom on living life authentically. Viewers might remember him from the moving Dublin Bus advert that ran during Pride Month last year, wearing rainbow face paint and waving pride flags. Indeed, it was he who said when asked on the show how about coming out to family members, "If they love ya, they'll love you no matter what you are. You'll be free and the truth will set you free". 
Coming out can be an incredibly stressful time for many LGBT+ people around the world, with cultural prejudices, family circumstances and – in some cases – even internalised homophobia causing them to hide their real selves from their loved ones.
"In gay circles, there's a famous story about some Jewish guy in New York with the same problems," he says. "Somebody says, 'timing, timing is everything. Wait for dinner, dinner is a great time. Be casual, make it a joke if you can'.
"They're at dinner and the gay guy turns to the mother and says, 'Mom, pass the gravy boat to an old queen' and the mother passes the gravy boat to the father."
The point, he says, is that coming out should be a normal part of our lives. For many in his own family now, coming out is like "a party".
"Ireland is a very small place and everybody knows an aul' queen. There's one in every neighbourhood and people love them as people."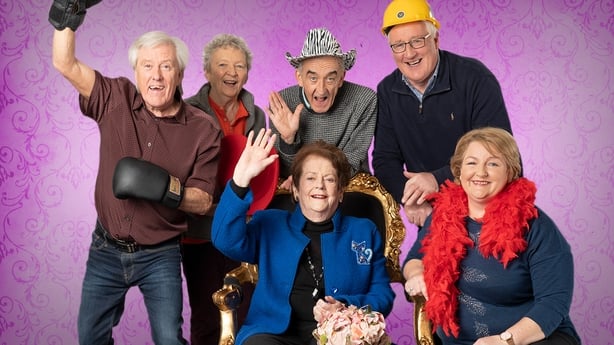 Most of the time, though, he says you won't need to tell them, and such was the case for him. "They knew. I was freaked out about it because it was a different era. We're talking the 80s, and it had yet to be legalised let alone same-sex marriage."
Those years were marked with "naked prejudice" he says, "but it didn't stop me from being gay. It meant that I was careful and I was very discrete because I had a government job". 
As for life now as a 65-year-old gay man, he says he's not so tied to the gay scene of clubs and bars but only because he's been there, done that. "It holds no attraction for me. I'm too old for that."
Instead, he's deeply linked to his own community where he lives, and no doubt will be even more so as one of the nation's Agony OAPs. With his fierce individual spirit and easy sense of fun, it's no wonder Frank draws in "people with broken wings", as he says. 
"I like that because I had people in my life when I was that age. I remember when I wanted to leave a government job to take up acting. There was not one person except my father who said 'You're doing the right thing'. Everybody said 'are you out of your mind?' And I'm still going! I'm 65 and I'm still doing advice programmes on national television!"