To celebrate the return of First Dates Ireland (can you believe we're on season five already?) Jennifer Zamparelli spoke with Rob Mac, a dater who has brought new meaning to the term ghosting...
The eccentric gentleman - who has a love for taxidermy, tattoos, and tarantulas - may seem like a tough character but insists that he's a softie at heart, and loves nothing more than bopping the night away at a Backstreet Boys gig.
"I studied music production in college. My main interest comes from pop music like Backstreet Boys and Enrique Iglesias," he told Jen on RTÉ2fm.
At the First Dates Ireland restaurant, Rob was paired up with 32-year-old Leona from Kildare and, happily, the two seemed to have more in common than they ever could have hoped for.
"I was absolutely floored," he explained. "It's just the most amazing thing. I've never met someone with so many similarities in terms of interest and music, it was just bizarre."
The pair seemed to hit it off immediately, discussing their shared love of stuffed crows, Halloween, and Bates Motel, but things took a slight turn when Rob raised the topic of losing his virginity. To a ghost, no less.
We need your consent to load this Facebook contentWe use Facebook to manage extra content that can set cookies on your device and collect data about your activity. Please review their details and accept them to load the content.Manage Preferences
Having spent much of his time in cemeteries growing up, thanks to his dad's job, Rob became increasingly interested in the supernatural. And, while living in an apartment that he believed to be haunted, the Limerick man felt the presence of a ghost.
"This entity started to appear to me frequently and the kind of relationship between her and I developed in terms of her understanding and nurturing and just being so kind. One night it did progress into something very physical and, yeah, it happened three times."
When probed for details, the ghost enthusiast described the spirit as a "white entity" that often visited his room and appeared to be very friendly. On the night in question, he says that she walked over to his bed and straddled him.
"I've never taken drugs in my life but I'd imagine that's how it feels, it was euphoric," he told Jen.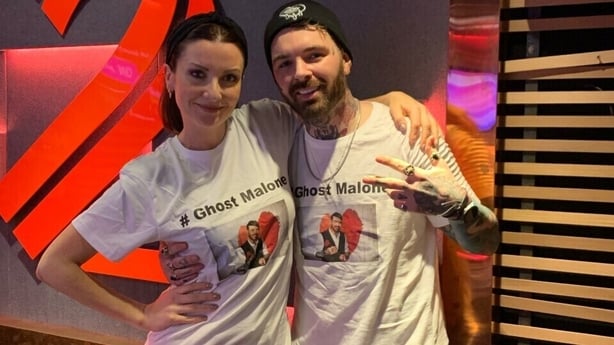 However, following these incidents, Rob says that the energy in the house changed dramatically: "We had to flee that apartment, basically. It became beyond active after that; there were plates smashing, there were lights going on and off. We just felt like we couldn't live there anymore."
As for his budding romance with Leona? Well, we'll just have to turn in to find out!
Tune into First Dates Ireland tonight on RTÉ2 at 9:30.