When Rebecca Devaney, an Irish art student from Ballinteer, Co Dublin, imagined working as an embroiderer in one of the haute couture fashion houses in Paris, she says she had a "very romantic notion" of it. "It was like a dream that I always wanted to do."
The reality was considerably less so: 12, 14, even 16-hour days, bent over a piece of fabric sewing sequins and beads by hand with the head of the atelier stood behind you, counting out "five minutes, four minutes" and so on until your deadline.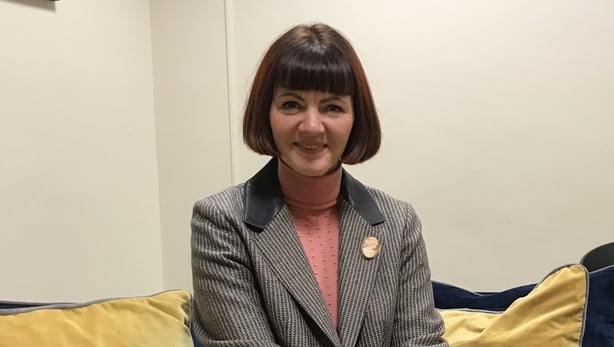 This was not "ladies sitting around doing needlepoint" as Mary Wilson said to the embroiderer when they spoke on Drivetime.
Devaney studied textiles in NCAD before traveling to Mexico on a research grant to explore how local people - mostly women - used embroidery in their crafts. Before long, she'd saved enough to enroll in the prestigious École Lesage in Paris, the heart of haute couture needlework. Since then, she has worked on exquisite pieces for Beyoncé and Catherine Deneuve, and with everyone from Dior to Chanel.
After six intense months of grueling training, Devaney mastered the techniques and joined recruitment companies with the aim of working with a fashion house. What followed was more Phantom Thread-worthy work.
"There are six seasons per year, and the embroiderers are called in generally at the very end. You're kind of the second-to-last in the chain of production. You'll be called in for two very intense weeks before the fashion show. You'll be working 12, 14, 16 hours a day", she says.
"Every bead, every sequin, every stitch is done by hand. That's what makes it haute couture. Hours and hours of work goes into each piece. Very hard on your eyes, very hard on your hands, your posture, and you can be working through the night, as well. "
"We'll be working on pieces and the head of the atelier will be standing behind you saying 'Five minutes, four minutes, three minutes...'"
"If you make a mistake all of your work has to be undone and you have to do it again. It has to be absolute perfect."
While the houses can be "secretive" about what celebrity will be wearing the gowns, Devaney has worked on pieces for Saint Laurent that were worn by brand ambassadors like Charlotte Gainsbourg and Kate Moss at the Cannes Film Festival.
"There's a really great thrill and it feels quite surreal as well when you're seeing the gowns on Vogue or in magazines or on the TV afterwards."
While her hands are high-trained tools of beauty, there is little room for creativity: "You are following the designs of the designers in Dior or Chanel. You can't add a personal touch, you have to follow the designs literally to the millimetre. There's a huge amount of skill and savoir faire but they're not interested in your creativity."
And despite the years of training many crafts people undergo, the rewards are not as high as you'd think. "I would be working with embroiderers who have been embroiderers for 40 years and you're paid on average €13 an hour if you're working for a recruitment company.
"An awful lot of the promotion that Chanel and Dior do for their haute couture is around the embellishment and embroidery and savoir faire behind that. But I know that embroiderers in Paris find it very difficult to make ends meet."
Contrast this with the sky-high prices for haute couture pieces: "I was working with Celine on their pret a porter and I was working on a beaded coat and we were working on it for two weeks straight. That wasn't haute couture ... and I think that was being sold for €100,000. But every bead was being added on by hand and then secured by hand."
Although haute couture is the pinnacle of fashion, it's not immune to the affects of fast fashion, Devaney says. "Haute couture is becoming much faster. In the 1950s there were only two collections per year. Haute couture is a completely different market so there's completely different demands and one of the specifications of haute couture is that it is all made by hand by crafts people."
Devaney herself avoids buying new clothes as much as possible and instead will shop vintage or in charity shops - specifically the Oxfam in Dundrum. "That's a very conscious decision."
Listen back to her full conversation about what happens to the couture gowns after they're worn, and how haute couture can meet sustainable fashion, by clicking here or the video above.