Documentary director John Downes of RTE's in-house Factual unit writes about this Monday's One Day: Keeping Ireland Safe, the second of three new episodes of the hugely popular TV series which focuses on the people working behind the scenes in Ireland's safety and security industry.
Door supervisors in Paris, Donegal. Driving instructors at Mondello Park. Theatre hygiene attendants in University Hospital Limerick. All are a snapshot of the types of characters and locations in this Monday's One Day: Keeping Ireland Safe, but they're also an insight into the sheer variety of people involved in our growing safety and security industry.
By 9pm in Naas, Co. Kildare, the evening shift is well under way for Garda Elaine Byrne. Her patrol car will cover 150 kilometres or more every day in a district that has both rural and urban areas.

One Day #KeepingIrelandSafe, Monday at 9.35pm. pic.twitter.com/mCCbMvLmbD

— RTÉ One (@RTEOne) 11 January 2020
In fact, around 100,000 people – approximately 5% of the Irish workforce – work in a job that involves safety in one form or another.
Every day, and every night, this veritable army of people drawn from all walks of life work on the frontline – and behind the scenes – to keep us safe.
As a documentary team, we were acutely aware from our earliest planning meetings of a major challenge: how to adequately capture such a diverse world over the course of just one typical day.
As ever when filming the One Day series, aerial drones, Go Pro cameras and other more typical documentary filming equipment all formed part of our visual story-telling toolkit.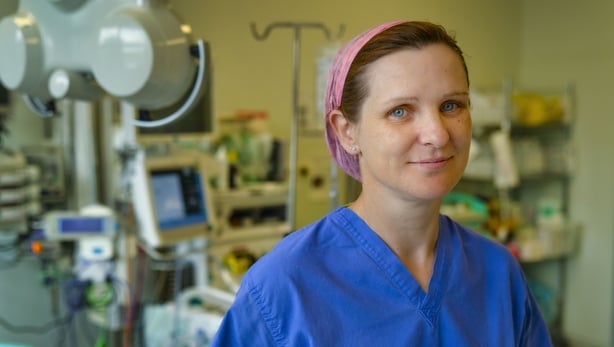 But some of the statistics that our research threw up soon got us thinking, too.
Liz Burke applied for her job as an air traffic controller in 2008, after answering a newspaper ad and having previously worked in a betting shop. She and her colleagues will together keep 375,000 passengers safe in Irish skies every day.
"I'm definitely not afraid to assert myself when I'm in position," she explained, the epitome of calm under pressure as we filmed her in situ at Dublin airport's control tower guiding giant passenger jets into land. "It's important that you can stand up and say 'No, this is what I need you to do.' And the pilots understand that as well. If we tell them to do something, they know it's for a reason."
With the country currently in the grip of another seasonal flu outbreak, we learned that staff at University Hospital Limerick will get through almost 800 litres of disinfectant in just one day attempting to prevent the spread of infection.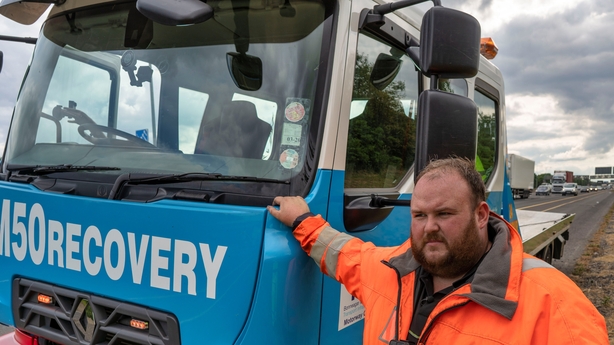 Perhaps little wonder then, that theatre hygiene attendant Monica Griffin joked to us how "it would be a handy job if only people just stopped touching things in the theatre."
On One Day, busy commuters will make over half a million trips on Dublin's M50 motorway. Motorway recovery technician Keith Kelly is one of a team who travel over 3,000 kilometres a day rescuing those poor unfortunates stranded on Ireland's busiest motorway.
"My job involves anything from a breakdown to a serious collision involving trucks, buses, army tanks. Anything that's on the road we could get a call for, including fatalities," Keith says while sitting in his heavy recovery vehicle. "With the amount of service stations that are just off this motorway, the mind boggles how anyone could run out of fuel on this road."
Sixty crimes involving physical assault and robbery also take place in Ireland on just One Day. But for martial arts expert Aidan Carroll, self defence begins with avoiding a confrontation in the first place.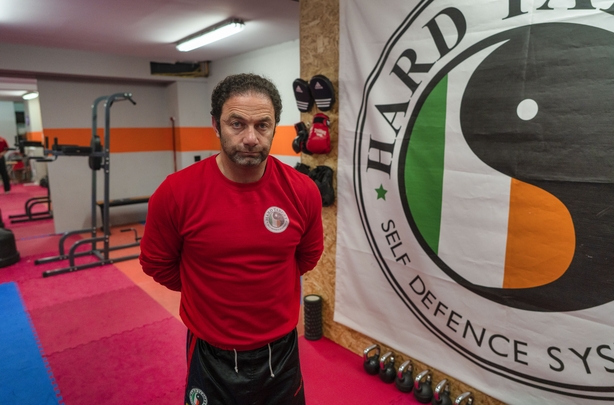 "One of the things I often say to people when they come in is I'm going to teach you how not to fight. That always raises a few eyebrows," he told us, before adding: "Violence is very rarely the answer, but when it is, it's the only answer."
After more than 20 years on the job, door supervisor Denis Daly at Bundoran's Paris nightclub disclosed some of the tricks of the trade.
From spotting fake ID's, to preventing young punters from accessing the club via "alternative methods" of entry, his emphasis is- much like Aidan's - all about avoiding trouble in the first place.
In particular, we watched as he employed an impressive range of techniques to ensure any "handlings" – a local term helpfully defined by him as "when there's a full scale riot on the dance floor" – did not escalate.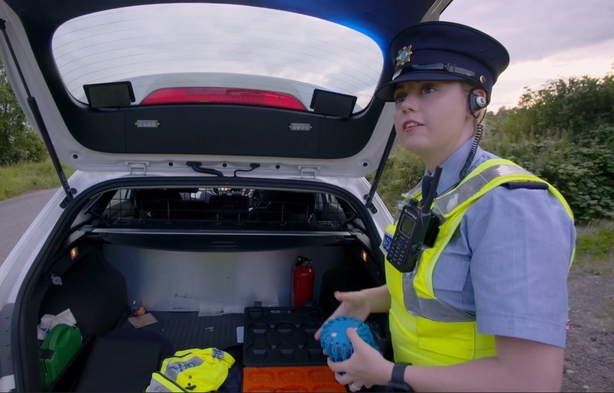 Garda Elaine Byrne puts this safety-first approach another way, developing a theme common to many of our contributors. We followed along in her squad car as she patrolled the streets of Naas town well after midnight hoping to nip any drink-fuelled trouble in the bud.
"If something's about to kick off you get a sense of that in the atmosphere," she confided.
As we finally prepare to go to air after almost six months researching, filming and editing this hour-long documentary, I could hardly agree more.
- John Downes
One Day: Keeping Ireland Safe airs at 9.35 pm on RTE ONE, Monday 13th January. The series concludes on Monday 20th January with One Day: How Ireland Unwinds.