We've watched him argue over pebbledash, lobby for pergolas and grapple with glass bathtubs - all that in just the most recent series of Room to Improve.
Now, Ireland's most famous architect is opening the doors to his most ambitious project yet, his own home, and the country is waiting with bated to breath to see how Dermot can improve on ... Dermot.
In a new two-part RTÉ special, Room to Improve: Dermot's Home will follow along as the project moves from "dream job" to "a nightmare" and ultimately to the "secret" project he can't stop showing photos of to people.
Time's running out, the stakes are higher than ever and the tables are turned.

Can @DermotBannon separate his head from his heart as he embarks on his most personal project yet – the family home of his dreams?#RoomToImprove pic.twitter.com/piM6cPDPab

— RTÉ One (@RTEOne) January 1, 2020
In part one tonight, we'll see Dermot in the heady and optimistic early days of the build. He spoke to us about what the project has shown him, what it's taught him about clients and why he'll never work with himself again.
"I thought it was going to be the dream job", he says. "I thought I was going to enjoy every second of it and I enjoyed none of it. At the end of it, I was literally crawling to the end.
Faced with total creative freedom, the start of the build was an architect's dream come true. "The early stages are like planning the dream holiday, it was like 'do you dare to dream?' A situation would come up and it was like, I can do anything I like here, it was incredible", he says.
"But once it got to site and deadlines, that bit me in the back because I couldn't make up my mind. You have nobody questioning you, nobody telling you you can't do it. It's disabling. I was an absolute nightmare as an architect on site."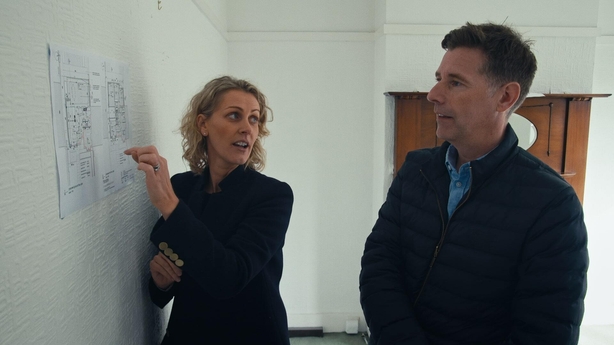 Soon, Ireland's most famous architect was struggling with self-doubt. "You're building things in block, you're putting down a terrazzo floor in a certain colour - these things can't be changed. My big thing was natural materials, but because they couldn't be painted or resurfaced, you have to live with them permanently. With that, everything became a pained decision."
Suddenly on the other side of the swatches, torn between colours and finishes for weeks, Dermot found himself seeing how things can be for his clients. He says that often he'll hand clients a few options and suggest a favourite, "and they wouldn't really believe you".
"Now I understand because I was there in the middle of it."
As always, it's the unexpected things that go the most wrong, and this was no different for Dermot. "I had made this decision to put this big glass wall along the back of the house because the garden was great. And then … the garden wasn't great.
"In the middle of all the stress and strain and financial burden of the house, I had the garden land on top of me."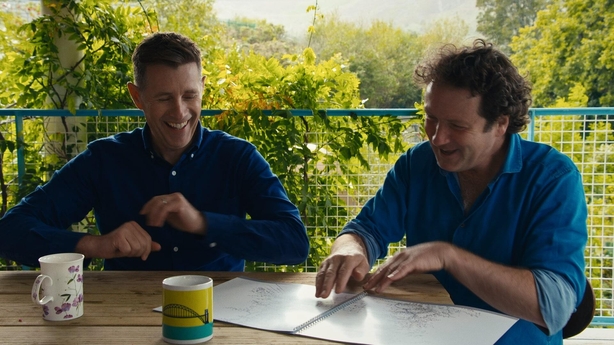 But it's the unexpected that can often bring about the best rewards. Diarmuid Gavin came on board with a great concept that required more money to build. So, on the days he was supposed to be resting, Dermot was "labouring on site" with his cousins. Hard work aside, he says this was one of the more "brilliant" parts of the build as he was on site every day, reconnecting with cousins.
"Every time I look out at it it takes my breath away. When people call to see the house now, I take them out to the back garden first. Everything else in the house, my hand is all over it, whereas when somebody else designs something it's like being handed a gift."
Perhaps the most fascinating part of the show will be seeing Dermot's own sense of style let loose in ways we don't see on Room to Improve. After years of integrated this, pebbledash that and many tasteful renovations for other people, what will a fully Dermot Bannon home look like?
"I didn't really know!" he says. "It'd been 13 years since we'd done up a house. It was all about natural materials and what I wanted to do was make a really crisp, clean, modern house but also I discovered I like cosy spaces, that wrap you up in a blanket. So how do you make something that's really clean and also really cosy?
"I followed my gut as much as I could on the house but after a while your head starts taking over and that's where all that internal turmoil happens. That's when I had to bring in friends, asking "Am I right?". I needed to have 25 people telling me I was right before I made a decision."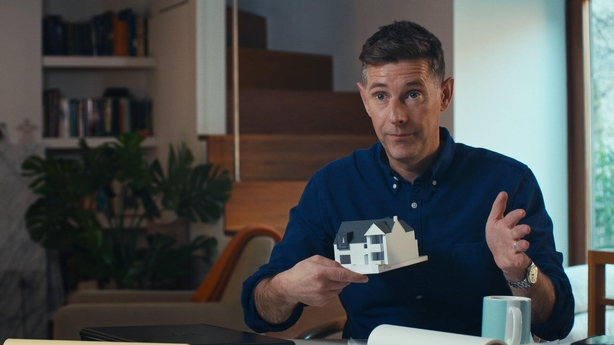 Seeing a project from both sides - architect and homeowner - is an enormous challenge, and it certainly broadened how Dermot sees his clients. Will it change how he works with them?
"Yes, it probably will but a lot of the time when you're an architect you have to make the best decision for them, and that might not be what they feel like doing at that time", he says.
"Sometimes you've got to just park it. It's a bit like when they say doctors shouldn't operate on their own kids because emotions come into it! Doing a house like I've just done is not just hard work and stressful, it was actually emotional. That's the bit I empathise with now, but you have to still park that because, otherwise, you'll never get anything done."
But the question is, would he work with himself again?
"Never!"
Watch part one of Room to Improve: Dermot's Home at 9:30pm this Sunday 5 January on RTÉ One.