Is there an architecture show-shaped hole in your life? Missing pebbledash, plywood and soft furnishings in every shade of the rainbow? If so, don't worry: Home Rescue is back for another season, with architect Róisín Murphy and builder Peter Finn together again.
Whether fighting clutter, knocking down walls or helping families trim the fat from their lives, the winning team are here to brighten up our days again. 
We're all for the sustainability here on Home Rescue.#HomeRescue pic.twitter.com/2axzg4XwLE

— RTÉ One (@RTEOne) December 17, 2019
On last night's episode, we met Dolores, whose family are staging an intervention. Over the past decade, her three children have moved out of their Laois home, and clothes hound Dolores has moved more clutter in. Her modest home, which she shares with husband Liam, is fit to burst with all the clothes, shoes and trinkets from community events. 
Click through the gallery above to see the before and after photos of this Co Laois home.
While she has gathered many things, it's clothes that take up the most space in Dolores's home. She has a jumper in every colour and over 50 pairs of shoes. She doesn't believe in throwing old clothes out because "everything comes back into fashion".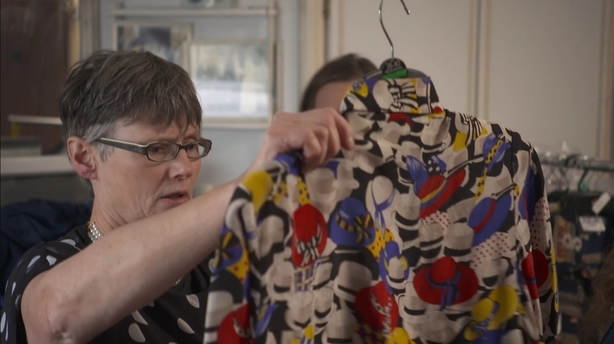 She still has her 1980s power suits from her days working in an office and a jumpsuit she wore to her 21st! Also, hidden in a wardrobe is the dress Dolores wore at 11 years of age for her confirmation.
Just as important as memories is her community. Dolores runs local bingo once a month and also organises fundraisers and an annual ladies lunch. All the bits and bobs needed for these events have gathered in her home: signs, glasses, tablecloths, flowers and dishes
And of course, each event also requires a new outfit!
Dolores's house is also topsy-turvy, as she uses her dishwasher to dry and not wash her dishes. Although she loves country music and dancing, she buries her record player on the kitchen table, and there's no room for tea and a chat, let alone a square dance!
Róisín's design challenge in this house, is only one aspect of this Home Rescue. Convincing Dolores to let go of clothes and event props will be a completely different task for the clutter busters to tackle! This dedicated fashionista will have difficult choices to make!
With a sense of humour, Dolores and her family will laugh their way through the rescue and Róisín, Peter and the team may have to deliver lots of tough love along the way!