You know Christmas is really upon us when the Goop gift guide drops. Gwyneth Paltrow's lifestyle brand can always be relied on for some giggles – after all, in the past, it has given us recipes for 'sex bark' and extolled the benefits of vaginal jade eggs.
if you're ever bored go check out the goop gift guide articles. equal parts entertaining and ridiculous.

— bėė løvēs brü 🐇 (@jeaungin) November 26, 2019
The gift guide is Goop at its Goopiest – in previous years it has suggested gifting your loved ones gems like a camel milk subscription service or a surf swing, so obviously our expectations for the 2019 edition were high.
And it does not disappoint. Here are some of the more ridiculous items in this year's gift guide – they might not be wholly practical, but they are definitely worth a look…
1. Smoky quartz crystal-infused water bottle
Having your own reusable water bottle is pretty much par for the course these days, but what if you wanted to make the vessel a lot Goopier? Luckily, a water bottle from Glacce, with a crystal inside, will definitely do that. Goop says: "According to crystal lore, smoky quartz anchors the root chakra, amplifying good intentions, cultivating serenity, and guarding against bad vibes."
Apparently Glacce, was set up after one of its owners had a prophetic dream. Crystal-infused water must be in high demand as the $80 bottle is currently sold out.
2. Temperature control bracelet
If you're the kind of person who can't be bothered to put on an extra layer when you're chilly, or take one off when you're feeling the heat, the Embr temperature control bracelet could be the thing for you. Goop says it "acts as a personal thermostat", sending warming or cooling sensations to your skin when needed. The Embr Wave Bracelet is $239.
3. Fancy toilet paper
If you were under the impression Paltrow was the kind of person who got her loo roll from the supermarket in bulk, this list suggests otherwise. Instead, Goop fans are encouraged to buy No.2 Toilet Paper, made from 100% sustainable bamboo. The Goop bio praises its "chic dark floral packaging", which is probably the first and only time we've noticed toilet roll wrapping.
4. Brass fire extinguisher
Goop is on a mission to make even the dullest of household safety items seem glamorous. Take this brass fire extinguisher from Safe-T, which is significantly more luxurious and chic than your run-of-the-mill extinguisher.
5. Hydration reminder
Drinking water is big business. Not only do you have fancy water bottles to buy, there's also newfangled tech like the Ulla Hydration Reminder to consider. It's a device you attach to your bottle which tracks how much H2O you're drinking and reminds you when to sip more. One Ulla costs €30.
6. Dehydrated caviar bar
Admittedly Goop does have a little bit of self-awareness, because this particular product is in the 'Ridiculous but Awesome' section of its gift guide. The bio reads: "Dehydrated caviar. Need we say more?" No, it's not like a chocolate bar. Instead, this Calvisius product "can be grated finely or simply sliced into paper-thin sheets," – and costs €75 for a 30g bar.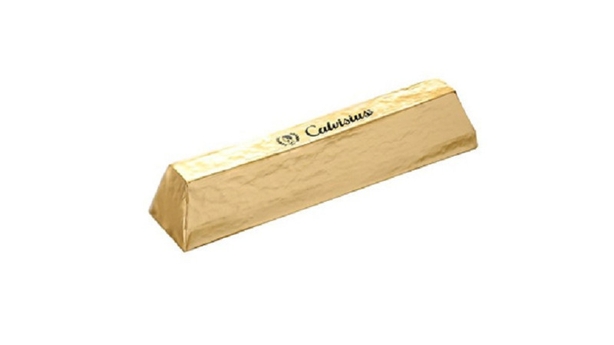 7. Gold sculpting bar
This face sculpting tool by Jillian Dempsey – not only does it use subtle vibrations to apparently sculpt your face (whatever that means), it is also literally made with 24-karat gold. Oh, and it will set you back about €221.
8. Smartphone controlled paper airplane
Goop argues that low-tech toys are a thing of the past, so instead of folding up a piece of paper and flying a makeshift plane, you can take things to the next level with this smartphone-controlled paper plane. If a piece of A4 won't do, this basic kit costs $44.95.