For 37 years, the late Gay Byrne hosted The Late Late Show, in the process, changing the social and cultural fabric of this nation. Michael Doherty reports Gay in the LLS studio (1966) Gay Byrne's last Late Late (1999)
It all started innocuously enough. In 1962, Ireland's fledgling television station, Telefís Éireann, was looking
for a temporary programme to fill eight weeks of its first ever summer schedule. Aimed at a niche, late-night audience, the programme in question was called e Late Late Show and hosting duties were handed to Gay Byrne. e 27-year-old Dubliner had broadcasting experience on Raidio Eireann and also across the water for both the BBC and Granada, where he was the first presenter to introduce a little known beat combo called The Beatles to UK television audiences.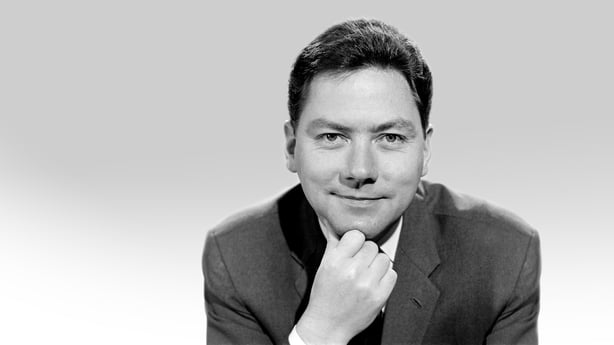 The first-ever Late Late Show went on air on Friday, July 6, at 11.20pm (following Late Sports with Brendan O'Reilly) and scheduled to run until 12.20am. Described as 'a programme for late viewing', that opening
night roster of guests included Danny Cummins, Liam O'Briain and Veronica Mullen. According to the RTV Guide billing that week, host Gay Byrne would 'set the ball of conversation rolling in a lighthearted fashion.'
That he certainly did, but far from being a frothy summer filler, The Late Late Show quickly became an enduring and popular staple of the schedules. This was watercooler TV long before such a phrase had been coined, as A-listers (again, long before there was such a thing as an A-list) lined up to share their anecdotes. One show alone offered Irish TV audiences the chance to get up close and personal with Peter Sellers, Matt Busby, Trevor Howard, Jack McGowran and Gay's own broadcasting hero, Eamonn Andrews. Throughout his tenure as Late Late host, Gay got to speak with the very biggest names in the worlds of entertainment, sport and current affairs, from Audrey Hepburn to Mother Teresa (two of Gay's favourite guests), and from Peter
Brooke to Annie Murphy.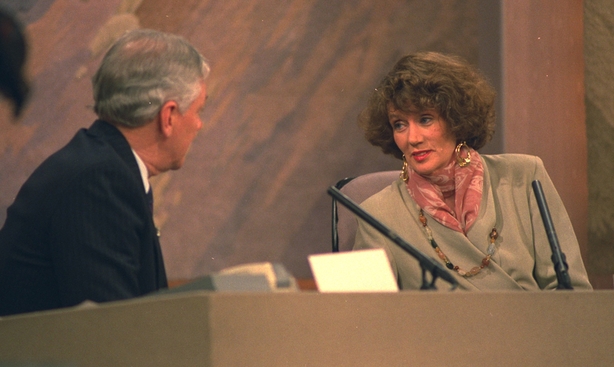 As promised in that opening night's billing, Gay Byrne did indeed 'set the ball of conversation rolling in a light-hearted fashion', but it wasn't long before the ball of conversation rolled in a much more serious fashion. Though he always claimed to be little more than a facilitator, there is no doubt that Gay was a hugely important agent of social and cultural change in Irish society.
As host (later producer) and father confessor, he took topics that had hitherto been taboo and brought them into the nation's living rooms. Pulpits were shaken, horses were frightened and croziers were wielded as the show brought us bishops & nighties, condom demonstrations and heated debates about divorce, homosexuality and abortion. When Fine Gael minister Oliver J. Flanagan famously stated that there was "no sex in Ireland until Teilifís Éireann went on the air", it was clearly The Late Late Show he had in mind.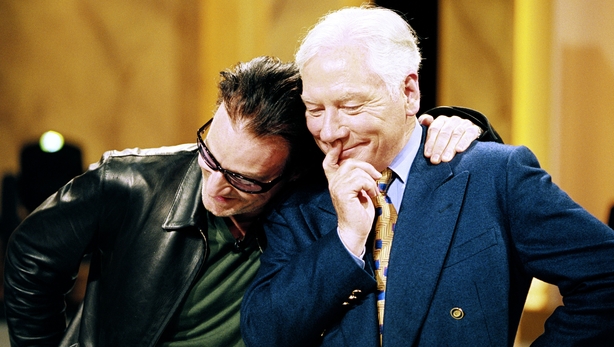 In 1999, after 37 years at the helm, Gay Byrne vacated the Late Late hot seat in style, riding off into the sunset on a Harley Davidson presented by U2. The RTÉ Guide billing for that night, Friday, May 21, 1999, simply
read: 'The Late Late Show with your host Gay Byrne – for the final time'. The baton was passed to Pat Kenny, in turn passed the baton to Ryan Tubridy in 2009. Ten seasons later, Tubridy continues to steer the flagship chat show, generating headlines, notably with the success of The Late Late Toy Show, the popularity of the Country Music tribute shows, and the notoriety of those St Valentine's Day specials.
57 years after its debut, the legendary show still manages to get people talking (and tweeting)…but it all began with Gay Byrne.
Remembering Gay...
Joe Duffy: Gay Byrne was 32 and already Ireland's biggest star when I asked him for his autograph in Dublin's Moore Street in 1966. I was ten years of age then, and didn't become a friend of his until I went to work for him when I joined RTÉ in 1988 – when I was 32.
To so many in the business, including myself, he was helpful, generous and a mentor. Gay was a true believer in the showbiz adage that if the elevator takes you to the top, remember to send it back down for others. And no other single individual had a greater influence on national life – in any country – than Gay Byrne
in the last half-century.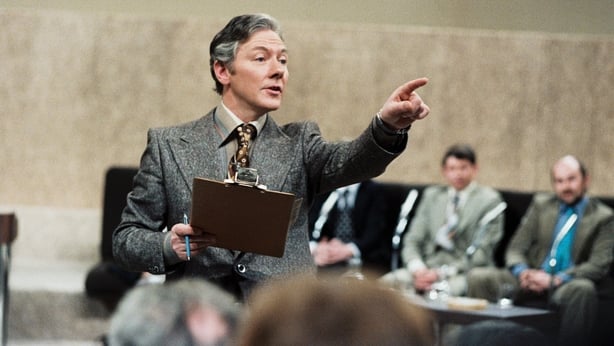 He was a mere 26 when he started The Late Late Show in 1962. Suddenly a dull, grey Ireland, still reeking of economic starvation and stultifying conservatism, was prised open by Gaybo on TV and, beginning in 1972, his top-rated morning radio 1 show.
And let's not forget his other great TV work: the powerful Meaning of Life, The Rose of Tralee, Who Wants to be a Millionaire?, and of course, the RTÉ People in Need Telethons. His deft touch, plus a serious attitude to his work, meant that he could do heavy and light items with equal aplomb – a magnificent gift. Meanwhile, his beautiful speaking voice, classic good looks and deep intelligence meant that he had an unequalled range of long-time loyal fans and friends.
Studio 5 in the RTÉ radio centre and Studio 1 in the TV building somehow felt quieter when Gay retired. All who worked with him over the years are saddened by his passing, as are people all over Ireland and beyond, but his loss to his beloved wife Kathleen, cherished daughters Crona and Suzy and their families is incalculable.
Claire Byrne: It's difficult to adequately express the role that Gay Byrne has played in my life. From reading his book, The Time of My Life, when I was 12 years old, and watching and listening to him right throughout my formative years, to then being lucky enough to have him as a friend and mentor in recent years, his support has made an immeasurable difference to me.

For me, he is the undisputed master of the interview, both here and internationally. Gay had a skill that, to this day, I learn from, try to emulate and hugely admire.The best days in work were the days when a text came from Gay to say he liked a show or that he thought I did something well. I will sadly miss those messages, but I'll keep learning from him.
Gay was tremendous fun, warm and kind; we often joked that he was my broadcasting dad. Rest in peace, Gay, you'll be so sadly missed and so fondly remembered. And thank you.
Miriam O'Callaghan: Gay was a broadcasting genius, so natural and relaxed on camera and in front of a microphone. He was also always incredibly generous with praise if he liked an interview I had done. I learned so much from just watching the master at work.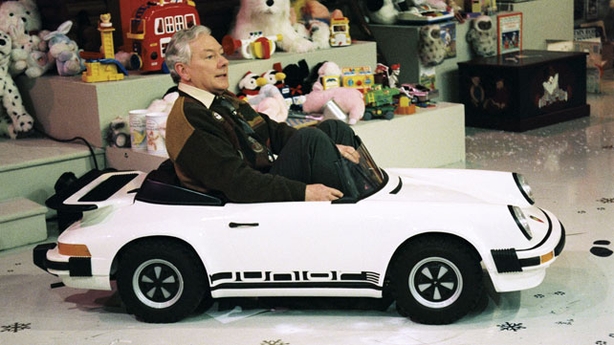 There were so many standout moments in his career for me, but I was especially touched by The Late Late
Show he did with some of the victims of the Omagh bomb. At one stage he went into the audience to speak to a beautiful young woman who was blinded by that bomb. He sat on the step and as the young woman spoke so movingly about what happened, conscious she was blind, Gay at one stage just very gently touched her face in a remarkably soothing and caring gesture. It made me cry.
The man was the greatest broadcaster I have ever seen and we will all miss him very much. He is most certainly in heaven. My thoughts are with his broken-hearted family.

Bryan Dobson: Gay is the master interviewer not because he's aggressive or obviously probing but because he lets his guest talk. At his very best, his interviews aren't interviews at all, they are conversations. It looks and sounds so easy but Gay cracks the very hardest nut for any interviewer; he makes his guests forget the microphones, the cameras, the audience. And that is why, so often, his guests opened up to him and perhaps said more than they intended.
But of course, behind those seemingly effortless and revealing conversations is detailed preparation. It is evident in the questions and in the flow of the conversation. And Gay is an outstanding listener, perhaps the
hardest skill for an interviewer to master. He had one more principle: Nothing is ever out of
bounds with Gay Byrne.
Dermot O'Leary: Gay Byrne is absolutely a legend of broadcasting and had a huge influence and impact on me growing up. He is properly up there with the greats and his impact on Irish culture and modern Ireland can't be underestimated.
Marty Whelan: There's something about being in Gay's company. A first night, a launch of a book, a coffee for two, a long lunch. Those of us who've been around a while on national radio and television can't actually go anywhere in Ireland without being recognised. It's fine, it goes with the territory, and as the old phrase goes; 'When they stop recognising you, you're in trouble.'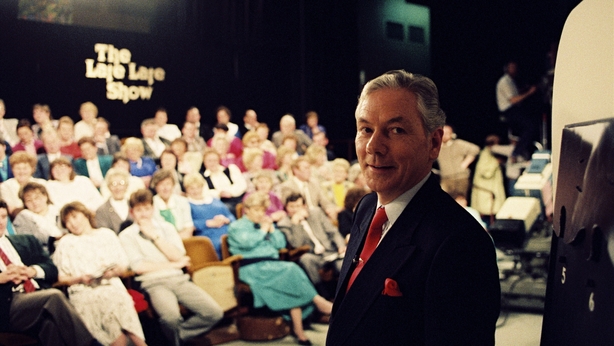 With Gay, it takes on a whole other meaning. You see, 25 years of The Gay Byrne Radio Show, 37 years presenting The Late Late Show, 17 years at The Rose of Tralee will do that.
He has been at the helm of events that changed this country for over 50 years and yes, everyone knows him. Also, because he was brilliant at what he did. From his love of jazz, to coaxing conversation out of people who don't wish to talk, to bishops and nighties! Whether introducing that first Boyzone performance, enjoying Peter Ustinov or on-form Peter Sellers everything was handled the Gay Byrne way.
His handling of seminal moments on radio and television are unmatchable. He was a man I respected, admired and am so lucky to have spent time with over the years. A lingering coffee morning, a much more lingering lunch and late night into the morning chats in Tralee when the Roses are tucked up, advice, admiration, warm heartedness; the best of the best.
We'll all miss the broadcaster; I'll miss the man I've come to know and cherish even more. "Hello son", he'd
say like I was 12. Yet one to one it was equal billing. That's class.
Brendan O'Connor: There was never anyone to touch him. Lots of imitators, but no one comes close. You see clips now and realise how this man who lived in all of our houses was so young then, and so vibrant and so daring in lots of ways.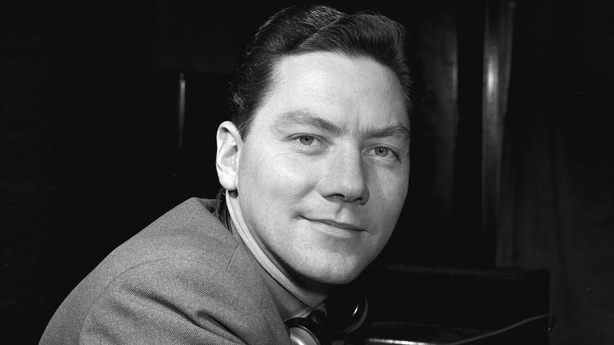 President Michael D Higgins: Gay Byrne was someone who exuded warmth and presence, who was possessed of effortless wit, charm and who had a flair for broadcasting.
Dee Forbes RTÉ Director General: Gay was an exceptional broadcaster whose unique and ground-breaking style contributed so much to the development of radio and television in this country. Gay's legacy is as colossal as the man himself – he not only defined generations, but he deftly arbitrated the growth and development of a nation.
Ireland grew up under Gay Byrne, and we will never see his like again. My deepest sympathies to Kathleen and his family.