Shawna Scott from www.SexSiopa.ie visited Jennifer Zamparelli in studio to review some of her favourite sex and relationship podcasts. Listen back above.
"Podcasts are the perfect format for it," Shawna told Jen. "You can say swears on a podcast that you can't say on the radio and you can talk about things more in-depth than you would be able to, so I really love it as a format for talking about sex."
"I love using them as a tool to talk to your partner about different aspects of sexuality," she continued. "I think it expands and broadens your horizons a little bit. It might inspire you to something new and different in the bedroom that you might not have thought about otherwise."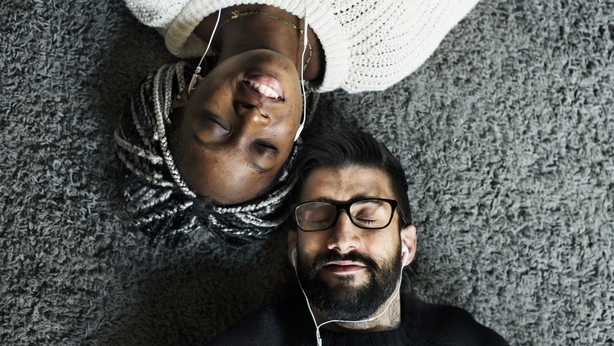 1. Savage Lovecast
In 2006, author and sex-advice columnist, Dan Savage launched Savage Lovecast, a weekly, call-in advice podcast that touches on cultural conversations about monogamy, gay rights, religiosity, and politics.
Shawna's review:
"Savage Lovecast is hosted by syndicated sex columnist Dan Savage, he's been around for almost 30 years. I love him, he's great because he does have so much experience, he's been doing podcasts for as long as podcasts have been around. He's one of the first adopters of this format.
"He has a great mix of guests, he'll have doctors and dominatrixes. At one point, he had Abbi and Ilana from Broad City on - just a really good mix of experts. If he feels he can't speak on a subject, he'll get someone in to talk about it.
"It's very informative, very funny, he gets listeners to call in with their sex problems and he'll either try to fix them himself or get someone else with more expertise in."
2. The Shift
New York-based, Irish-bred comedians Katie Boyle and Des Bishop are two singletons trying to navigate the ever-changing world of sex and dating. Representing different generations and genders, the unlikely pair tackle a whole host of topics ranging from monogamy and masculinity to plastic surgery and porn.
Shawna's review:
"The Shift is hosted by our own Des Bishop and Katie Boyle. We know who Des is, but Katie is a stand-up comedian as well.
"The two of them, together, are coming at it from a more non-expert place but it's nice because that's the magic of it, they bring up conversations around sex and sexuality.
"I've been on the podcast and a lot of it is Katie saying, 'I've never done that before' and Des saying, 'you absolutely need to try that'. So when I was on, we were talking about sex toys. I gave Katie a vibrator, she went off and tried it, and a couple of weeks later came back and gave her little book report."
3. Pure Filth
On Pure Filth, host Michelle McCormick brings listeners on an uncharted journey through Ireland's sex life, swing scene, kink, dating, relationships and more. So far, episodes of the podcast have covered fetish clubs, sexting, HIV, and online censorship - to name but a few.
Shawna's review:
"Pure Filth is another Irish sex podcast. It's hosted by Michelle McCormack and formerly Sarah Tyrrell. They are coming at it from a slightly more [Irish view] than Des and Katie. They both are single ladies dating in Dublin, they're on multiple dating apps, and they talk about dating and sex from a very Irish context.
"Des and Katie are off dating in New York, Michelle and Sarah are dating in Dublin so it's nice to listen to those two podcasts back to back, that way you can kind of get to see the differences of dating in Ireland and New York."
4. Our Sexual History
While chatting with Jen, Shawna mentioned her own podcast which she hosted on HeadStuff back in 2016. Our Sexual History looks back at Ireland's relationships with sex, the history of leather culture, the wide-ranging social implications of having syphilis in the Victoria era, and much more.
Noteworthy mentions
Aside from the above podcasts, Shawna's other recommendations include...
Audible
"You can go onto Audible and download some erotic fiction and listen to that to get in the mood."
Ferly
"I discovered a new app called Furly - it's brilliant. They do guided sensual visualisations. It's supposed to be like mindfulness for sex."