Janice Butler talks to three midwives making an appearance on this season of The Rotunda – Ellie McGrath, Kayla Lafferty and Jenny Power about the highs and lows of bringing new life into the world.
The Rotunda, a surprising hit from RTÉ's schedule last year, returns this week with eight new episodes and plenty of emotional childbirth stories as the camera crew get special access to Ireland's oldest maternity hospital.
Whether you're a parent who has been through it all yourself or just curious as to what happens once the contractions begin, you can't help but be moved by the stories of the couples and staff involved.  
All life is here: admirable midwives; helpless dads-to-be; magnificent mothers, gasping on gas and air and emitting howls as they bring new life into the world; and of course, the babies, blinking in the light and bleating as their lungs fill with air for the first time.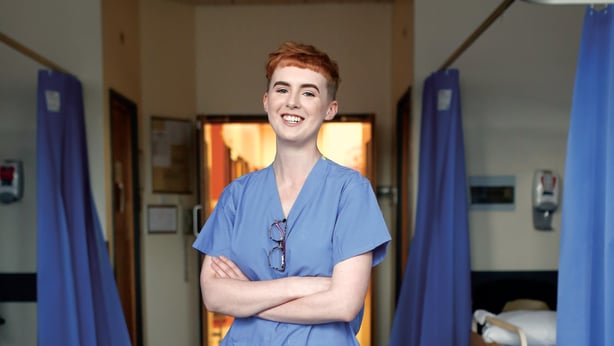 The production company filmed for nearly two months, working in tandem with the staff shifts to capture some incredible stories. The magic of this show is the honesty and vulnerability clearly shown by everyone involved. 
This season, we're introduced to some new midwives working on the labour ward: Ellie McGrath from Co Clare and Jenny Power from Wicklow. Ellie and Jenny, along with Kayla Lafferty – who was on the show last year – made an appearance at RTÉ's recent autumn launch.
Dressed in their blue scrubs they weren't hard to find among the TV people, commenting on how being at the national broadcaster's HQ was a world away from a normal day's work in the hospital. 
Coincidentally, it was my first day back from maternity leave and all three were more than happy to hear my own birth story, declaring that everyone wants to share their story with us; it comes with the job.
They're all relatively new to the fascinating world of midwifery: Kayla is four years in the Rotunda, while Jenny and Ellie are two and three years, respectively, but funnily enough, it wasn't a career that any of them thought they'd end up in.
"Someone else in my school said she was going to do midwifery and I thought 'Why would you want to do that?' But the more I thought about it, the more interested I got in the idea of it. It's been everything and nothing that I expected. You've no idea what you're getting yourself in for – in a good way," says Kayla, with Jenny adding; "I knew I wanted to work in healthcare and work with people and it was probably a month before my Leaving Cert and the Trinity open day was on. I got there so early that the only thing that was on was a midwifery skills workshop, so I went in to pass the time and it just went from there. It suits me and I think I suit it as well."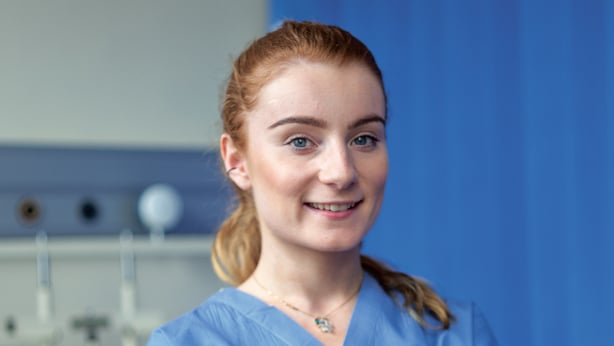 Kayla appeared in some episodes last year and was impressed by how tastefully it was presented. "It's not intrusive at all. They have small cameras in the room so you don't even notice them. For me, it made me really appreciate what we do. It's not until you see it back that you think, 'Wow that's really cool.' It's a great memory to have from our job and not many people get that opportunity." 
While most of the birth stories have a happy ending, from time to time sadly that's not the case and The Rotunda doesn't shy away from dealing with difficult deliveries and outcomes. This must be a hard part of the job?
"You don't get introduced into the difficult scenarios straight away; you watch your colleagues and you take your cues from them for when it comes to your turn. It's really tough but it's part of the journey with the couple and sometimes you get really upset but I think people appreciate your empathy for them. You always remember the really tough days though, they always stay with you," says Kayla, with Jenny adding: "I just always try to remember that midwife is 'with woman' and that means you're with her and her family regardless of how the birth is going. You do always remember certain babies and deliveries that didn't go the way anyone would have wanted." 
The tension of watching a woman mid-delivery is offset by the raw, unadorned humanity displayed by the midwives. While demonic screams can heard from the delivery rooms, the chats and laughter at the nurse's station provides some light relief. "To us, it's just the norm," says Ellie, adding "We don't even hear the screams any more and if you do, you know it means a baby is about to be born any minute."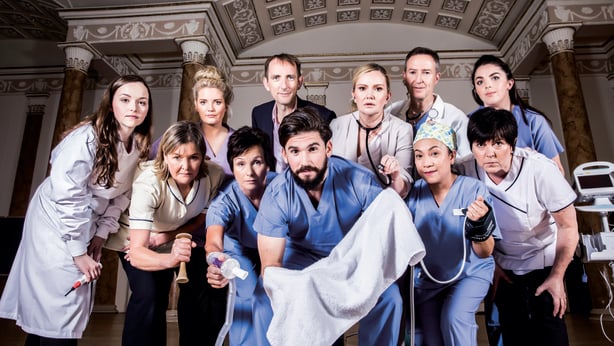 You can tell they're a tight-knit team. Kayla agrees; "You rely on the people you work with a lot; you can't handle anything on your own, so you have to have help. People enjoy being in the Rotunda and the atmosphere there, it's a great team. Even in the madness, there's always a laugh and that's really important." 
They've noticed a big difference in their patients over the years: most mothers are much more informed nowadays and have a clear wish for their birth plan. "Years ago women just came in and they kind of did what they were told by the doctor, whereas now they have more choice and they're much more informed. We work in partnership with the women and that's all people want – to be listened to," says Kayla. 
Do they feel they'd be completely prepared if it ever came to their turn to be a patient in the labour ward? "No, not at all," laughs Jenny. "I'd say it would all go out the window. I don't think anything in life can prepare you for that experience, not even seeing it every day." 
We need your consent to load this YouTube contentWe use YouTube to manage extra content that can set cookies on your device and collect data about your activity. Please review their details and accept them to load the content.Manage Preferences
In tonight's episode...
One couple bravely remember their baby who passed away last year while getting ready to welcome a new arrival. 
Young couple Carrie and Fintan are in the Rotunda for the birth of their second child. Only a year ago, Carrie was expecting their first child Ellie when they learned that she had a fatal foetal abnormality. Ellie was born at 36 weeks and died shortly afterward.
Carrie says: "I would literally be pregnant for the rest of my life if it meant that she would just still be alive... just to be able to give her a little life was nice and comforting."
The Rotunda continues Thursday at 9.30pm on RTÉ2.