Room to Improve is back and better than ever with Ireland's favourite architect, Dermot Bannon, creating diverse and beautiful homes, pushing budgets to their limits, installing glass windows like nobody's business, and inspiring some of the country's funniest tweets.
Petition to start calling concrete concreté all the time.#RoomToImprove pic.twitter.com/RnFapGSmSg

— RTÉ One (@RTEOne) September 8, 2019
David and Nessa
On last night's episode, we met David and Nessa Conlon, a couple who bought a 1990s split level detached bungalow with plans to move in with their twin boys, aged 11, and 7-year-old daughter.
With a budget of just over 220k, Dermot was faced with a huge challenge as the house was basically a series of staggered terraces making their way up the site. Our hero architect presented a design that saw the house open up with a raised pavilion at the rear, some concreté in the kitchen and a pergola in the garden - all of which would cost just a little more than the couple had planned on spending.
Next, it was time to tackle the garden - a task so momentous that Dermot had to call in back up. Audiences were delighted to see garden supremo Diarmuid Gavin walk onto the scene to take on one of the most challenging gardens to date.
But did it all go to plan? If you missed last night's episode, you can catch up on RTÉ Player now.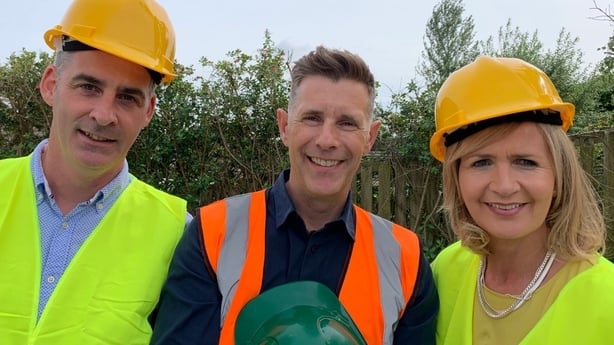 The tweets
We love Dermot, we love Diarmuid, we love strong-willed homeowners and we love the show's brand new quantity surveyors. Most of all though, we love reading your reactions on Twitter.
From fashion commentary and concrété appreciation to wishing for a Francis Brennan cameo, here are some of the funniest tweets from last night's Room to Improve.
Get a grip
Me a few years back: "Who'd watch a tv show about someone building a new kitchen?"
Me, now: "Nessa, you've taken on a garden you can't handle, the budget is spiralling out of control and you don't appreciate how much Dermot loves concrete. Get a grip, girl."#RoomToImprove

— Niall Power (@mrniallpower) September 8, 2019
Utter lunacy
Diarmuid Gavin wearing all white to go digging in the garden. The lunacy #roomtoimprove pic.twitter.com/XXDFE1NuCq

— Michael Fry (@BigDirtyFry) September 8, 2019
Budget? What budget?
Client at the top of their garden when Dermot tells them the revised price of landscaping #roomtoimprove pic.twitter.com/RHgSu3CPWw

— Mike Mc Loughlin (@zuroph) September 8, 2019
The thrill of it all
We are 8 minutes in and 12k over budget... God iv missed this!😂😂😂. #roomtoimprove

— Stephen Mulgrew (@smulgrew) September 8, 2019
Sunday Funday
Raining outside ✅
Scented Candle ✅
House Coat ✅
Glass of wine ✅
Spice Bag ✅#RoomToImprove ✅

The thirties hit me hard lads.
And I love it.

— Paul B (@PaulBonass) September 8, 2019
Brennan, Gavin & Bannon
Oh Jaysis Diarmud Gavin

All we need now is Francis Brennan to turn up for the Holy trinity#RoomToImprove

— CROSSY (@CrossyTweets) September 8, 2019
Will Bosco make an appearance?
All the doors in this house remind of Bosco's Knock Knock open wide, see whats on the other side Magic Door! #RoomToImprove @DermotBannon pic.twitter.com/2cZPsZc9Wj

— rorymcevoy (@rorymcevoy) September 8, 2019
Self-explanatory
Dermot Bannon: "I think a house should explain itself."
I've lived in flats so bad that if they explained themselves there would be no words, just the middle finger. #roomtoimprove #loveyoudermot

— Jarlath Regan (@Jarlath) September 8, 2019
So much room for activities
Dermot Bannon and Diarmuid Gavin #roomtoimprove pic.twitter.com/GASOp33lqd

— Cormac Mc (@cormac_mcgee) September 8, 2019
DERMOT
Tonight is the anti Netflix night ... A nation is coming together all saying one word ... "DERMOT" #roomtoimprove

— Mairead Ronan (@cocomairead) September 8, 2019
Concrété
Bloody hell. I love #roomtoimprove and I love @DermotBannon and I love @DiarmuidDesigns and I love poured concrété and I love roof lights and pergolas and I love the end result. 11/10. ❤️

— Dave Moore (@DaveTodayFM) September 8, 2019
So fetch.
Stop trying to make concrete happen!!! #roomtoimprove

— Fionnuala (@FionnualaJay) September 8, 2019
A pergola, is it?
The whole of Ireland googling 'pergola' right now #roomtoimprove pic.twitter.com/ISA7setZ85

— Caolán Mc Aree (@Caolanmcaree) September 8, 2019
Good man yourself
Dermot's face leaving the house after designing a masterpiece. #roomtoimprove pic.twitter.com/p8t6qbUfpk

— Fintan Marron (@FintanMusicIRL) September 8, 2019