Come rain or shine, we Irish know how to make the most of a staycation. In the RTÉ Player's series, Go Outside and Play, Go-Pro guru Carl Mullan shows us the best spots in Ireland to road trip, hike, and take in the breathtaking sights.
Each week on RTÉ LifeStyle, we'll be giving you the low down on each of Carl's playgrounds including directions, fun facts, necessary equipment, and, most importantly, the snack requirements.
Forget staying in this weekend, go outside and play!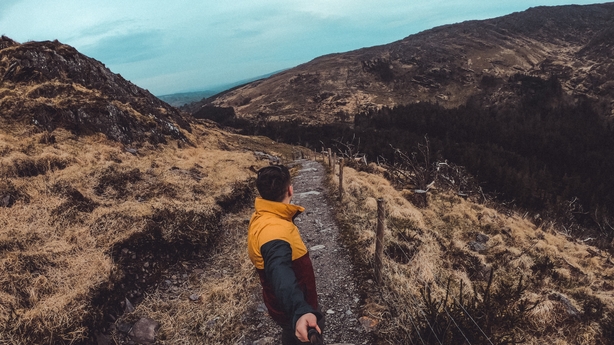 Location
Gougane Barra, located west of Macroom in Garrynapeaka, Co.Cork. 
What to see
Gougane Barra is a Forest Park located within a beautiful valley at the edge of the Sheehy mountains. Compared by some to the Canadian Rockies due to the sharp crags of its hills, high pine forests and sweeping views of Gougane Barra's lake and surrounding countryside. Gougane Barra Forest Park covers over 137 hectares (339 acres) and is known as a great place to hike, picnic and get in touch with nature.
Interesting Facts
Gougane Barra is best known for St. Finbarr's Oratory, a small church nestled on a tiny island at the edge of Gougane Barra's lake. Just behind the oratory are the remains of the Christian monastery that was founded by St. Finbarr, patron saint of Cork in the 6th century.
Gougane Barra's lake is also the source of the River Lee which flows through Ballingeary and onwards to Cork City. Another, somewhat unusual claim to fame for Gougane Barra are the thatched outdoor toilets in the park. They were named one of the top 100 toilets in the world by Lonely Planet.
How to get there
Gougane Barra Forest Park is 70km from Cork City, 50km from Killarney and just 7km south west of Ballingeary, off the R584.
Need to know
One of the interesting things about Gougane Barra that sets it apart from other Forest Parks is that it provides drive around facilities which allow drivers to follow a looped motor trail around the park (just remember to bring €5 in coins to enter).
Another great feature of Gougane Barra is there are six walking trails to choose from which accommodate all levels of fitness. From a short nature trail like the Slí Ghaorthaidh (0.5km, around 30 mins) to more strenuous walks like the Slí an Easa (1.8km, 1.5 hrs) and the Slí Sleibhe (2.5km, 2hrs).