Choosing the right barbecue can be a daunting task with so many factors to consider – the size, the fuel, the accessories. "The one simple thing you need to know is that choosing the best fuel type – charcoal, gas, or electric – for you is primarily a matter of taste and convenience," advises Weber's Grill Master, Dan Cooper. Here he shares his insight into how to pick the best grill for you.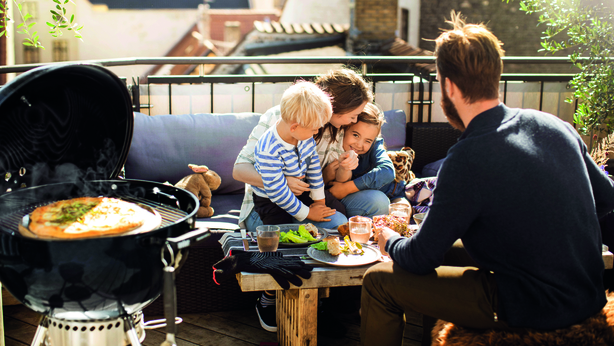 What's great about a charcoal barbecue?
Barbecuing with charcoal is the most authentic and sensory way of barbecuing! If you're someone who appreciates the full experience of lighting the fire, seeing the smoke and smelling the charcoal burning, then a charcoal barbecue will be your perfect match. Use long-burning quality briquettes and a sturdy chimney starter to light the charcoal, which will do the bulk of the work for you. Of course, you need to be more mindful of where you'll be grilling due to the smoke. 
What if I want to have a spontaneous barbecue?
If you're short on time a gas grill is the most convenient to use. Also, the precision control offered by gas barbecues, no matter how big or small, makes them practical for even the smallest outdoor space and any level of experience. One requirement for gas grilling is of course a gas cannister and these can take up more space if there is no compartment to tuck them away, so just be mindful of this if you're getting a gas barbecue with multiple burners. 
What's best for apartment living?
Electric barbecues are the way forward for urban living! There is no need to worry about legal restrictions either associated with gas or charcoal, and you'll never run out of fuel. Plus you can achieve the same barbecue flavour along with searing marks that are hard to achieve in a normal kitchen. It's worth remember that outdoor electrical points might not be accessible, which can be a problem. 
What's the most important thing to remember when barbecuing?
The lid! It may seem obvious but lid-on cooking not only controls the temperature but also ensures smoke circulates inside the grill and infuses into your food. Also, keeping the lid shut means your food is juicer, and it cooks faster, saving you time and fuel. 
What fun features or accessories should people try? 
For those who want to trial smoking you could try a smoker box and wood chips or chunks that aromatically infuse your food as they smoulder.
Every barbecue enthusiast should use an instant read thermometer for perfectly cooked food every time. Weber has a range of app-connected thermometers that can monitor up to four cuts of meat, from beginning to end, and notifies you on your smartphone once food has reached the perfect temperature to serve. Prices start at €69.
Create salty seasoned delights with this salt cooking block, €69, from Rivsalt (which means 'grated salt' in Swedish). Two Himalayan salt blocks sit on an induction metal holder, simply add oil to the salt surface and heat slowly before adding your meat on top to cook. Available at amara.com
George Foreman is taking to the great outdoors with the new Indoor Outdoor Grill, €99.99. It has a removable stand so it can be used in the kitchen or on the patio. Added bonus: the slope grill removes up to 42% of fat for a healthy option. 
Click through the gallery above for more  BBQ picks.