If you're a regular on Facebook, Instagram or Twitter, you might be wondering why your newsfeed has been looking... well, a little wrinkly this week.
The 'old face' selfie trend came about thanks to a photo editing app that allows users to get a glimpse into the future where wrinkles, grey hair, and a slightly enlarged nose have replaced arched eyebrows, smooth skin, and high cheekbones.
To help you better understand this strange phenomenon, we've gathered the details, the fine print, and a few of our fav celeb transformations.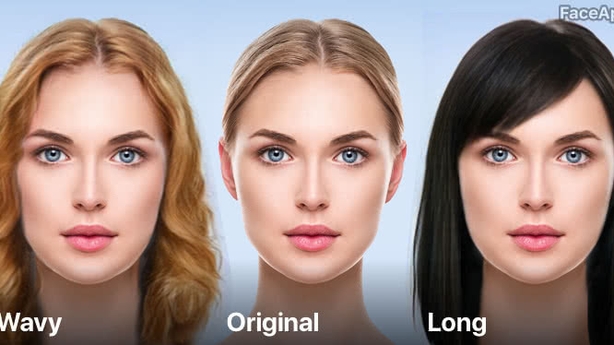 The app
FaceApp, an 'Artificially Intelligent Face Editor' that launched back in 2017, is used to edit and adjust your selfies in a myriad of ways so that you can try out blonde highlights, a Hollywood smile, a beard or different coloured eyes - without the hassle of hair dye and contacts.
We don't know who kicked off the trend, but the app has earned a spike in downloads this week thanks to the popularity of its 'old face' filter which gives users an idea of what they might look like in their golden years.
And while some people felt comforted by the results...
Is it weird that I find #FaceApp so...comforting? pic.twitter.com/HxBrGu1qNE

— Hannah Hart (@harto) July 17, 2019
I look like I make turquoise bracelets in the desert and honestly? I'm cool with that. #FaceApp pic.twitter.com/XuYNHPKZRT

— Alexandria Neonakis (@Beavs) July 17, 2019
Cheers old boy ??‍?????? #faceapp pic.twitter.com/FL4OrnKjVG

— Kai Widdrington (@Kaiwidd) July 16, 2019
Others were left reaching for the anti-ageing cream...
Noooo ???? at least now I know where to get botox in a couple of years lmaoo#faceapp pic.twitter.com/9Zaw6NBl8b

— Jaira Tagle (@beautybyjaira) July 16, 2019
Had to jump on the bandwagon. Let's just say I will not age well.

TG4 #Botox #FaceApp pic.twitter.com/PjmmxgsDkL

— Morgan Romero TV (@MorganRomeroTV) July 17, 2019
#FaceApp is no kinder when you start with a glam shot. pic.twitter.com/90D21deAff

— Randi Mayem Singer (@rmayemsinger) July 16, 2019
The fine print
You know those pesky terms and conditions that you scroll through without reading? Well, it might be time to give them a glance.
The Terms of Use state that by using FaceApp, you grant the company a "perpetual, irrevocable, nonexclusive, royalty-free, worldwide, fully-paid, transferable sub-licensable license to use, reproduce, modify, adapt, publish, translate, create derivative works from, distribute, publicly perform and display your User Content and any name, username or likeness provided in connection with your User Content in all media formats and channels now known or later developed, without compensation to you."
Basically, they own your content and you won't make a penny from it even if they do.
Furthermore, when you post or share User Content on or through FaceApp, you are acknowledging that your content and any associated information such as your username, location or profile photo, will be visible to the public.
You can read the terms of use in full here.
If you use #FaceApp you are giving them a license to use your photos, your name, your username, and your likeness for any purpose including commercial purposes (like on a billboard or internet ad) -- see their Terms: https://t.co/e0sTgzowoN pic.twitter.com/XzYxRdXZ9q

— Elizabeth Potts Weinstein (@ElizabethPW) July 17, 2019
The celebs
Celebrities have access to some of the finest dietitians, dermatologists, personal trainers, nutritionists, and skincare specialists in the world - but will they age better than the rest of us? Have a scroll through some of our favourite celeb transformations below.
Laura Whitmore
We need your consent to load this Instagram contentWe use Instagram to manage extra content that can set cookies on your device and collect data about your activity. Please review their details and accept them to load the content.Manage Preferences
Dawn O'Porter
We need your consent to load this Instagram contentWe use Instagram to manage extra content that can set cookies on your device and collect data about your activity. Please review their details and accept them to load the content.Manage Preferences
The RTÉ2fm crew
James Kavanagh & William Murray
We need your consent to load this Instagram contentWe use Instagram to manage extra content that can set cookies on your device and collect data about your activity. Please review their details and accept them to load the content.Manage Preferences
Drake
We need your consent to load this Instagram contentWe use Instagram to manage extra content that can set cookies on your device and collect data about your activity. Please review their details and accept them to load the content.Manage Preferences
Kevin Hart
We need your consent to load this Instagram contentWe use Instagram to manage extra content that can set cookies on your device and collect data about your activity. Please review their details and accept them to load the content.Manage Preferences
Sam Smith
We need your consent to load this Instagram contentWe use Instagram to manage extra content that can set cookies on your device and collect data about your activity. Please review their details and accept them to load the content.Manage Preferences
Lil Nas X (presumably still remixing Old Town Road)
We need your consent to load this Instagram contentWe use Instagram to manage extra content that can set cookies on your device and collect data about your activity. Please review their details and accept them to load the content.Manage Preferences
James Marsden
We need your consent to load this Instagram contentWe use Instagram to manage extra content that can set cookies on your device and collect data about your activity. Please review their details and accept them to load the content.Manage Preferences
The Jonas Brothers
We need your consent to load this Instagram contentWe use Instagram to manage extra content that can set cookies on your device and collect data about your activity. Please review their details and accept them to load the content.Manage Preferences
Busy Philipps
We need your consent to load this Instagram contentWe use Instagram to manage extra content that can set cookies on your device and collect data about your activity. Please review their details and accept them to load the content.Manage Preferences
Adam Hills
We need your consent to load this Instagram contentWe use Instagram to manage extra content that can set cookies on your device and collect data about your activity. Please review their details and accept them to load the content.Manage Preferences