Some 23 years ago Kevin and Catherine Dundon embarked on a great adventure, but a recent health scare has prompted Kevin to reassess his life. Donal O'Donoghue visits the couple at home in County Wexford.
"The first night in the hospital I was in so much pain that I had given up," says Kevin Dundon of a spring day in 2017 when he thought his time had come. "There was six or seven medical staff in my room and I said to them 'Let me go!' I was over. I was done."
Two weeks before, the chef, author and hotel owner had undergone a surgical procedure to remove varicose veins. However, things took a turn for the worse when he suffered two pulmonary embolisms (blood clots on his lungs) and he was readmitted in dire pain. It was a close call that prompted the 50-something year old to reassess his life.
"I was lying in bed in hospital and I thought 'What am I doing?' Up to then, I had been on a treadmill, so busy that I didn't realise how crazy it all was. So I called my PA and in that moment re-evaluated everything."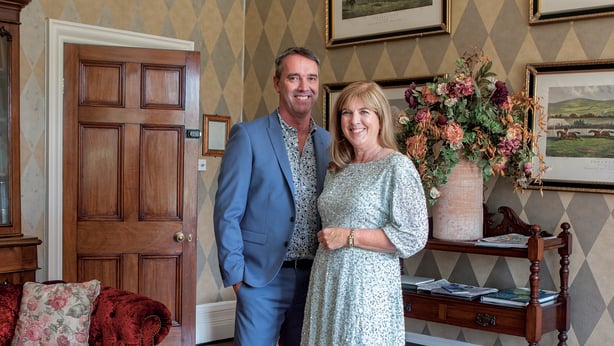 It's a Monday lunchtime at Dunbrody Country House Hotel, the luxury pile owned and run by Kevin and Catherine Dundon in deepest County Wexford. Inside, all is quiet as I walk down the carpeted hall, past the wall of awards (including Best Luxury Country House in the World 2016) to the bar.
Here the tables are set for dinner and the French doors look out onto an expanse of green. This used to be the old dining room of the house which the Dundons bought in 1996 and opened for business a year later. Kevin's wife, Catherine - sales, and marketing manager as well the house interior designer - arrives with an armful of paperwork, followed shortly by her husband.
Business is good, "we're up 5% over last year" and the sun is shining but what I really want to know is how these two Dubliners ended up in the sunny south-east of Arthurstown in the first place.
The couple have known each other since their late teens. "We met at Blinkers, the night club," says Catherine. 'Where love stories begin?' I ask. "No, that was the tag-line for another club," she says. But even in her yellow jumpsuit and leg warmers, the pair clicked. Within a week Kevin phoned Catherine and they met under Clerys Clock for their first date. But with both of them travelling (he went to work in Canada, she was living in Longford), the relationship fizzled out after a year.
Kevin was then working at a five-star Fairmont hotel in Calgary and invited Catherine over, where she started working in the hotel bar. Kevin, who loved Canada and its can-do attitude, told Catherine that only three jobs would tempt him home: executive chef at the Shelbourne Hotel in Dublin or Dromoland Castle in County Clare or owning his own country house.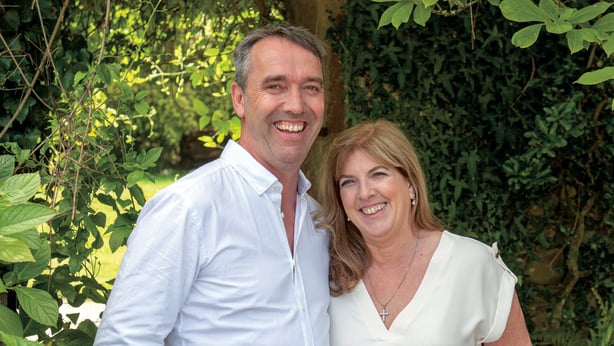 It was a crazy time. Big plans, big ambitions, life lived at breakneck speed. "I remember when we came home to get married we popped into O'Mara's Travel in Donnybrook," says Kevin of an August in 1994. "We said to them that we'd like to go somewhere on our honeymoon. They asked when we were getting married. This Saturday we said."
On the way to the airport (Portugal was the honeymoon choice), Catherine saw the newspaper ad: the Shelbourne hotel was looking for an executive chef. By October, they were back home in Dublin, living in Beggar's Bush. Two years later, after Kevin chanced across an estate agents' ad for Dunbrody House, they travelled south and fell instantly in love with the place, which seemed like a million miles from anywhere but was their dream. "We were young and had no family and felt we could do anything," says Kevin.
Some 23 years and three children (Emily, Sophie and Tom) later, they are still here. The family now live in a large house on the grounds with a panoramic view from the high-tech kitchen (Kevin's favourite room). "The children have always had their chores," he says. "When the girls come home from boarding school on Friday, they have to wash and press their own clothes and put them back in their suitcases. Tom's job is to empty the dishwasher and feed the dogs."
Emily, who has just finished her Leaving Certificate, is interested in a career in medicine. Sophie has decided she will do home economics in her Leaving. "And Tom is only 11, so he just likes eating right now," says Catherine. Self-sufficiency is the Dundons mantra instilled in their children from early on. "We just didn't breed enough," jokes Kevin. "We could have staffed the hotel with our own kids."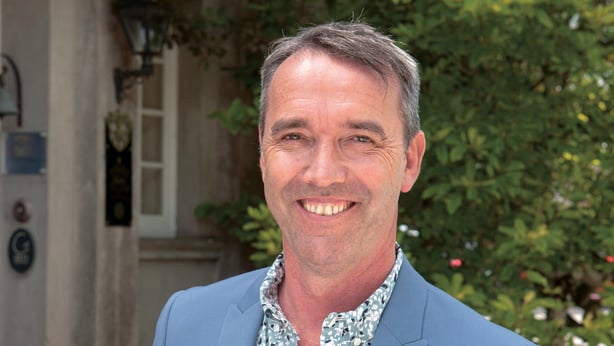 In conversation, the chef sometimes carries an air of distraction but when he laughs you see a man at ease with himself in that moment. He says that he always wanted to be a chef (it was either that or his other passion, architecture); his love of cooking inspired by watching his mother and grandmother as they prepared the family meals.
The first dish he remembers cooking was pan-fried mackerel at Kilkee, County Clare, a family holiday haunt. After a day's fishing, he cooked his catch for his grandparents, bringing them breakfast in bed the next day. "Now when I'm creating a dish for dinner at home the first thing I do is pick up my protein, whether that is fish or meat or whatever," he says. "I never know what I'm going to cook when I go to the butchers or fishmongers."
He remembers his childhood is one of smells and flavours. "Periwinkles," he says without hesitation when I ask about the most memorable. "We had a holiday home in Kilkee where we would go in summer. So when I got my pocket money, instead of buying sweets, I'd buy periwinkles and seaweed. Mum (Licia) grew up in Rhodesia so there was a lot of spice in her cooking which was unusual."
He talks about working on the new menu for the restaurant, how in many ways he is going back to basics, enjoying his cooking again and the heat of the kitchen. "It's good to show the staff that I still have it and still love it," he says. He taps on his phone to pull up some images of recent creations, including carrots and lamb ("I cooked that lamb in hay") and a dessert which could be called 'A study in raspberry' that features a meringue, a coulis and a sorbet.
Two years on from his health scare, he feels good. He gave up the cigarettes at that time, having smoked approximately 20 a day for years. "One of my chefs said to me 'But you never finished a cigarette Kevin' and it was true, I didn't. I'd take a few drags and throw it away. But coming off cigarettes is probably akin to coming off drink – it's one day at a time. Some mornings I'll wake up and say to myself 'I'm not going to smoke today'. The funny thing is that I started smoking because of this industry.
"Back then if you wanted a smoke you could pop out of the kitchen for a few minutes but as I didn't smoke I never got a break. So it was a choice of smoking or dying of exhaustion so I started smoking. I was in my late teens. The first three days off them was hell and who knows I could be back smoking next week."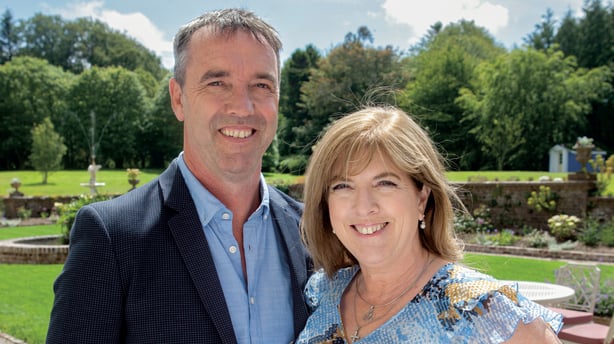 Nonetheless, he's an outdoors type, back rowing and in the gym and in bed by 9.30pm usually. Catherine is the night owl. "I introduced the rest of the family to Game of Thrones," she says. "I got bored with it though," says Kevin. Top of his TV pops are classic cops and gangsters dramas like The Sopranos, The Wire and Breaking Bad. "We always had a TV show that we fell asleep to," he says looking at his wife for a clue. None comes. "And we also loved Quantum Leap," he adds.
Catherine says that was back in the Canada days and that he's really showing his age. "You were there, too," he says and laughs. Dundon's TV cookery show of choice is Professional MasterChef. "But where I really get my inspiration is by flicking through magazines or walking down the street or wandering about the garden."
Last January, Kevin Dundon was in a hotel in Mumbai where he spotted one of his cookery shows on the TV. "So he took a photograph of it and sent it to me," says Catherine with a laugh. His TV shows, which include Heat and Modern Irish Food, are still making him money, and he has racked up six books, from the first, Full On Irish (2006). "I never thought in a million years that I'd write a book", he says.
"So I put my whole heart and soul into that. I think that book is very true to who I am and how I cook, using local produce and using very little to enhance the food but letting it speak for itself. When I got the very first copy off the press, I took it to bed with me that night and I slept with it (he laughs)."
In the early days, the advice Dundon lived by was 'Keep your head down, say nothing, but absorb all.' Later, having learned the skills and craft, classically trained in top-rated kitchens, he found his own 'voice'. "There are a lot of chefs out there today who are running before they can walk," he says. "It's all about these influencers now." He won't name names.
Is there anything he would change if he had his time over? "I can't think of anything but I sure there must be something. In the heel of the hunt we have a good life. Our kids are healthy and happy, well-grounded and level-headed with no airs or graces. Of course, they aren't perfect, no kids are, but they are totally self-sufficient and not needy, are they?" Catherine nods in agreement.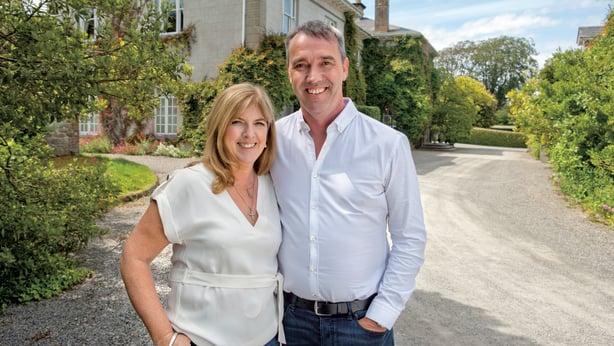 A few years back they were offered the opportunity to move, sell Dunbrody House and move back to Dublin. "Catherine wouldn't do it," says Kevin. "At the time I would have moved but to be honest it made more sense with the kids to stay here.
"Look out there (he nods towards the great outdoors) and you see how much space the children have to run around. It's also so safe down here and very family-friendly with a great local community. All three of our children were born here and we'd like to see them go through college so that they will have the stability of one home. We'd have no objections selling the place in a number of years if it came down to it. But we'd still have to do something, you couldn't just sit around. Otherwise, you'd go crazy."
Despite cutting back on various ventures (the pubs in the US are no more, the microbrewery shut down because it wasn't turning a profit, the work travel cut back) Kevin Dundon still has the air of a man with many plans and miles to go before he hangs up his apron.
The book he is currently working on, a memoir of sorts, will not only be the most personal yet but also a chronicle of a life lived through food. "I want to go back to where I started, to where I got my passion for food and where that has brought me," he says. "I plan to start the opening chapter with my near-death experience in hospital, the moment that made me stop and think. I want to go back over my life and see how I got to where I am today."
Despite all, I reckon he's still figuring that one out.