Opinion: Existing between binaries in the LGBT+ community can be difficult at the best of times, but as Pride celebrations continue around the world, this becomes more pronounced, writes Felix O'Connor. 
As a trans non-binary bisexual man, I find myself coming out a lot.
Most recently was in the smoking area of The George, while talking to a stranger about her ex-boyfriend. Mid-conversation she halted, as if she had accidentally shared a secret, and quickly threw in: "I'm bi."
In the moment, I was eager to let her know she wasn't alone so I responded: "I'm bi, too!" Then I added: "And trans." Immediately, I was unsure as to whether this was a misstep, and worried she would shun me. 
This is one interaction that some of us in the LGBT+ community will know well: the delicate tiptoeing around our own sexual orientations and gender identities in case they do not fit into the spaces we are supposed to occupy. 
While her reaction was warm and open, I couldn't deny that at that moment I worried I wasn't enough.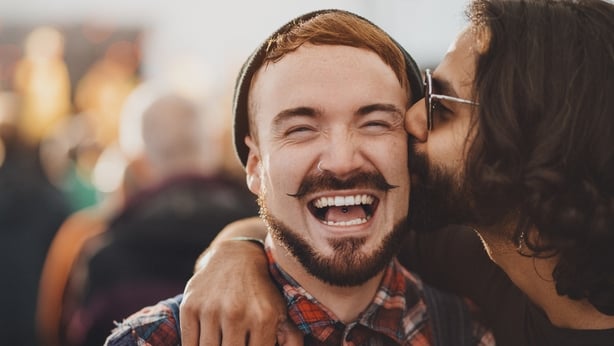 It's a very common phenomenon in the trans community for people not to feel "trans enough". I've been transitioning for five years and I constantly feel like a fraud. I didn't feel enough when I didn't pass as male, now that I do pass I don't feel enough because I'm not visibly trans, or I feel like I'm not androgynous enough to be non-binary.
Existing between these binaries is challenging as it is, and it can be particularly tough around Pride season, when we as queer people as supposed to feel most validated.
Hundreds of people are taking part in a transgender march in Dublin. It's the second year #TransPrideDublin has been held. A rally took place at the Garden of Remembrance in Parnell Square before a march to Merrion Square @RTENews pic.twitter.com/hMrt8VmAj5

— Fergal O'Brien (@FergalOBrienTV) July 6, 2019
With the second Trans Pride march taking place in Dublin on July 6, attended by hundreds of people, this was brought more into the fore, especially as the theme for this year's event was "Break the Binary". 
Grown in opposition
The queer community has, in many ways, grown in opposition to mainstream heterosexual society. Broadly speaking, queer relationships don't follow the same "rules" as straight ones: there are less-defined roles and everyone's sharing wardrobes.
And as a product of that, it can have some unfortunate binary-focused holdovers. A "they're straight, we're gay" opposition, which erases some of the nuances that so many queer people experience. 
And as a queer, genderqueer person, this can put me in strange positions in relationship to my own community.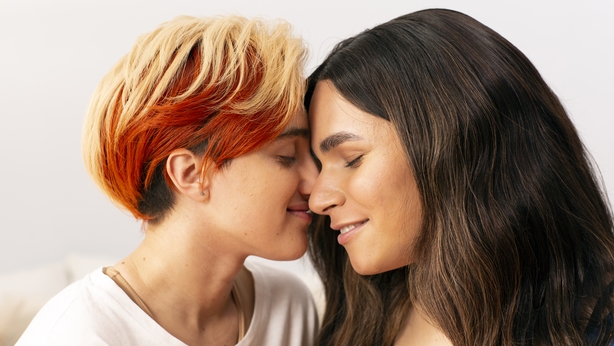 A few years ago, I was at Pride with my then-girlfriend. I was exactly one year on testosterone as part of my transition and I wanted to enjoy myself unfettered. This is Pride, I thought, I deserved to be proud and queer and … why did I feel out of place? It wasn't super obvious but every now and then, while dancing with my girlfriend, (who, at the time, identified as bi and would later come out as a lesbian) I would catch some side-eye.
People thought we were straight, and therefore less welcome.
Pride, in particular, can be a fraught time for those of us between binaries. The mainstreaming of Pride is something of a double-edged sword, as with the big flashy parties often come strangers unaccustomed to our ways, looking to enjoy a fun night out where the men actually move their hips and the women buy you drinks, but unfamiliar with queer culture as it exists off Bravo and Rupaul's Drag Race.
But on the other edge of the sword, wariness about straight people in our spaces and the assumptions that come from that towards others can leave a lot of people who would fall under the LGBT+ umbrella out in the rain.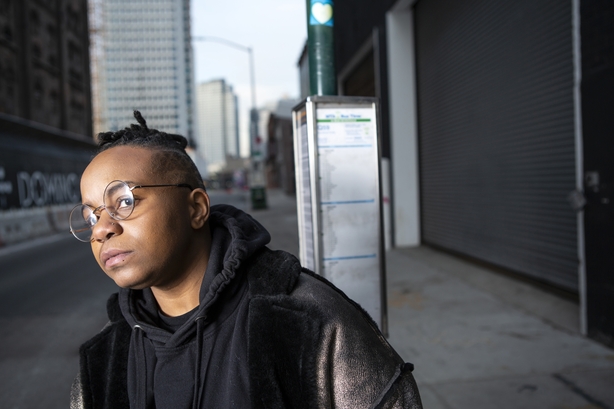 A year after that Pride, I was in a different relationship, this time with another non-binary trans guy. They were American and I visited their family home in the states for a couple of weeks in the summer. One night we went out to West Hollywood and, in one of the bars, I got that… feeling again.
My then-partner wasn't on testosterone at the time, and was sometimes read as a queer woman, not a queer non-binary trans guy. For the uninitiated, being trans isn't as simple as being seen as one gender one day and another the next.
Out of your hands
Transition is a process, and it takes years. And during those years, your gender can feel out of your hands, as if much of it is decided by those around you. 
So it can be frustrating when two trans people in different stages of transition are in a relationship, even when they identify in very similar ways, as I and my ex did. In that moment, the definition of our relationship depended entirely on the onlooker, who judged what roles we played in it and how valid we were. 
We need your consent to load this rte-player contentWe use rte-player to manage extra content that can set cookies on your device and collect data about your activity. Please review their details and accept them to load the content.Manage Preferences
Listen back: Philippa and Helen share their experience of transgender marriage
I feel as though the queer community can mirror straight spaces because they had to be built around them. These are the things that make us different, that make us opposite: the opposite of straight, the opposite of cisgender. Queerness is defined in opposition to heteronormativity.
But the thing with opposites is, they're only accurate in a system which only has two options. Male and female. Gay and straight. Those of us who are neither entirely male nor entirely female, neither gay nor straight, can begin to feel as though we're falling through the cracks.
I've proudly identified as queer for the last five years of my life. It's shaped the beginning of my adult life, and will certainly continue to do so. So essentially, I'm not going anywhere. 
The idea that I might be treated like an intruder in the spaces that have come to feel so welcoming and accepting, because I may be in a partnership that's seen as straight, can be really scary. I remember when I first realised I was trans, thinking "does this make me straight now?" because I was mostly dating women at the time.
This wasn't necessarily an unfounded fear, as many trans people who identify as straight gradually move out of the queer community as they transition.
Doing better
I believe that the LGBT+ community is capable of doing better, at becoming more inclusive of its trans and non-binary siblings, and dismantling the binaries that ultimately hold us back.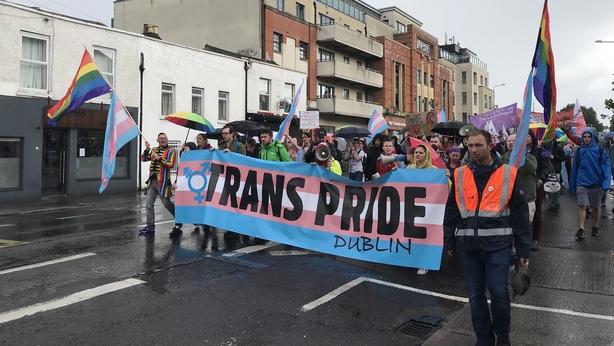 For example, last year Dublin held its first Trans Pride parade, originally set up by two anti-capitalist non-binary activists and organised collectively. Trans Pride is consciously focused around protest and activism, particularly on trans healthcare reform, ending homelessness, decriminalisation of sex work and other key issues that disproportionately affect the queer and trans communities. 
Part of the reason for a second pride is to ensure that there is space made for the trans community in Pride celebrations, especially those of us who fall outside of what we are expected to be.
The views expressed here are those of the author and do not represent or reflect the views of RTÉ.