After a week of rain, wind and weather that made us feel like we were back in January, we were treated to a very welcome break in the form of WellFest 2019, in association with KBC Bank in the Royal Hospital Kilmainham last weekend.
With the sun shining, music pumping and energy flowing, it was the perfect tonic to lift the spirits, fill us with energy and kick-off summer 2019!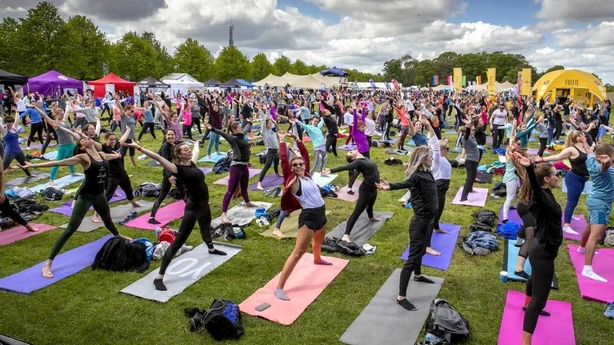 We went along on Sunday and the atmosphere felt like things were in full swing by that stage. We hit the ground running and went straight to a Pilates class by the fabulous Milena Byrne of Platinum Pilates who put us through our stretching paces while educating us on the Franklin Method of movement and breathing.
Feeling well and truly energised, we went straight to join the throngs at the main stage for Joe Wicks' Lean in 15 HIIT class. His style is so relaxed and he makes it all look so easy until you're 10 burpees in and realise that it's definitely not as easy as it looks! It was amazing to see him in action and to be part of such a big group all HIIT-ing it up together. We had to take a few short breaks…just to soak up the atmosphere of the crowd, of course...
Chats with Fearne Cotton
Having completed 2 classes before 11.30 on a Sunday morning, we felt we deserved a break. So, CocoBrew coffees in hand, we settled in for back-to-back Fearne Cotton chats in the WellTalk tent. Being total fan girls of Fearne, we were definitely in our Happy Place!
First off, she was interviewed by Kathryn Thomas for a short chat. Both women being so down-to-earth, it felt like we were ear-wigging on them having a natter over a cuppa, which was lovely. They talked about everything from social media – the good, the bad and the ugly, to Fearne's massively popular podcast, Happy Place, the reality of her own struggles with mental health and how she manages to juggle it all with an incredibly busy schedule and four kids (two her own and two step-children), ranging from 4 to 17! She came across as you'd imagine her to be, very real, honest and relaxed.
When it comes to social media, she recognizes the problems that it causes today but she has hope that the next generation will be savvier than we are about it and become less interested in it. She believes 'it's zeitgeisty at the moment' but that it will evolve and people's interests will change.
She loves working on her podcast and she tells us how it came about before podcasts were really a 'thing' but that she's been lucky enough to have some incredible people on and it's grown to become hugely popular. Her favourite episode she reckons was with Dawn French who invited her to her home in Cornwall and was so refreshingly open and honest.
Talking about her own struggles with depression, Fearne tells us that she is still a work-in-progress. She doesn't consider herself to be 'cured' and that she still has bad days or even bad weeks but she has made a conscious effort to slow her life down and she finds communicating with people about it, especially through her radio show and podcast really helps.
She tells us how her house is a mad house with all the kids, hormones and moods going on. According to her, she still hasn't cracked it all when it comes to parenting but (thankfully) admits that parenting is "bloody hard"! Her sound advice is not to compare ourselves to others, the "compare and despair" that is so prevalent thanks to social media, especially the perceived perfect families on Instagram as invariably, we are only seeing half the story.
Lastly, Fearne talks about women she admires and in keeping with her down-to-earth style, the women she admires most are her friends, the people who she really knows. As she says, she could name celebrities who she admires but she admits that she doesn't really know them. I think we all felt that we got to know her a little bit more by listening to that chat and she has a place firmly on our 'women we admire' list.
Body Coaching with Joe Wicks
Fearne then swiftly swapped roles and jumped into interviewer mode as Joe Wicks entered the stage. There was an instant rapport between Fearne and Joe who are, in fact, neighbours…talk about a small world! He got straight into telling us about his sunrise swim with The Happy Pear down in Greystones the previous day. He loves their energy and positivity and jokingly admits he can't tell them apart despite knowing them for such a long time!
Here's a summary of Joe's tips on how to stay fit, happy and healthy:
Workout in the morning – this really sets him up for the day as a parent, a partner and a businessman.
Exercise doesn't have to take up lots of your day. 25 minutes, 5 days a week and mostly in the morning. (He tells us that if he's had a bad night due to the baby that he will exercise later in the day but he still fits it in).
Focus on the energy, positive outlook, confidence and motivation that exercise brings and less on how you look.
Cook from scratch. Joe travels a lot but aims to eat at home five nights a week and allows for a blow out once a month, when he might have a few drinks and let his (beautiful!) hair down.
Don't eliminate anything. Don't count calories. Keep it simple.
Fearne asked him about how someone at complete entry level would start to get into fitness. Home workouts are the answer. There's little investment of time and money needed. Joe's own YouTube channel with multiple videos for every level is a great place to start.

After the exercise and interviews, a hearty and healthy lunch was in order. There was a great array of healthy choices but we opted for a Hawaiian Poke bowl from Shaka Poke which was a complete taste sensation. Will be seeking them out again very soon!
We ate our lunch while listening to skin specialist Dr. Anjali Mahto who gave some really useful and practical advice and tips to looking after your skin. The big ones for me were to always wear sunscreen, double cleanse your face in the evenings and that you don't have to spend a fortune on your skincare products. There's only so much a product can do and that a healthy diet and lifestyle (plus good genes!) will do a lot of the work for you.
After lunch, we headed up to the SuperValu Food tent where it was great to see, sample and mingle with so many Irish brands, with incredible, top-quality products. Dr. Coys chocolate is produced with keeping blood sugar balance in check at the heart of the product. Their huge array of delicious flavours meant we just had to sample the lot!
Homespun, with their Quinoa Crunch, is a delicious addition to any breakfast and full of nutritious goodness. And King of Kefir, with three different flavours of water kefir, a fabulous and refreshing alternative to any soft drink or alcoholic drink with the added benefit of being packed with probiotics.
As we moved on we caught a bit of Rhiannon Lambert, a registered nutritionist in the UK and founder of the leading Harley Street clinic Rhitrition specialising in weight management, eating disorders and sports nutrition, who was doing a cooking demo while being interviewed in the WellFood tent. It seems gut health was a very common theme through the weekend and a hot topic and Rhiannon was no exeption - talking about the gut health axis, gut microbiome, probiotics, and pre-biotics all while whipping up delicious courguette fritters.
We then ventured over to the WellVillage where three marquees side-by-side housed a range of impressive brands allowing you to chat with the producers or retailers, hear about their products and ask a million questions!
One of our favourite body oils, Yogandha were there, and their founder Sinead Duffy was there to share her wealth of knowledge about the oils, and how you can benefit by using them. Then we chatted to Reuzi founder, Pat Kane, about her shop, which is about all things sustainable.
So many small things we can do in how we live our daily lives that can positively impact the planet.
At this stage we were buzzing on the positive energy and atmosphere WellFest creates by getting this many inspiring people together in one place for a whole weekend. Next year, we'll definitely bring the kids so we can soak up the WellKids area too. As we were walking out and with the weather being so gorgeous for the whole weekend, we overheard the perfect reminder that we were in fact in Dublin, with one girl declaring to her friend, "Jesus, I'd love a pint". A whole weekend of purity and exercise is fantastic but acknowledging some balance is ok too!
Find The WellNowCo on Instagram and Facebook or visit www.thewellnowco.com