Jen Connell brings us step by step through her latest DIY weekend project. Who knew you could completely transform velvet by painting with chalk paint?
I'm really excited to share my latest DIY project. I picked up a battered chaise longue online but didn't want to fork out the cash to get it reupholstered. Instead, I had to think outside the box. 
After many hours of researching online, I discovered a new and exciting way to dye velvet with chalk paint. Hallelujah!
I decided to give it a go and documented my progress on my Instagram stories. It ended up garnering lots of interest, questions, and non-believers so I thought I'd share a simple step-by-step so you can try this method too!
What you'll need
Rustoleum chalk paint in Dusty Pink
Rustoleum furniture paint in Metallic Gold
Rustoleum Clear Finishing Wax
Paint trays
Sandpaper 
Paintbrushes
Spray bottle filled with water (I got mine in Dealz)
Old sheets/newspaper to protect your flooring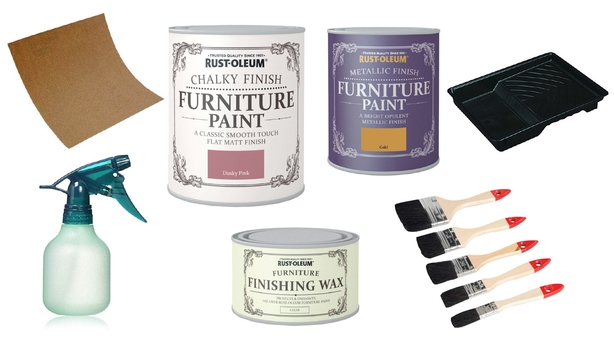 Step 1 - Prep
Take a photograph of your piece beforehand for comparison. Prep your work area by laying down newspaper or sheets on the floor. Vacuum the piece of furniture to remove dust and dirt.
Step 2 - Paint
Stir the chalk paint thoroughly, then add 2 parts water to 1 part paint to the tray. Watering down the highly-pigmented chalk paint makes it acts like a dye, and promises amazing results! Moisten an area of the fabric you intend to paint with your spray bottle, then start brushing the chalk paint to the velvet fabric in a light coat. Don't be afraid to put pressure on the brush and press the paint into the fabric.
Step 3 - Sandpaper & repeat
Leave each coat to dry for 24 hours. Sand the fabric between coats to remove excess paint and you should notice the fabric feels as soft as it originally was. You will need 2-3 coats of paint depending on the original colour of the fabric.
Step 4 - Paint the wood
If you wish to paint the wood of the furniture too, start by sanding. You can choose to use a primer, however, I skipped this step and jumped straight ahead to applying the gold paint. The first layer will be patchy, but by the second layer it should start looking well.
Step 5 - More sandpaper
If you're looking for an aged look, which I was, sandpaper and scrape off the gold paint in some areas. I focused on recessed areas for contrast. Don't be afraid to take off too much, you can always add more paint. The more you remove, the more authentic the piece will look!
Step 6 - Seal with wax
After leaving the final coat on the fabric to dry for another 24 hours, sand off the excess and vacuum away the dust. Brush on one coat of the clear wax to seal the fabric colour and add extra softness back into the velvet.
That's it! Now, have a cuppa and gaze upon your hard work. I'd love to see your DIY projects, share them with me at @jen_connell_ on Instagram.
To watch Jen in action, watch the process on her Instagram highlights by clicking here.
Jen Connell is an Irish designer and interiors columnist. Follow her on Instagram at @jen_connell_ or get in touch at jen.connell@rte.ie