The rich, melodic song of the blackbird is, without doubt, one of the highlights of the Dawn Chorus.
The blackbird is one of the first birds to begin singing each morning during late spring and early summer, just as the very first glimmer of dawn light appears in the sky. It is a sound that has inspired poets and composers for centuries, it's mellow, flute-like quality touching something deep in the human soul.
The male blackbird is one of the easiest Irish birds to identify: his plumage is jet black, with his bright yellow beak and legs and the yellow ring around each eye readily distinguishing him from any species of crow and, indeed, from any other European bird.
The female is dark brown rather than black, with duller legs and bill, and if viewed closely some darker spotting and streaking is usually visible on her throat and breast, making her look like a very dark thrush - which is exactly what she is: the Blackbird is the most common member of the thrush family found in Ireland, and across Europe, for that matter.
Blackbirds are frequent visitors to Irish gardens, where they can be seen both hopping on lawns in search of worms and feeding on berries high in trees and bushes. They are particularly fond of apples, which are a great way to attract them into your garden, and which can also be a real lifeline for them during periods of bad weather.
Blackbirds are also very popular birds. It helps that it is one of Ireland's most common species, a familiar sight and sound in parks and gardens, forests and farms the length and breadth of the country. It is a bird that is readily encountered, no matter where in Ireland you happen to live.
Have another chance to hear Derek Mooney and biologist Terry Flanagan celebrate the Blackbird and its place in the avian world...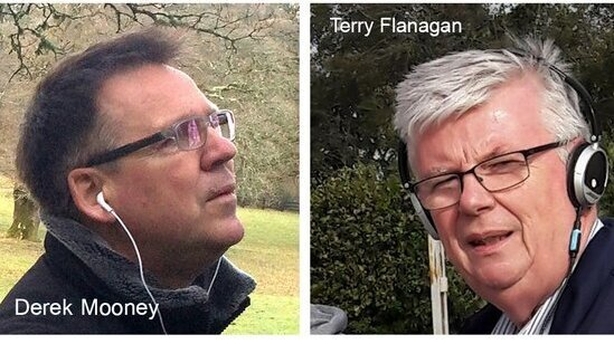 For more information on BirdWatch Ireland's Garden Bird Survey, click here.
Mooney Goes Wild presented by Derek Mooney airs Monday nights at 10pm on RTÉ Radio 1. You can contact the team at Mooney@rte.ie