Every day in Ireland, enthusiastic bathers of every age, shape, and size, dive into the chilly Irish sea - whether it's first thing in the morning, after a long day's work, or beneath the moonlight. Tonight's documentary, Vitamin Sea, aims to celebrate all of them.
Vitamin Sea - Documentary hearing the stories of eight people who are connected by their love of dipping their toes in the waters that surround us. Monday April 1st 9.35pm on @RTEOne pic.twitter.com/App61slyI7

— RTÉ (@rte) March 29, 2019
Two of Kinvara's Traught mermaids Jennifer and Ciara, who feature in the documentary, joined Brenda Donohue on RTÉ Radio 1 to discuss their monthly full moon swim. Listen back above.
Listening to the ladies speak with Brenda, it quickly becomes clear that behind every swimmer is a story, and in tonight's documentary, we'll follow eight people who are particularly passionate about the ocean.
@BrendaDonohue thanks for being so lovely earlier! See you the 19th of April for the full moon swim on Traught 😉😂 🙏 Ciara and Jennifer 🧜‍♀️ 🧜‍♀️ #vitaminsea #traughtmermaids #siarswimmers #kinvaraproud #siarkinvara #wildswimming pic.twitter.com/lc357B4mBR

— SIAR (@siarkinvara) April 1, 2019
We will hear the joy, happiness, and pleasure that people derive from their daily dip or full moon swim, where life just stops and they are at one with the sea. 
Mark Earley 
Thirty-six-year-old Mark Early lost his wife, Liane, suddenly in April 2017. As part of the grieving process, Mark swims every morning down at the Forty Foot. He considers this a therapy as he wades through the first year of grief.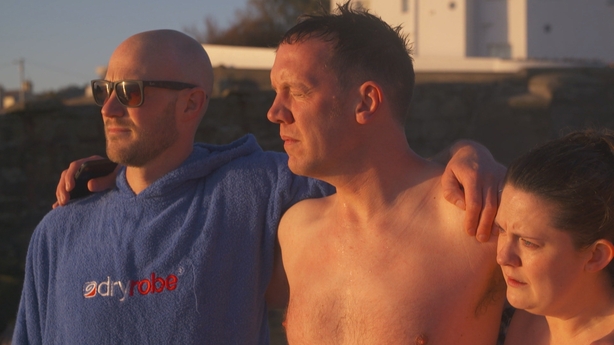 Leslie Scanlon
Les is a vibrant 82-year-old man who has swam every day in Bray for the last 30 years. It's always an early start as he is still the caretaker of one of the local schools. A self confessed socialite, Les is always up for a night out but will never miss his morning swim, even if he's home at 3am!  Les lost his wife and son in the last 15 years and swimming has become a daily ritual for him.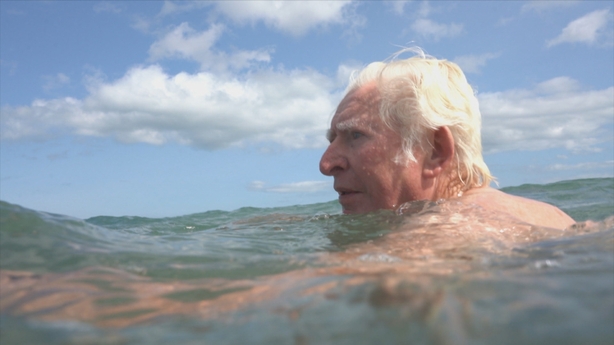 Anne Shanahan
Seventy-five-year-old Anne is a polio sufferer who has been swimming since she was a child. She swims in Sandycove and says that it has both emotional and physical benefits for her. She feels graceful in the water. Her friend, Terry, often accompanies her on her swimming trips. He never gets in the water, but he does hold the towel!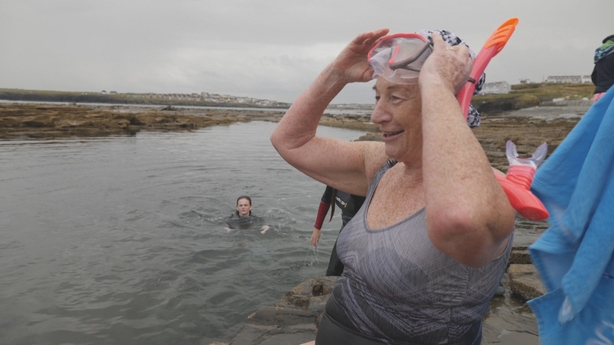 Aoife McElwain 
Thirty-year-old Aoife is new enough to swimming, having started last May. Swimming takes her out of her mind for a while. It's like "free therapy". She finds the water freezing so wears a wet suit but is aiming to ditch it in the coming months.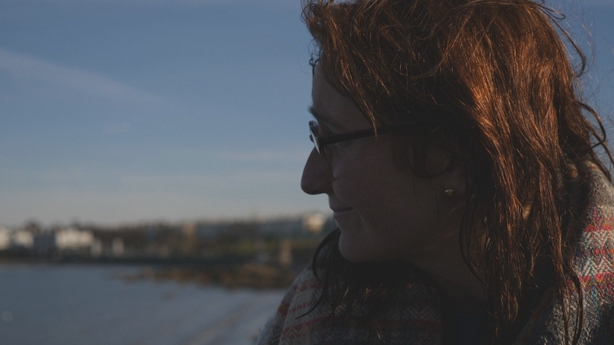 Traught mermaids
Jennifer, Susan, and Ciara are a group of friends who gather almost daily to swim at Kinvara's Traught beach. Recently, they have begun to celebrate the monthly full moon with a swim.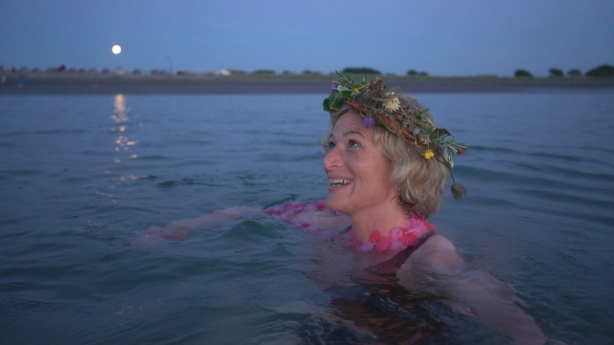 Ciara Ferguson
Ciara is pregnant in the documentary and expecting her fifth child. She swims with a gang, all different ages in Schull pier.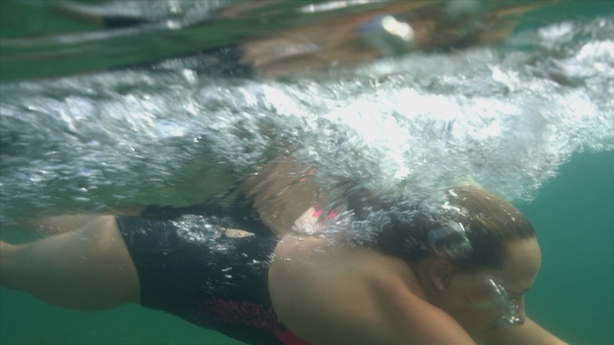 Ray and Dee Murnane
Ray is in a wheelchair after a motorbike accident in September 2015. Initial recovery was hampered by pericarditis which meant that Ray was in hospital for 18 months. He is aiming to get back into the Bantry water after a two-year break.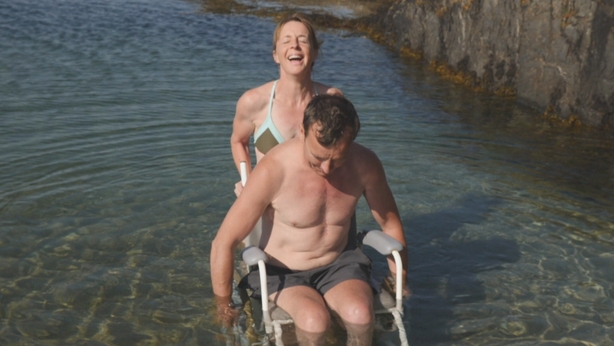 Susan Steele
Susan swims every day at Inchydoney beach and has done so for over a year. She is writing a book called Vitamin Sea. She got bloods taken twice in 6 months and white blood cell count had increased – immunity had improved.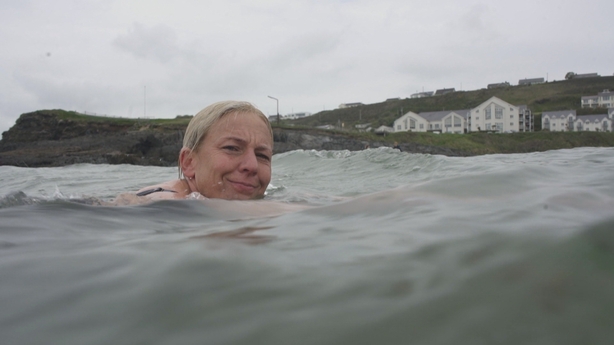 This positive, life-affirming documentary will leave you wanting to run out and jump in the ocean.