If you've been following Operation Transformation 2019, you'll already be familiar with our five incredible leaders. Jean, Cathal, Pamela, Paula, and Siobhán have been knocking it out of the park, week after week, as they inspire the nation towards happier and healthier lifestyles.
Additionally, if you follow RTÉ One on Facebook, you'll have been introduced to our 'online leader'.
Earlier this year, RTÉ recruited a brand new OT leader in the form of 2fm Presenter and social media extraordinaire Carl Mullan.
Ahead of tonight's finale, we caught up with Carl to find out how he got on with Operation Transformation in 2019.
"I dropped eight pounds from when I started off. Now, I know I could have done better than that - straight up, I know I could have - but I'm not going to beat myself up about that because I'm still in a much better position than I was a few weeks back."
He continued: "It's really weird how easy it is to get into one bad habit that leads to another and leads to another. But that can go in the other direction. If you decide to pick up one good habit that can lead to another good habit and another."
Carl, who lives at home, says that his family has given him great support over the past eight weeks when it comes to following the food plan - even though his mammy has tried to sneak potatoes on his plate on more than a few occasions.
"They've been great and I've been making a lot more stuff as well. My favourite go-to - I'm not great at cooking, I'll be honest - was the spicy chicken and tomato soup. It was so easy, amazing for lunches. I made it a few times and the family always loved it as well."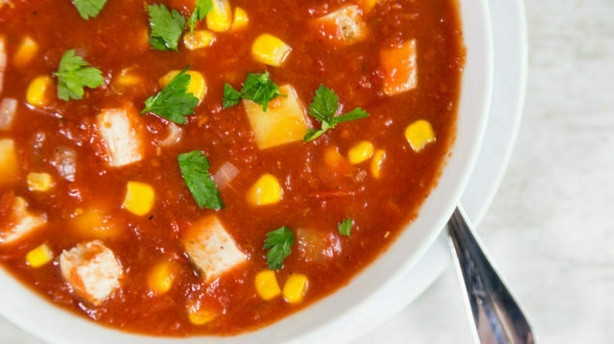 As well as picking up good habits in the kitchen, the radio presenter says that one of the biggest changes he's made in his life has been prioritising his fitness.
With a busy work schedule, it can be easy to skip the gym in favour of an extra hour of sleep in the mornings but, then again, there are much more exciting places to exercise in Ireland than the gym.
"One of my big things for this year is that I want to get outdoors more and see more of Ireland because I've got this real appreciation over the last few weeks... there's just so much to do. There are so many things to do, you don't have to get your exercise in a gym."
He continued: "Most weekends I go up the mountains and find a new hike. That's something I really want to try and keep up."
As an online leader, Carl says he has had great interaction with fellow OT-fans on Instagram and has even received some great advice when it comes to cutting down on sugar.
"In one of my Instagram stories I was talking about sugar and how I have such a problem with sugar - it's probably the thing I've found the hardest over the last few weeks - getting control of my sugar cravings because it's so addictive."
"Most of the time you're just dehydrated," he continued. "You just want something. We're creatures of habit so now, instead of reaching for a chocolate bar, I think maybe I'll just have an orange green tea - and that does me!"
Tune in to RTÉ One tonight to watch the final episode of Operation Transformation 2019.