If you love chatting about all things interior decor but can't find a coffee pal to indulge your inner decorating nerd, then tune into The Great Indoors podcast.
Hosted by TV presenter and designer, Sophie Robinson (The Great Interior Design Challenge) with her friend, author, and journalist, Kate Watson-Smyth (Mad About the House), their friendly chit-chat about their favourite topic – interior decorating – will make you feel like you're right in the room sharing a cuppa.
The podcast is sponsored by DFS and the twosome recently came to Dublin to record a special episode of the podcast at The Dean Hotel, which is available on February 21.
Discussion topics included tips on how to take inspiration from hotel design, a heated debate on cushions and how to make your dining room the ideal place to entertain. And of course, they included regular listeners' firm favourite, The Design Crimes section. 
French fancy
Provence is famous for its diverse landscapes stretching from the Côte d'Azur through bustling markets selling great local produce passing dense pine forests to those famous lavender fields.
It really is an olfactory feast. Max Benjamin is bringing a hint of this to your home with a new Provence collection which features three different scents – Herbes Sauvages (patchouli, spicy nutmeg and lavender), Sous la Mer (blue Mediterranean accords with orange blossom and cedarwood) and Festival Des Citrons (citrus, rose and candied fruits).
Choose your favourite candle (€24.95), diffuser (€32.95) or scented card for your car (€4.95) and infuse some of the fragrance of the French countryside into your space.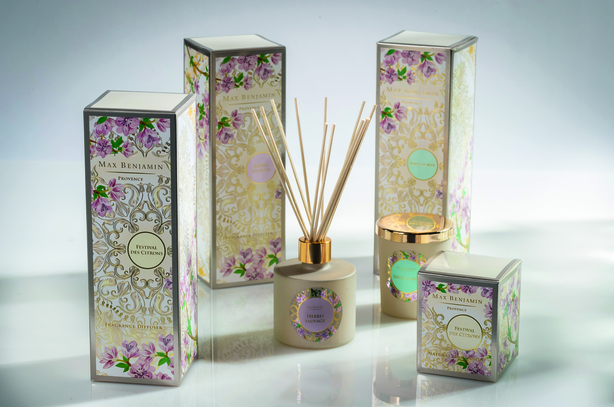 Fringe benefits
Fringing dominates the catwalks so it's little wonder that the retro look is now making its way into our homes. It is a great way to add personality and texture to pared backspaces.
Here are a few ways to easily introduce fringing to your home: 
Fringed lighting: Make a bold statement with a fringed pendant light or invigorate a gloomy corner with a fringed lamp. 
Fringed accessories: Cushion are an easy introduction to the trend but handmade wall hangings, or fringed curtain tie backs are also an interesting way to nod to this trend. 
Fringed furniture: Far more retro, fringing on ottomans, occasional chairs and footstools are a bigger investment but look sensational.  
Box it up
Recycling food waste can be pretty gross, especially disposing of things like leftovers, peelings and food scraps that can become smelly and create the everyday horror of bin juice. Irish entrepreneurs Liz Fingleton and Kate Purcell are on a mission to reduce waste one small brown box at a time which is why they developed Obeo bags.
These the compostable cardboard boxes for all brown bin waste, and once full can be popped directly into the bin, keeping everything contained and pong-free. Available exclusively online at obeoliving.com, alongside other plastic-free solutions like garden waste bags, lunch bags, and cleaning utensils.