Clelia Murphy tells Donal O'Donoghue about her teenage struggle with anorexia, the challenges of Dancing With the Stars, why she had to leave Carrigstown and finding love. 
"It's hard to explain what Dancing with the Stars is like to anybody else," says Clelia Murphy but that doesn't stop the former Fair City star from giving it her best shot. "It's kind of like going to the Gaeltacht with all these different people. The vibe at the Gaeltacht keeps you together and it also keeps you moving. 
But the thing is that on Dancing with the Stars you're not only doing something completely different, you're also fighting those voices in your head that are saying 'What are you doing?' Ultimately, I feel that the only person I'm in competition with on the show is myself.  You just have to silence those voices in your head. Yes, it's terrifying, but it's what I want to do."

Most of her life, Clelia Murphy has battled to be the best she can be: the best actor, the best mother, the best version of herself. As a child she lacked confidence; as a teenager, she overcame anorexia and today she still strives for balance. A single parent, she has always insisted that her daughter, Clarabelle (now 20) is the best thing that ever happened to her.
She says she left Fair City because as the cliché goes, you only get one spin on the merry-go-round. She says she's not in DWTS to win but simply to learn how to dance. And at the end of the day, it's all about being more accepting of yourself. It doesn't sound like a 'vote-for-me' pitch. In any case, by the time you read this, Clelia may have already packed her DWTS bags. No, for Clelia, this is not about a TV show: it's about the bigger picture.

It is Tuesday morning, less than 48 hours since Clelia danced with John Nolan, a switcheroo that had the DWTS judges applauding. Later, Clelia will be practicing the cha-chá with dance partner, Vitali Kozmin. "Or is it the cha-cha-chá?" she says. "No wonder I'm driving Vitali mad!"
I imagine you couldn't stay mad with Clelia for too long, a bubbly character who is very much an open book or at least one where the chapters are rarely boring Ever since DWTS kicked off in 2016, the producers wanted to sign her up. Last summer, she bit the bullet. "I believe that if I don't keep pushing myself, trying new things, I'd just as easily do nothing," she says. "That is a bigger fear for me than dancing in front of half a million people."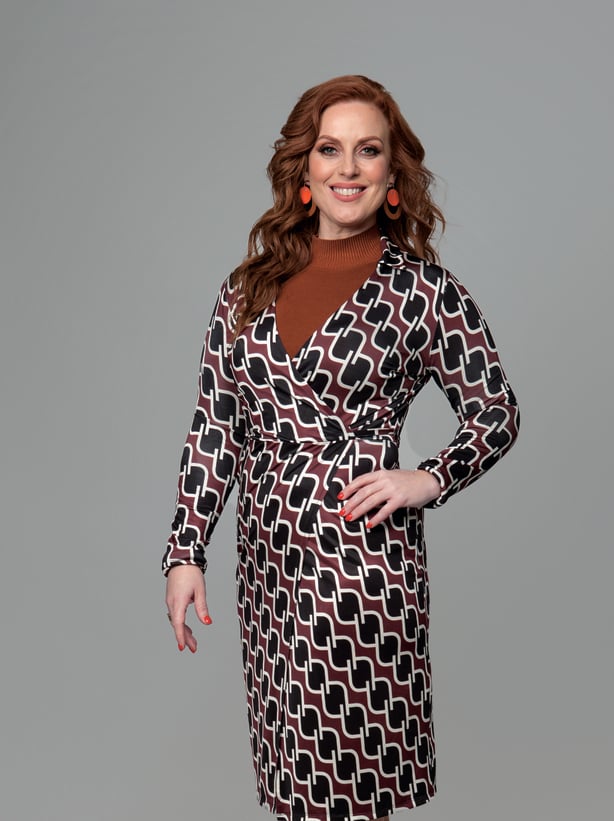 In her childhood, Clelia imagined herself as Orphan Annie. Tomorrow never came ("I quickly learned I'd never be Annie") but her dream of performing endured. Raised by her mother, Savina, and her grandparents, Seamus (Seamo) and Clelia (for whom she was named), she and her younger sister, Judy had a seemingly idyllic childhood. "I was raised by a village," she says of a time of adventure and imagination.
Play-acting was her love from the beginning, occasionally charging local kids in the Dublin suburb of Castleknock, an entrance fee for her 'shows'. Not that there weren't some hard knocks along the way. "I found my grandmother, dead in her bed on a Monday in March in 2010 and Christ I found it so hard to deal with. Then granddad Seamo passed away in 2013. But we were so lucky to have them for so long."

Lacking in confidence, her adolescent years were a struggle. "As a teenager, I went on a diet and starved myself down to six and a half stone*," she says. "I was in fifth year in school and it was all peer pressure. The shocking, heartbreaking thing is that it is worse now with that thing of 'You're only as good as you look.' That was the only message I picked up.
'If you really want to be appreciated in this world you have to look a certain way and be skinny. I didn't do it intentionally I just wanted to lose a few pounds. But anorexia and bulimia are very misunderstood diseases. You think you're in control but you're not. The disease is in control. Then you become addicted to that control and before you realise it, your life is out of control."

Her family helped her to help herself. "I wanted more for myself than the end of the U-bend in a toilet," she says. "The key moment was this day when I was on my way into town to the Gate Theatre for work experience. People at the time were telling me 'You look amazing' and when they asked how I did it I simply said 'I don't eat'.
On the bus, seeing my reflection, I looked like those magazines said I should look, but inside I felt absolutely miserable. That was the moment. It was then that I realised I was too smart for that sh*t and it was killing me. Today I want to achieve balance in my life, so put on your make-up to look good but also work on your inside. Give yourself goals. Knowing what you want is very important."

In November 2017, Clelia left Fair City after more than 22 years in the popular RTÉ soap. "I asked for some time off from the show and they gave it to me," she says simply. It was a decision that was germinating for a long while. "I asked myself, 'Is it enough for me to play one character (Niamh) for the rest of my life?' That was how my career was going unless I changed it. Plus, they could also write me out of the story at any time."

So she took her fate and future into her own hands. "I needed to get myself out there, to learn more as an actor," she says. "I say that with respect to all the cast who are there and to a show that gave me a certain amount of financial stability. But this is my only trip around the sun and I didn't want to play just one character for the rest of my life."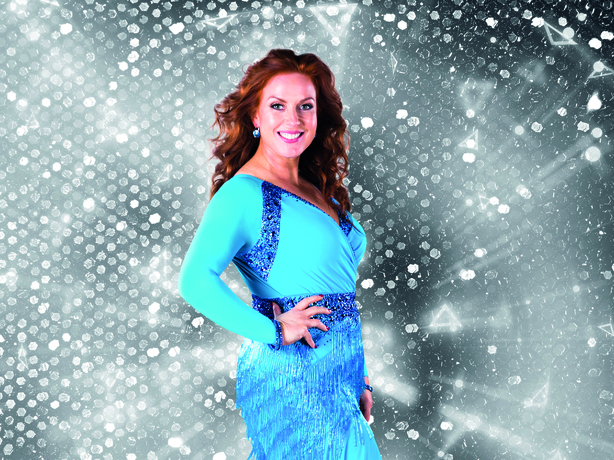 Still, it must have been a major rupture (She stumbles now when recalling it, fearful of getting emotion), as for years the pillars of her life were Clarabelle and Fair City. "When I got pregnant at 21, I had a very clear voice in my head saying 'This will be the best thing that's ever going to happen to you.' Clara Murphy has taught me more about myself than I have taught her. With Clara I now had a reason to get up in the morning, a reason to fight, a reason to work as hard as I did.

I sometimes wonder whether I'd have been a better parent if I hadn't such long hours. But I had to work to keep a roof over our heads. I can't beat myself up. I did the best that I could do. Now I want Clarabelle to be a better version of me, as I believe our job as a parent is to make the generation that follows us better than us."

During her Fair City years, Murphy rarely talked about the personal. "For years I was very happy hiding behind Niamh, letting her do all the talking," she says. "But I don't have to worry about Niamh any more. I can just be myself."

The sea-change in recent times was punctuated by a number of major events: moving home from County Meath to Dublin city, starting a relationship after years of being single and leaving Fair City. Yet even as she talks more about herself, she is also adamant that no one thing should sum up her life. "I had anorexia when I was a teenager and while that informs my life it doesn't define me," she says.  

"Now I am much more accepting of my body shape. It's not about how you look, it should always be about how you feel inside."

Four years ago, she met her now boyfriend, Johnny. "I had been single for so long and then when you meet somebody who is so good for you and a good parent, you want to protect that relationship and look after it," she says, still wary of talking too much about the personal. 

"That was my instinct then and still is now. I know what it's like to be on my own but my main focus was on raising Clarabelle. I met someone when it was the right time to meet them. Looking back, I would have loved to have met someone but I didn't want to bring someone into her life who might not stay. I wanted stability for Clarabelle and for me. And I never met that person until I met Johnny."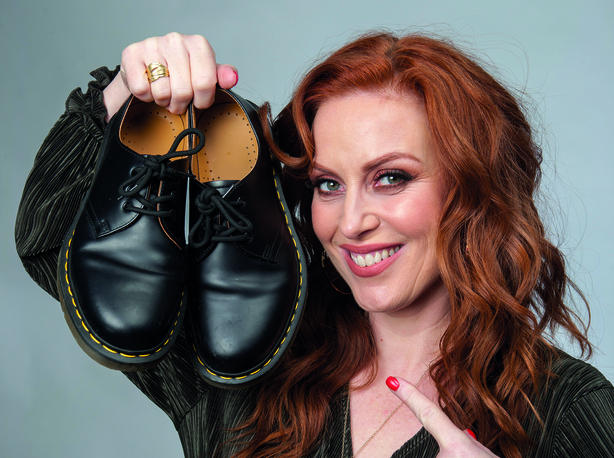 Last year was a watershed one for Clelia. Without the safety net of Fair City, she threw herself into a number of new projects. "It was the first time that I had time to invest in myself so I did the Fishamble writing course, I worked with Corn Exchange Theatre Company and I did Theatre Lovett. On the back of all that, I'm now developing a play with Ciara O'Callaghan for Fishamble that will be staged in Dublin."

Following DWTS, comes the stage adaptation of Maeve Binchy's Light a Penny Candle which opens in April and if you prick up your ears you'll hear Clelia's voice in Pat Kinevane's current touring production of Before (she is on the tannoy system of Clery's store).

F Scott Fitzgerald once wrote that there are no second acts in American lives but it seems Clelia Murphy is intent on laying any such bogey to rest. "Hopefully my life will be a five-act play," she says and laughs. "If I had stayed in Fair City, would that single role have been enough for me? No is the answer. I still think I'm afraid of most things but I keep telling myself 'Don't be anxious and just do it!'"

So she does, whether that is DWTS, on stage with Maeve Binchy, doing the voice of Clery's department store, being a mother to Clarabelle and going easy on herself. "In this life you're going to fall but it is how you pick yourself up that really matters. So just focus on the steps, Clelia!"

W that she's off to practice, whether that is the cha-cha-chá or simply how to pick herself up again and get on with her trip around the sun.

* Maeve Binchy's Light a Penny Candle, adapted for the stage by Shay Linehan, is at the Gaiety Theatre, Dublin from April 24 to May 4. Before by Pat Kinevane is currently on a nationwide tour (information from fishamble.com)
Cover story credits
Photographer: John Cooney; hair: David Cashman (@cashmandjmc); stylist: Roxanne Parker (@roxanne_parker); make-up: Michelle Montgomery
*If you are affected by any of the issues raised in this article, visit Bodywhys.ie, phone their helpline on 1890 200 444 or email alex@bodywhys.ie.