With over 150,000 bicycles now sharing our roads with two million cars, vans, trucks and buses, Simon Delaney and Bláthnaid Treacy examine the begrudging relationship between cyclists and drivers across Ireland in their brand new, four-part series, Now You See Me.
New series. Simon Delaney and Bláthnaid Treacy find out about cycling in Ireland, dispelling some of the myths and examining the main causes of frustration between motorists and cyclist | Monday 7:30pm on @rteone | @BlathnaidT @SimonDelaneyEsq pic.twitter.com/IqxnQLQ2ah

— RTÉ (@rte) February 17, 2019
Fact or Fiction
Tonight's show will dispel some of the myths around cycling, examine the main causes of driver vs. cyclist frustration and find out what the rules of the road actually state about issues such as who has right of way on our roads, are cycle lanes compulsory and is there a drink driving limit for cyclists?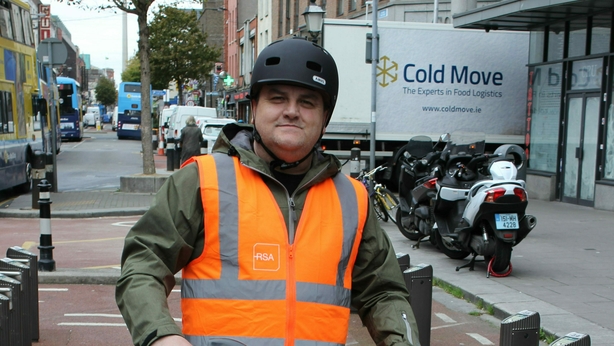 Ireland v Europe
The show looks at the rise of cycling in Ireland and examines if we are, in fact, ready to become a genuine biking nation. The series will examine why is there such a disconnect between drivers and cyclists, look at how we can better share our nation's roads and what we can learn from other countries that have embraced cycling and its many benefits.
On Now You See Me tomorrow @ 7:30pm on RTE1 - Simon finds out how the Kelly family got on when they swapped their car for bikes for a week & Blathnaid visits "cycle city" Copenhagen #nysm @RSAIreland  @SimplySimonsTv @SimonDelaneyEsq @BlathnaidT @OwenMcArdle @RTEOne pic.twitter.com/aI1piY3PYu

— DTallon (@tallon_d) February 17, 2019
Bike Swap
Ever wonder why that cyclist is using the road and not the cycle track at the same spot every day? Ever get really angry as "yer man on the bike" suddenly slows down or swerves out from the side of the road?
Well, our self-confessed "dedicated driver" Simon does; which is why he will be looking at our roads through the eyes of the more vulnerable road users (bikes and pedestrians); the ranks of which he joins when he takes on a week-long challenge swapping his car for a bike.
We need your consent to load this Instagram contentWe use Instagram to manage extra content that can set cookies on your device and collect data about your activity. Please review their details and accept them to load the content.Manage Preferences
On tonight's episode...
Simon joins a Donegal family as they swap their cars for bikes for a full week of school runs, commutes, and shopping trips.
Meanwhile, Bláthnaid heads to the Mecca of the bike, Copenhagen, to see why cycling works so well in Northern Europe and what we can learn from it.
We also meet some of the people who cycle Ireland for work or leisure and find out what they think of sharing Ireland's roads with other people.
Watch Now You See Me tonight, Monday, 18th February at 7.30pm on RTÉ One.