As she gets ready to return to our screens in the new season of Red Rock, award-winning actress Denise McCormack sits down with Jess O'Sullivan in this week's RTÉ Guide. Get a sneak peek below.
Speaking on why she believes that her male counterparts have an easier time promoting their work, Denise says:
"Men get away with having bulging bellies and big bums, and everyone turns a blind eye. As an actor, you embody a character and that's your job and that's what you're comfortable doing. But when it's you, I just find it really awkward.
"You kind of have to be a hairstylist, a make-up artist, a model, you have to style your own clothes... and we're none of those things, so it's difficult. Men don't have any of those problems. They just turn up and don't give a toss, and get a photo taken and nobody cares.
"Nobody will say: 'Oh look at them, their clothes didn't stand out, their tummy was a bit big, or their arms were a bit big.' It's very stressful for women. It would be lovely just to turn up and not have the migraines to
go with it."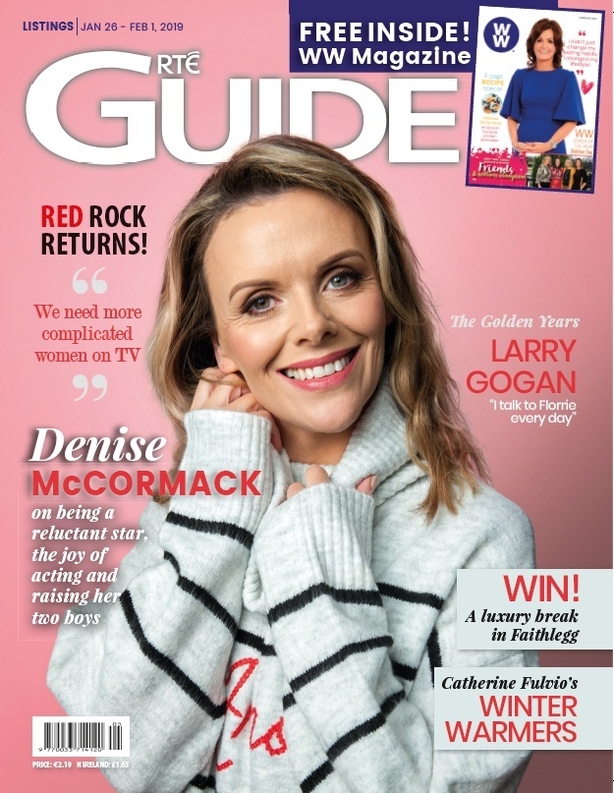 Elsewhere in this week's RTÉ Guide
Shooting the Darkness Darragh McManus on a major new documentary that looks at the experience of photographers who recorded events during the Troubles
Larry Gogan Donal O'Donoghue meets a broadcasting legend as he prepares to hang up his 2fm microphone
Denise Gough The award-winning Clare actress has a key role in Colette and has been cast in the upcoming Game of Thrones prequel. Michael Doherty caught up with her.
Dick Wolf Donal O'Donoghue talks to one of Hollywood's most successful TV producers.
Weight Watchers - There is a free copy of WW Magazine in this week's Guide