Neven Maguire is one of the most popular chefs in the country, and the man from Cavan owes it all to the many women in his life, he tells Donal O'Donoghue. Get a sneak peek of this week's RTÉ Guide below.
Neven first spotted Amelda in Enniskillen (she is from Co Fermanagh) before they met again in Galway.
"I had just come back from Lyon where I had represented Ireland in the Bocuse d'Or in 2001 and we met at a nightclub in Galway called CPs. We clicked immediately and for our first date we visited the Cliffs of Moher. Our first meal was at Bang Café in Dublin. Now I always joke that I shop locally for food and for love."
The couple's twins, Connor and Lucia, were born in 2012. It was a complicated birth and afterwards, Amelda developed cardiomyopathy, a potentially fatal condition. She recovered fully but the couple decided not to have any more children. "The first time I ever saw Lucia and Connor was an amazing moment that will stay with me for the rest of my days," says Neven.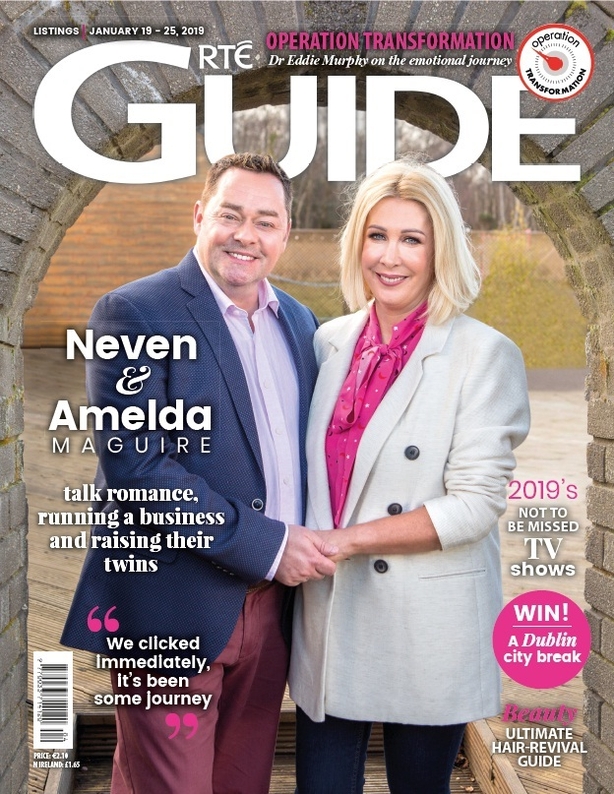 Elsewhere in this week's RTÉ Guide
The Good Fight Season two of the hit US series kicks off this week. Jess O'Sullivan reports
8 Must-see shows for 2019 Donal O'Donoghue chats to Black Mirror's Charlie Brooker and looks at the big TV shows coming our way this year.
Wes Nelson The Love Island star is currently making waves in another reality show, Dancing on Ice. Jess O'Sullivan meets him.
Denise Welch & Rebecca Storm Nancy Previs chats to two of the stars of Calendar Girls the Musical, as the hit show makes its much-anticipated debut in Ireland.