Growing up in Baldoyle in north Dublin, neither Nicky Byrne nor Jennifer Zamparelli ever imagined they would end up co-hosting a show like Dancing with the Stars. Jess O'Sullivan talks to the pair ahead of the big opening night in this week's RTÉ Guide. Get a sneak peek below.
Jen acknowledges that Amanda Byram will be a tough act to follow, as she and Nicky ran a slick operation on our Sunday night screens for the last two seasons.
"There's a lot of pressure because it's a beast of a show," says Jennifer, "and Amanda leaves very big shoes to fill, literally: I think she's like a size 9 and I'm a 5. But she brought a lot to the show and she looked phenomenal, so I would hate to be compared to her because I'm so different."
Nicky has spoken to Jennifer about pre-show nerves. "I know she is nervous because I've had that conversation with her but no more nervous than most. Any live presenter will tell you, as soon as the light goes red, your inner voice says: 'Why did I put myself through this?' but then the adrenaline gets going. I haven't given her any advice. I don't think she needs advice. She is a very confident person, very funny, very quick."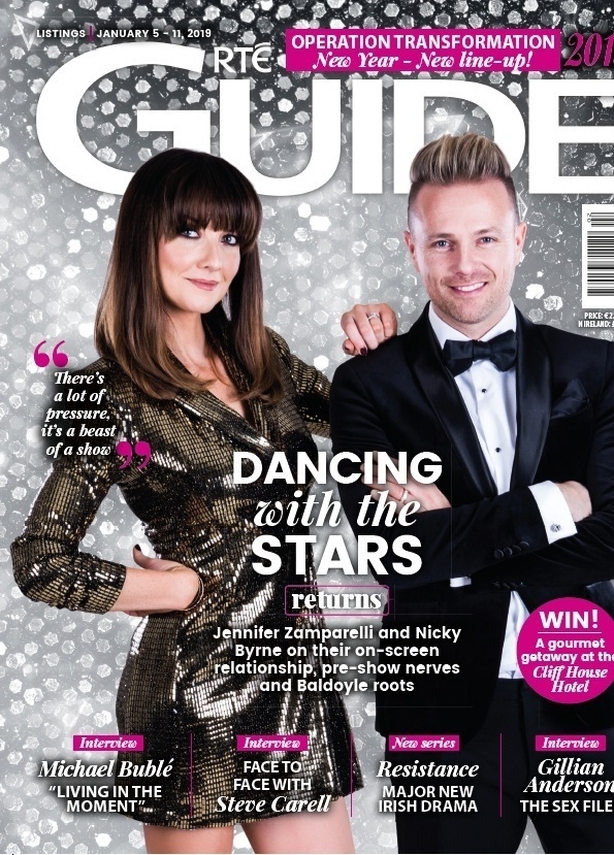 Elsewhere in this week's RTÉ Guide
Dr Sumi Dunne Op-Trans has a new doctor this year. Donal O'Donoghue meets Dr Sumi
Resistance Andrea Byrne visits the set of RTÉ's major new historical drama and meets its stars, Brian Gleeson and Simone Kirby.
Gillian Anderson The X-Files star plays a sex therapist in a new Netflix comedy. Donal O'Donoghue travels to London to meet her.
Michael Bublé Jess O'Sullivan catches up with the King of the Crooners
Steve Carell In a MovieGuide special, Michael Doherty travels to London to meet a funny man whose roles are getting very serious