Whether you're a Christmas eve shopper racing up Grafton Street to get a last minute deal or a smug November shopper who has their gifts under the tree before Ryan opens the Toy Show, buying for loved ones can be exceptionally tricky.
First of all, the most wonderful time of the year can be an expensive one. No one wants to buy presents for the sake of ticking them off a to-do list, and with so many friends, family, co-workers and acquaintances to buy for, it's important to spend your money wisely.
Secondly, with sustainability on everyone's minds this year, we would all like to avoid the piles of plastic wrapping that comes with an online order. Plus, who wants the carbon footprint of shipping something in from America?
Finally, some people are just difficult to buy for - here's looking at you, Dad.
With all this in mind, we have conjured up a list of homegrown, diversely priced, downright lovely gifts for you to buy for your favourite people this Christmas. Click through our gallery above.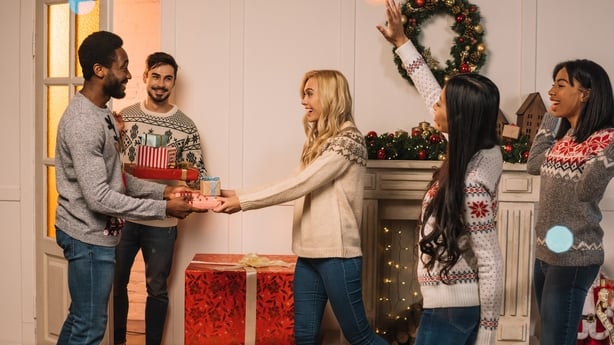 Love Lift 
Dancing with the Stars competitor and 'Miss Ireland' winner Holly Carpenter has added eco-friendly travel cups, silky robes and cosmetic bags to her accessory range. She also launched a fab range of handbags named after admirable women such as Grace O'Malley, a pirate queen from Irish folklore. (€35.00)
Irish Socksciety
Havin' the craic from head to toe, this novelty company might just have the perfect gift for the man in your life. With the help of artist Shane O'Malley, the company launched the most Irish socks on the market. From Cupán Tae (€9) to custom designs, these socks will guarantee a pair of happy feet.
Betty + Biddy
Founded by Fiona Fitzsimons, online costume jewellery shop Betty + Biddy have the perfect accessories for your Christmas party or a last-minute gift for your office Kris Kringle. Their new 'Everyday' range is perfect for both the office and the office party. We recommend this Star and Choker necklace for €16.00.
deBláca Jewellery 
Irish designer Mairead deBláca creates beautiful collections in gold and silver, both delicate and bold in style. Designed, crafted and hallmarked in Ireland, every piece will make a statement. These 'Cover me in daisies' drop earrings are particularly sweet. (€55.00)
Love Mo Chuisle
Anna Dobson launched her brand in November last year. The mother of three prides herself on crafting an untapped market of children's tweed creations and matching accessories alongside the classic range in Ladies and Men's. This Irish Tweed Bow-Tie is perfect for the party season. (€39.95)
Martina Hamilton
Each piece of bespoke sterling silver and gold jewellery is designed handcrafted in the Goldsmiths studio in Sligo and hallmarked under the stringent quality conditions of the Assay Office of Ireland. This leaf and pearl bracelet is an absolute show stopper. (€76.00)
Due South
Irish man Paul and his French wife Mel have teamed up to bring good quality clothing with minimalist Irish design. Poolbeg chimneys, the Sugar Loaf, and Dublin's skyline all feature on their simple yet stylish t-shirts. (€28.00)
My Name is Ted
Born in 913, Ted Carbery was a saddler from Mountmellick in the midlands of Ireland who built a thriving business with two leather workshops that supported his eleven children. Today, Ted's legacy continues with his grandchild who is fusing fashion and function to create luxury products with smart technology.  
Pierce Healy
A Dublin jeweller who has created ten rings for director Peter Jackson's latest movie Mortal Engines, Pierce describes his style as 'junkyard, Viking noir' and his pieces, in oxidised silver and gold, are layered with a galaxy of intricate engravings. His bleeding heart pendant comes in at €185.00.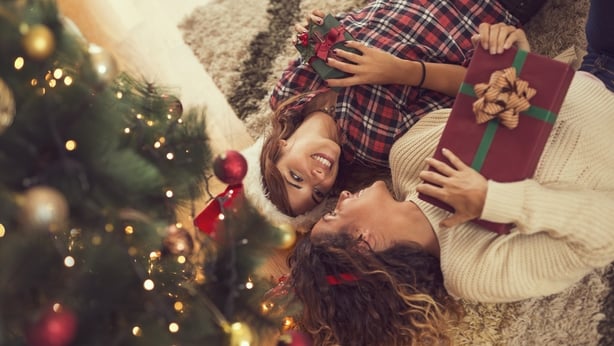 Kennedy & Co
As well as being a TV presenter, stylist, fashion journalist and Dancing with the Stars contestant, Darren Kennedy has a beautiful skincare range that includes moisturising gels, beard oils and peat scrubs. We recommend the Matte Hair Clay which aims to stimulate hair growth and prevent hair loss. (€12.95) 
Dublin Herbalists
Founded in 2012 by Claire Brett, these beauty products are made from 100% natural ingredients and are never tested on animals, making them as ethical as they are beautiful. This exfoliating body scrub with pink Himalayan sea salt is going on the Christmas list. (€15.95)
Pestle & Mortar
This Irish skincare company is a cult favourite amongst beauty lovers. Admittedly, the high-quality products do lead to a higher price tag but if you're looking to splurge, this is the place to do it. The Hydrate Moisturiser aims to hydrate, soothe and soften the skin whilst providing anti-ageing benefit. (€48.00)
Green Angel
Founded in 2006 by Chris and Mary Mitchell, Green Angel is an award-winning luxurious range of Irish skincare, hair care and bath care preparations. The Green Angel Rest & Calm Traditional Irish Bath Soak is divine and costs €9.95.
Nourish
Nourish is an independently owned Irish family business of health food stores. They've got healthy treats, natural cosmetics, vitamins, supplements and much more. Right now they have Palm-Free Irish Soaps that are rainforest friendly, made in East Clare and cost just €2.99.
Nunaïa
Nicola Connolly founded a new, Irish luxury, organic beauty wellness brand called Nunaïa (pronounced noo-nigh-ya) in September 2018. Her decadent Nourishing Radiance Serum is perfect for the lady who has just about everything. (€79.00)
Úr Makeup.
Irish make-up artist Nichola Graham has created a PETA-approved, vegan, brush range that is 100% recyclable. Individual Brushes are on sale from €9 - €13. 
Oxmantown Skincare
Based in Dublin's Stoneybatter, all of their products are all handmade in small batches using high quality, organic and active botanical ingredients. Pick up their Instagram-worthy jade roller for €22.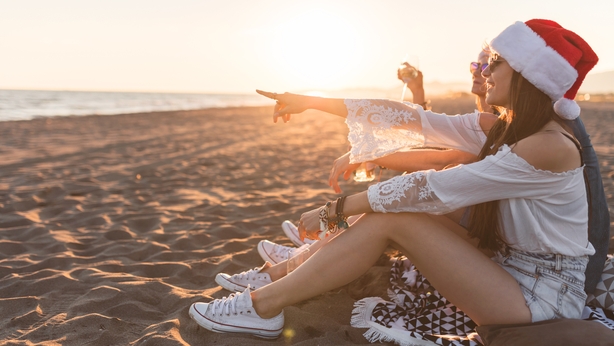 Jarlath's Christmas Cards
Comedian and podcaster Jarlath Regan has designed some Christmas cards for every Irish man, woman and child living abroad. A batch of ten cards costs €20 and will have the whole family in stitches.
Irish Design Shop
Established in 2008 by two jewellers, Clare Grennan and Laura Caffrey, this homegrown store offers traditional & modern handicrafts. Know someone who is missing home? Send them some seaweed for a bath that will detoxify the body while reminding them of summer's spent in Ireland's seaside towns. (€6)
Article Dublin
Opened in 2010, Article is located in Lord Powerscourt's former dressing room in Dublin's Powerscourt Townhouse Centre. If you're looking for something uniquely Irish, this is the place for you as the shelves are stocked with everything from Irish woollen throws to Ostrich feather dusters. We fell in love with this A4 Georgian doors print from Clover Rua. (€12.95)
Made of Irish
Made of Irish launched in Autumn of 2018 by Louis Copeland. They create hand-picked collections of Irish-made gifts, with a focus on homewares, cosy throws, handmade pottery, stationary, skincare and candles. A selection of pre-made hampers are available at €150 and €275.
Kilkenny Shop
This shop has the A-Z of Irish brands but we completely fell in love with this simple Claddagh ring. Its distinctive design features two hands clasping a heart surmounted by a crown. The elements of this traditional accessory are often said to correspond to the qualities of love (the heart), friendship (the hands), and loyalty (the crown). Buy one for your long distance other-half for €39.95.
House of Ireland
We all have an American relative who would only love a gift made of Aran Wool. If you want to bypass picking up another woolly jumper, opt for Shepley the sheep, a soft toy by Carraig Donn. (€33.50)
April and the Bear
Each product in the A&TB collection has been carefully selected by owner Siobhan Lam for its unique aesthetic. The 'Ah, Here' print comes in at €20.00 and is sure to put a smile on any Dubliner's face.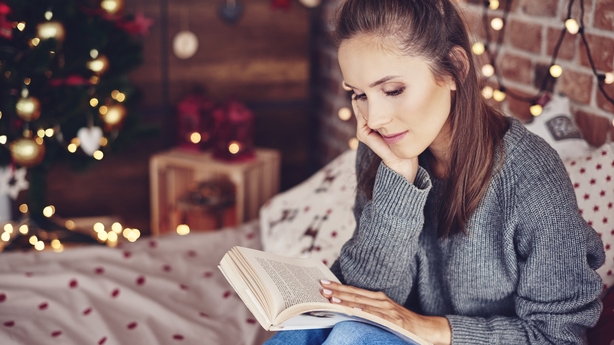 ROAR by Cecelia Ahern
A clever and empowering new collection of short stories each of which addresses issues and concerns facing the women of today. (€13.99)
Madam Politician by Martina Fitzgerald
RTÉ's political correspondent Martina Fitzgerald interviews the small percentage of women who have sat at the Irish cabinet table, revealing the challenges and triumphs they have faced along the way. (€16.99)
Blazing a Trail - Irish Women Who Changed the World by Sarah Webb and Lauren O'Neill
A stunning tribute to the Irish women who changed the course of history with their incredible achievements. (€17.00)
Donal's Meals in Minutes by Donal Skehan
From one pot wonders such as Thai Veggie Stew through to quick prep/slow cook such as Piri Piri Roast Chicken, this is the perfect culinary inspiration for anyone who wants to put a speedy, nutritious and tasty meal on the table in minutes - €23.99 in Easons (was €35.00).
The Currabinny Cookbook by James Kavanagh and William Murray
Irish foodie couple and Instagram stars James and William present their first cookbook, jam-packed with gorgeous recipes, each of which celebrates traditional seasonal food with a modern twist. (€21.99)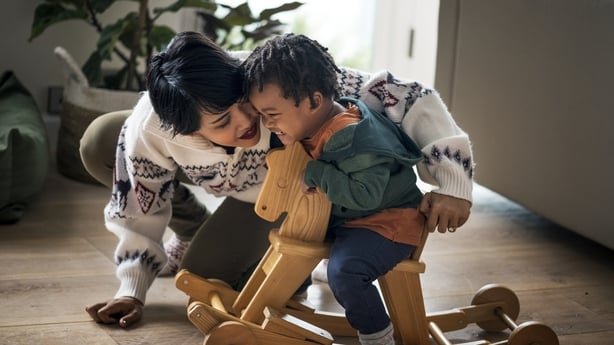 Buddy McSpuddy
My Buddy McSpuddy is a magical leprechaun from MagicLand who arrives in your house with his pot of gold and seven gold coins. When the child is good he will magically pop a gold coin into the child's pot and once all seven coins are collected, they will receive a parent-approved wish! (€29.95)
Miggle D Giggles
Have a laugh with the President of Ireland, Miggle D Giggles. This fun, warm, giggly toy currently costs €19.99 (was €24.99) and a portion of the purchase will go towards CMRF Crumlin, which raises vital funds for Our Lady's Children's Hospital, Crumlin & the National Children's Research Centre.
Red Rufus.
Every SockAnimal is carefully handmade using traditional sewing and crafting techniques, these slow skills give each one their own unique personality. For example, Little Cricket SockRabbit is a sweet little boy who loves warm milk with a little sugar, just before bed. (€35.00)
30 Seconds
This Irish invention is a quick thinking, fast-talking, description game that is perfect for some post-Christmas-dinner entertainment. Players must give hints to their teammate so that they can correctly guess the five well-known names on the card in 30 seconds or less! (€24.99)
Arckit
Manufactured in Co. Wicklow, and founded by Cavan architect Damien Murtagh, Arckit is a fun way to open up the world of architecture to kids and parents alike. Forget 'cut and glue' models, this game allows you to create and explore designs with a 'click and connect' model. The Tiny Town Starter Kit is on sale for €18.74 (was €24.99).
The Irish Fairy Door Company
The Irish Fairy Door team have one job and one job only: to help fairies relocate into homes and gardens all over the world by producing high-quality fairy doors. All you need to do is believe! This fairy door is €19.99 and you can paint it whatever colour you like.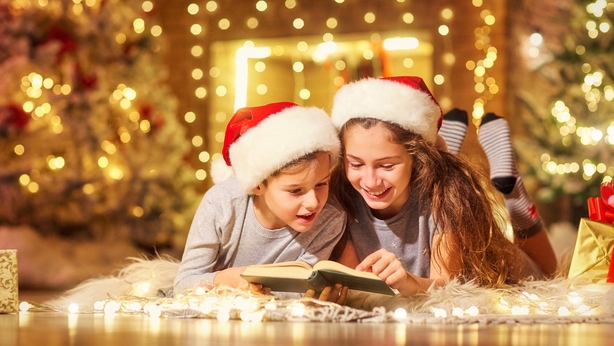 The Accidental Adventures of Onion O'Brien by Jason Byrne
Comedian Jason Byrne shares the story of Onion O'Brien, an ordinary kid growing up in the suburbs where nothing ever happens. Except when it does, it always happens to him. (€12.99)
Happy Christmas Pigín by Kathleen Watkins
Pigín and Badger meet in town for a spot of Christmas shopping. What follows is the most wonderful day in Dublin. (€14.99)
The Magic Moment by Niall Breslin
Written by Niall Breslin (Bressie) and illustrated by Sheena Dempsey, this picture book introduces young readers to Freddie. This brave young boy helps children explore difficult emotions and face their fears.(€16.99)
Granuaile, The Pirate Queen by John and Fatti Burke
Learn about Ireland's original rebel girl in this exciting new series of inspirational Irish lives by John and Fatti Burke, the creators of Irelandopedia, Historopedia and Foclóiropedia. (€12.99)
The First Christmas Jumper and the Sheep who Changed Everything by Ryan Tubridy
Hillary the sheep loves everything about Christmas, especially Santa. When news gets out that Mr Claus himself is travelling across all of Ireland, looking for the perfect sheep's wool to make a brand new jumper, Hillary's head begins to spin - €6.99 (was €9.99) in Easons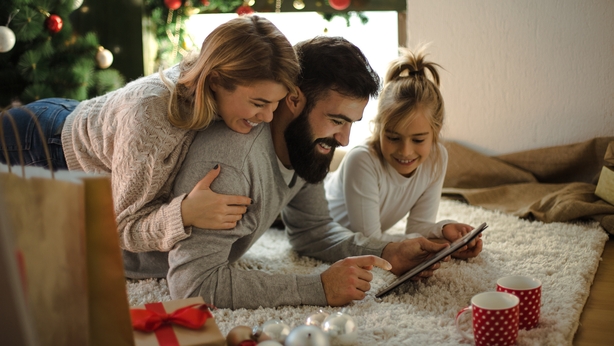 run angel
Founded in 2013 by husband and wife team, David & Ellen Caren, this safety wristband has a loud 120dB high-pitched audible alarm that will ring out when activated attention in an emergency and pairs with smartphone devices over Bluetooth to send out alerts in the event of an emergency (€99.00).
Gym+Coffee
This Irish activewear brand was founded by three highly-caffeinated men; Niall Horgan, Diarmuid McSweeney and Karl Swaine. Together, they created a one-stop shop for the fitness guru in your life. The stainless steel water bottles are particularly trendy (€25.00). 
I-Spy
In November 2014, mother and daughter Paulette and Louise Egan came together, joining their passions for fitness to create a clothing range. Their I-Spy Less Leggings 2.0 are €55.00 and promise to be 100% non-see through.
Irish Design Shop
If you enjoy a morning hike on the wild Atlantic Way, you'll be in need of a trusty backpack. This classic, roll top Backpack By Galway based Vel-Oh is simple and stylish enough for any outdoor occasion. (€185.00)
Brooke and Shoals
Founded in Greystones, Co. Wicklow by  Alison Banton, this company have a range of soaps, candles and body lotions in a variety of delicious scents. We love the Sweet Pea & Tea Rose Fragrance Diffuser for €29.00.
My Shining Armour
My Shining Armour is the brainchild of Irish gal, Nicki Hoyne. Essentially, it's a website filled with pretty things from stationary and homeware to jewellery and day planners. This CEO Of My Own Life Daily Planner will have your housemate extra organised for the year ahead. (€49.95)
The Handmade Soap Company
Fill your home with wild and warming winter spices with this Christmas Candle for €15.95. As always these products are vegan-friendly, cruelty-free and scented with essential oils only. What's not to love?
karoArt
Christmas decorations make for a lovely stocking filler and, of course, we recommend you buy an Irish one this year. karoArt is a small ceramic studio based in Dublin who make all kinds of beautiful wall pieces and ornaments. This adorable 'Robin the robin' disc ornament is €12.50.
Avoca
The Wicklow born company is known for its mouth-watering food, fleecy fashion and drop-dead-gorgeous homeware. They've got some gorgeous gifts for just about everyone including this New Year's Eve hamper complete with prosecco* and scrabble. (€45.00)
Press Up
With this Gift Card, your giftee can choose their own experience in any of Press Up's portfolio of restaurants, bars, hotels, cinemas. An ideal gift for the person who is impossible to buy for.
Many of the above companies will be featured at Gifted - The Contemporary Craft and Design Fair in the RDS from December 5-9.