As we fly into December, there is no hiding from all the festive fun and it's even harder to find things to do that are not related to the season.
Christmas FM also launched this week, and my kids have already re-tuned the car radio to play non-stop festive favourites.
Oh, the joy!
The only thing to do is to have yourself a merry little Christmas and go rockin' around the Christmas tree until Santa Claus comes to town bringing joy to the world and hope Grandma doesn't get run over by a reindeer.
Have fun!
1) Festival of Light Launch
This year's Festival of Light launches on Friday night with a fun-filled evening with Santa arriving to light up the town's Christmas tree before the spectacular Parade of Light, when local families showcase their home-made lanterns and light the way from the Square to Santa's Elf Village in the heart of the Discovery Park for a breathtaking fire show, featuring circus act Wobbly Circus.
2) Family Music Workshop at NCH
Music can bring families together and the Family Music Workshops at the National Concert Hall are a great way to introduce music to your child where you learn together in a fun and interactive environment. Workshops this Saturday include Baby Bop and Toddler Twist, Let's Drum, Let's Sing for Christmas and more.
3) Drive-In Movies at Westport House
A different seasonal experience is available at Westport House each weekend in December with a selection of Drive-In movies with refreshments available to purchase for your car's guests. The season kicks off this weekend with Elf and Grease showing on Friday and Frozen and Dirty Dancing on Saturday.
4) Gaiety Panto
Since 1873, the Gaiety Theatre has entertained the city with an annual Christmas Panto and the tradition continues this year until January 20th. You are guaranteed a brrrrrr...iliant time where you'll shiver and shake with laughter as the Snow Queen tries to freeze the fun out of Christmas!
Will she succeed? Oh, no she won't.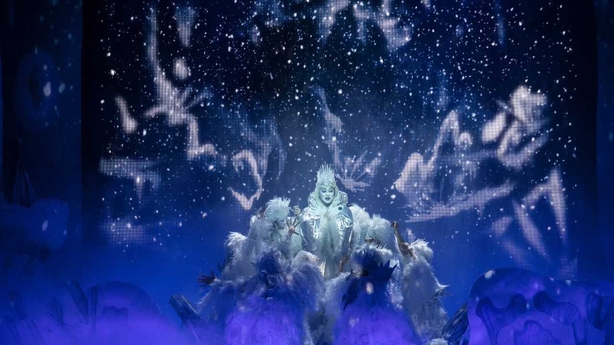 5) Women's Tour at Glasnevin Cemetery
To mark the centenary of Constance Markievicz's election in December 1918, Glasnevin Cemetery are hosting special tours that will focus on the women who have played pivotal roles in shaping Irish history. The tours will run on Saturday, December 1st & 8th at 11:00am and 2:00pm.
6) iSkate @ RDS
iSkate-on-Ice was introduced to the RDS in 2012 and this year will cover an area of 1000 Sq. metres and is Ireland's only outdoor ice skating rink! iSkate is brought to you by Funderland, which opens on St.Stephen's Day, so you know it's going to be a fantastic festive experience. Open daily until 13th January.
7) A Christmas Carol
An uplifting festive story for the entire family - suitable for children from 8 years upwards - in The Goldie Chapel at Nano Nagle Place this weekend.
In this production, the wonderfully talented and versatile actor, Kieran O'Leary will bring a host of characters to life including the miserly Scrooge, the humble Bob Cratchit, the Ghost of Jacob Marley bound in chains and the frail Tiny Tim.
8) Food and Design Winter Fair | Belvedere House & Gardens
The Food & Design Winter Fair takes place in Belvedere House & Gardens on Saturday and Sunday. A highlight of the Christmas craft season it showcases crafts, design and fine foods and is a great family day out with free admission.
9) Santa's Arrival at Wells House
Greet Santa, Mrs Claus & The Elves as they arrive for Christmas in Wells House on Sunday for a day full of fun and festivities plus the first of their Christmas Markets. Entry is free and Santa arrives at 2pm.
10) Lullymore Christmas
Lullymore Heritage & Discovery Park brings you its traditional 13th annual "Lullymore Christmas" event with Santa arriving this Saturday and leaving for the North Pole on Sunday 23rd, December.
A Festive Train trip will take you on a magical journey through the ancient woodlands with Christmas Holograms in an old style thatched cottage, Crib, illuminated walkway to Fairy Bower and more.
11) Waterford Winterval
Spraoi's Winter Wonderland launches on Friday with a magical walk-through experience, with large-scale effect toys, light, sound, music and mystical forest dwellers.

This family-friendly attraction runs from 5pm-8pm on weekends until 23 December, and the experience is completely free of charge.

Other events at Winterval include Enchanted Christmas Santa Experience at the Old Postal Sorting Office, the Winterval Illuminates festive lights show, Waterford Eye, Christmas markets, craft fairs, workshops and more.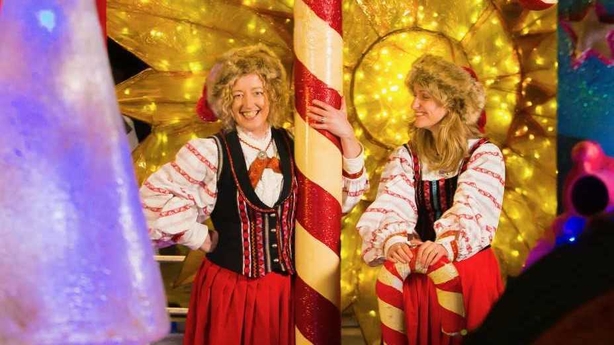 12) Winter Market at The Dock
The annual Winter Market at The Dock Art Centre in Carrick-On-Shannon will be full of gorgeous gifts, yummy local food and crafts and festive cheer on Saturday and Sunday.
13) Annual Howth Christmas Tree Lighting
Fun, festive event in Howth, Co Dublin for the annual turning on the Christmas Tree lights by Santa at 5.30pm on Sunday, with support from Main Street Flowers & The Country Market. Live music and entertainment with the Howth Pipe Band, Howth Gospel Choir and Howth Church Choir.
14) Butler House Christmas Garden
Butler House Garden in Kilkenny returns with a festive favourite this weekend where their secluded walled garden is transformed int a magical Christmas atmosphere in the heart of Kilkenny.
15) Mullingar on Ice
Mullingar's first ever ice skating rink is now open until January 6th in Mullingar Town Park, which is also home to two playgrounds for kids, a toddlers playground, public swimming pool and a skate park.
Three things to do next week:
1) Santa's Kingdom at the National Wax Museum
Santa will be visiting the Wax Museum and officially checking his nice list and giving out free gifts on December 8th, 9th & 15th, 16th from 12pm to 4pm and there will be lots of other free festive events throughout the month.
2) Santa's Christmas Magic
Santa and his pal Elfie return to mesmerise children and their families at Santa's Christmas Magic Show at Brigit's Garden with an interactive family show full of fun, music and Christmas magic.
3) Santa's Workshop at Delta Sensory Gardens
Santa's Workshop at Delta Sensory Gardens in Carlow starts next weekend with loads of activities to entertain during your visit including arts, crafts, fun games, glitter tattoos as well as entrance to gardens to see lights display and a family photo with Santa.
YourDaysOut is a sales and marketing platform for local businesses and event organisers with tools to help promote, publish and sell tickets and bookings online, for up to 50% less that other ticket sites. It is also No.1 in Ireland for people looking for things to do, where users can FOLLOW their favourite business pages and get notifications about any offers, events and buy tickets to visit Santa in Ireland.