Broadcast live from the hallowed halls of the Anatomy Museum in Trinity College, Dublin, Growing Up Live has kicked off with an episode as surprising, fascinating and jam-packed as the first few months of parenthood.
Kicking off the show with a deep dive into parenthood and young babies, a topic of constant scrutiny, enjoyment and anxiety for new or prospective parents.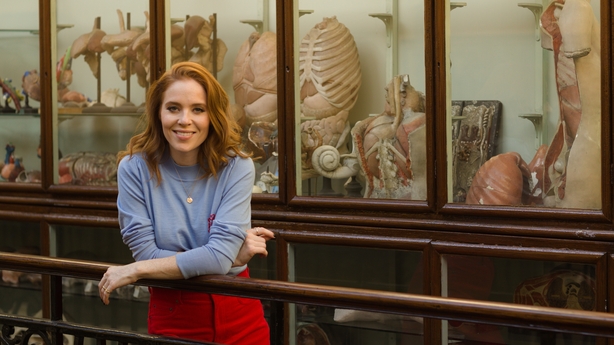 Last night, clinical psychologist David Coleman worked towards decoding much of what makes babies tick, outlining what is needed to rear a healthy, happy baby and how to be the best parent you can be.
Speaking with presenter Angela Scanlon live from the Anatomy Museum in Trinity College, Dublin, Coleman said, "Nature has this wonderful way of connecting us to our babies, and they need that."
"They need that security, they need us to be consistently there and dependably available to them so if they cry that's their sign that they need something and it's our job to meet the need."
Food, warmth and security are the three essentials, and are all supplied by nature through breastfeeding, "which is the way humans have been reared since the start of human existence".
As well as this, he explained how different kinds of interaction factor into their development, and the different ways that men and women connect with their babies.
He also explained what makes babies' heads smell so good, why we have the impulse to smell it at all and the incredible chemical reaction it sets off in mother and baby. Scanlon herself confessed to encouraging friends and family to smell her daughter Ruby's head, saying "that smell is so unbelievable!"
Outlining how rapidly a baby develops during the first few months of its life, what he calls the "fastest rate of growth in our lifetimes", he points to a number of physical milestones that babies make intuitively and impressively.
Tonight on @rteone we learn about the science of babies🤱 #GrowingUpLive #ScienceWeek pic.twitter.com/VtOHhIWI81

— LifeStyle on RTÉ (@LifeStyleRTE) November 13, 2018
Tapping astutely into the fears of many parents, Scanlon asked whether the milestones Coleman laid out are definitive and whether they should be worked towards exactly like that, but Coleman assured us that "they're really guidelines".
Comparing this development to setting up "scaffolding", Coleman assured viewers that milestones are most useful in acting as signposts that our babies are ready for their next step in learning, regardless of when that happens.
To learn more incredible facts about how babies develop, watch the video above!
Growing Up, Live airs on the 13th, 14th and 15th of November at 7pm on RTÉ One.