Do your kids love science? Well, clear your kitchen countertops and get ready because RTÉjr have a science show that will introduce your family to some amazing experiments that you can do at home.
Let's Find Out is set on the space-ship 'Curiosity' - captained by alien puppet Zoom and her trusty assistants, physicist Mark Langtry and biochemist Ciara Murphy. Together they explore questions sent in by children.
Mark enlisted the help of Prime Time's Political Correspondent Katie Hannon to make Slime. Watch them in the video above.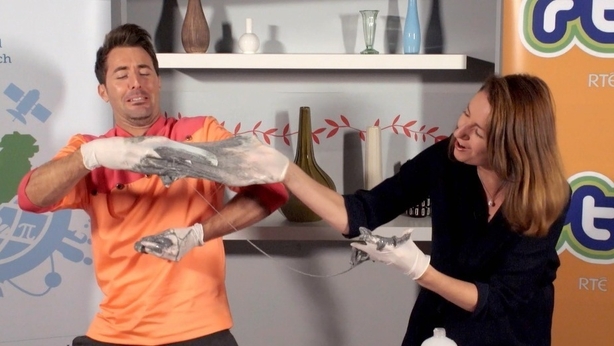 What you need:
Bowl
200mls of PVA glue (white or clear)
1 teaspoon of bicarbonate of soda (baking soda)
A few drops of food colouring
Glitter (optional)
1 tablespoon contact lens solution or eye wash (before you buy, check the ingredients to ensure it contains Boric Acid)
A sealable bag or container to store your slime in afterwards

Notes
Best to add the boric acid solution very gradually, as you may not need the full tablespoon. You'll get better slime if you don't add too much!
Once the slime starts to stick together and comes away from the sides of the bowl easily, take it into your hands and start kneading and stretching it. Don't worry if it is still a little sticky when you start.
Mark and Katie used gloves, but you actually get better slime if you don't. So go gloveless!