Michelle McDonagh's father Séamus was the "life and soul" of any party. After any of her brother's training sessions, children would be falling over each other to get a coveted seat (or space in the boot) in Mr McDonagh's car for the journey home because they knew there would be ice lollies, fizzy drinks and silliness.
"He could have 3 or 4 of them in the boot, legs hanging out, driving along the road. And that was just Dad, he was daft. Cracked."
Michelle joined Sean O'Rourke on the Today programme to talk about her experience of caring for her father and her hope for better resources for the families of those suffering with dementia.
Séamus was a smoker and in later years developed vascular dementia. Last year, Séamus' condition deteriorated rapidly.
"His behaviour was becoming more challenging. He was very angry and bad-tempered. And he was spending a lot of time on his own."
After one particular episode when Séamus met his sister and became very confused and distressed, it came to the point where Michelle's family felt he couldn't be cared for at home anymore.
"He was becoming very aggressive, very angry. Angry with my children. And these are the same children that he adored."
Their feeling that he needed more help than they could provide was confirmed as his aggression worsened. Séamus lashed out at one of his daughters, Cathy.
"He told her was going to hit her and he tried to leave the house with his bag. So, we thought, we have to. There's nothing now but a nursing home."
Once a place at a nursing home had been secured, they faced the task of breaking the news to Séamus. But when telling him about their plan, he became so aggressive that the nursing staff who had come to help suggested that he be signed into a psychiatric unit. In an upsetting turn of events, Séamus was brought to the psychiatric unit in a Garda car.
"He was taken off in the back of a squad car. We sat around the corner in our car and watched the squad car go."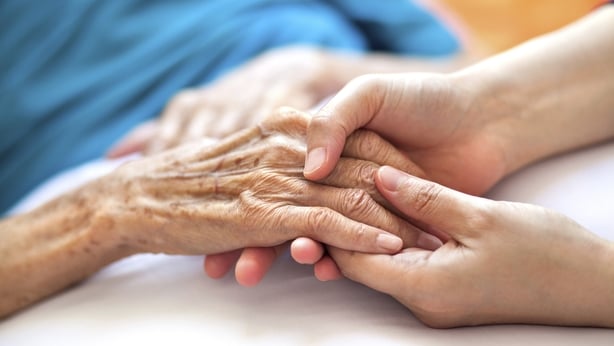 Describing the last 6 weeks of Séamus' life as "horrific", Michelle stressed that her father was a particularly rare case when it came to the severity of his symptoms and the rate of his decline.
"It's not something that happens typically. It was just an extreme situation."
Things got worse in the psychiatric unit, despite the best efforts of the staff to help Séamus.
"He just became psychotic, really, in there. He was convinced everybody was trying to kill him, that staff were trying to kill him."
While in relatively good physical health when he went in, once there Séamus refused to eat or drink or accept medication. After 6 weeks, in a greatly weakened state, they knew the end was near.
They had always wanted Séamus to die at home and Michelle remembers that that "just about happened". On the day Séamus passed away, they were taken back to his house by ambulance, siren blaring and lights flashing.
"They treated it as an emergency because they knew how important it was. We had promised Dad we would get him home."
Michelle shared her story in the hope that it will lead to a greater discussion about supports and resources for those suffering with dementia and their families. In her case, she would have liked to have been able to use the Fair Deal scheme for more care hours.
She would also like to see more training courses for families in how to talk to loved ones with dementia and defuse potentially distressing situations as best they can.
"We were completely overwhelmed, completely lost. There was no support for that. There was in an emergency but not in the middle."
Listen back to the interview on Today with Sean O'Rourke above.
For more information about dementia and supports offered by the HSE, please visit understandtogether.ie.