Irish people are masters of the Long Finger, promising ever more Spring cleans and clear outs at home with little real plan of action when it comes to getting it done. That's where Home Rescue comes in - it's the renovator/life coach you never knew (well, kind of knew) you needed. 
Each week, and starting this evening at 8.30pm on RTÉ One, architect and designer Róisín Murphy, her builder Peter Finn and their team will dive into mounds of old furniture, venture into the spare room dumping grounds and contend with the difficult moments that come when you must left something go. 
Visiting homes in Kildare, Cork, Meath and Dublin, the team will endeavor to clear clutter and completely transform two "problem" rooms, all in three days and on an €8,000 budget, with some help from IKEA. 
We all love home transformation stories, and this series promises everything we particularly look forward to including custom builds, heightened tensions, last minute disasters and a fair share of tears - happy and sad.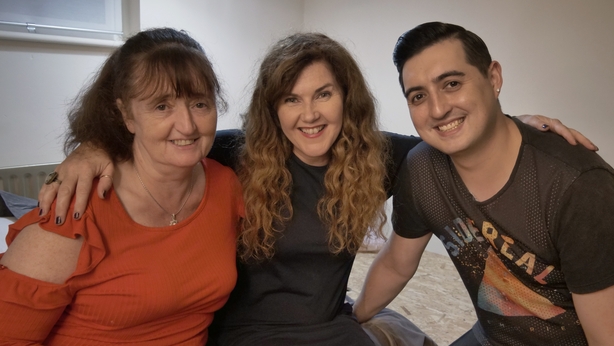 On tonight's episode, the team are thrown into the deep end when they meet the "Kork Kardashians". Decamping to the Cork suburb of Ballyphehane, Róisín and Peter meet Carmel and Konrad, a former "Mr Gay Cork" and one of Carmel's eight sons, who are struggling to find room for themselves in a busy household. 
Having had the house all to themselves until last year, when Carmel's son Kenneth and his wife and kids moved back in, she and Kenneth have relocated to two rooms on the ground floor, where they are practically barricaded in by their crafting materials. 
Unbearable as this already is, it's only exacerbating Carmel's seasonal affective disorder. 
When it comes to clearing out masses of wool, craft materials and elaborate drag costumes belonging to Konrad, this is Róisín's forte. The real challenge is in designing two multifunctional rooms using extremely limited space. 
Tune in tonight to find out how Róisín creates a custom four poster bed for Carmel's boudoir, as well as an elaborate raised bed for Konrad, all amid protests from Peter, exasperated compromises and last minute design diplomacy. 
Home Rescue begins tonight, 30 October at 8.30pm on RTÉ One!