Celebrity chef Catherine Fulvio has a busy season ahead, with a new series of Tastes Like Home and a BBC show at Christmas. So what of those plans to take it easy? Donal O'Donoghue talks to her in this week's RTÉ Guide - get a sneak peek below.
Last June, in what she described as an emotional encounter, Catherine Fulvio met a man at the Bloom Festival in the Phoenix Park who urged her to slow down and enjoy life more. "I was heading towards exhaustion at the end of last year," she says now.
The man, a businessman, had suffered a stroke and following their chat, both he and Fulvio had a healthy cry. "You know when someone says something to you and you don't realise until that moment that you actually needed to hear it? I go ten-to-the-dozen. So I've had to retrain my brain, rethink my habits. I saw a video recently which was all about walking into the same hole every time.
One day, you realise you are walking into this hole and after that, while you might fall into the hole, more often you'll remember to walk around it."
So she says she has changed her habits: more rest, more exercise (walking is her thing) and less chocolate (her weakness). "It's also important not to beat yourself up but I am my own worst critic," she says.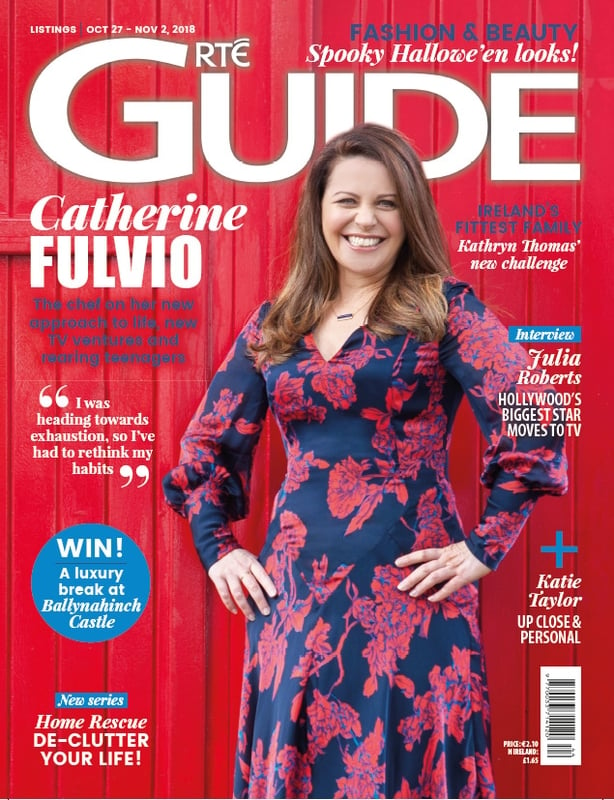 Elsewhere in this week's RTÉ Guide:
Yasmine Akram Andrea Byrne meets the London-based Irish writer and actress.
Róisin Murphy The TV architect tells Andrea Byrne about the new series of Home Rescue.
Julia Roberts Donal O'Donoghue meets a big star heading for the small screen.
Liane Moriarty Janice Butler talks to the woman behind Big Little Lies.
Kathryn Thomas Darragh McManus meets the new host of Ireland's Fittest Family. And she's raring to go!
Katie Taylor Michael Doherty gets up close and personal with the legendary sports star.