Have you lost a priceless family heirloom or are you perhaps an auctioneer in a spot of bother over a missing piece of jewellery and were you in the general Grafton Street area before 5pm on Tuesday 9th October? If so, Ray D'Arcy could be about to reunite you with your missing brooch.
UCD student Dearbhla contacted the programme on the advice of her mother, because mothers do tend to know best in all situations, including ones involving lost jewellery, and she described what she found.
"I was in town with my mum and we were just off Grafton Street outside of The Baileys (on Duke Street) and just as we were walking by outside the seating area by one of the fireboxes, I noticed something on the floor and when I picked it up there was this beautiful bro0ch!"
"There's a very old style pin, you actually have to push it to open it and there's a bit of a sticker on it," Dearbhla told Ray and she described what the brooch looked like.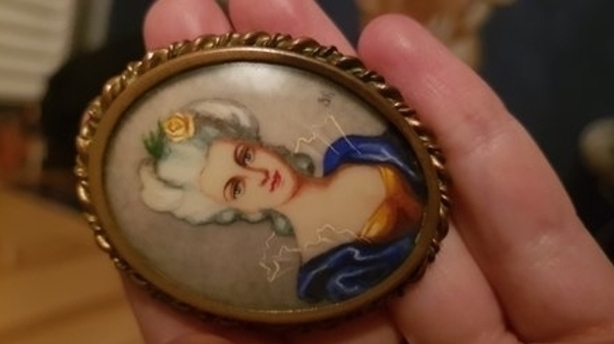 "It's smaller than my palm. It has a painting of a woman inside of it, kind of the typical big Victorian white hair with some feathers and a beautiful yellow rose and then she's wearing a blue dress with what seems to be a very delicate collar around it and then there are very small initials on the very side."
The initials are J.K., Ray and Dearbhla reckon. If you know anything about the brooch, you can contact ray@rte.ie.
Ray's is hopeful of a happy outcome as he has had some recent success with a not dissimilar request. "Recently we reunited a man in America with his dad's army uniforms… We fancy ourselves as investigators."
Click on the video above to listen to that segment of The Ray D'Arcy Show.