One year after #MeToo went viral, we spoke with author and activist Deborah Frances-White aka The Guilty Feminist to discuss why the movement, despite being in its infancy, is being told to back down.
#MeToo
In 2006, activist Tanara Burke founded the 'me too' movement as a way to build a community to help survivors of sexual violence - specifically young women of colour - to recover from their trauma and find pathways of healing.
More than ten years later, on Sunday, October 15th, 2017 actress Alyssa Milano tweeted the words 'me too' and the rest, as they say, is history.
If you've been sexually harassed or assaulted write 'me too' as a reply to this tweet. pic.twitter.com/k2oeCiUf9n

— Alyssa Milano (@Alyssa_Milano) October 15, 2017
"If you've been sexually harassed or assaulted write 'me too' as a reply to this tweet," she wrote.
The floodgates opened and a tidal wave of women and men shared their experiences of sexual assault, abuse, harassment, and misconduct. What's more, some of those people were famous - as were those they accused.
Viola Davis, Lady Gaga, Reese Witherspoon, America Ferrara, Rose McGowan, Amber Tamblyn, Terry Crews, James Van Der Beek, Gabrielle Union, Ashley Judd and a depressingly long list of survivors shared their stories for all to see.
A month later, the world's press was struggling to keep up with the domino effect of Hollywood's most powerful figures falling into disrepute. Harvey Weinstein, Bill Cosby, Kevin Spacey, Charlie Rose, Matt Lauer - all accused of varying degrees of sexual misconduct.
The movement has caused controversy, conversation, and change. It has even led to Time's Up, an anti-harassment initiative that calls for equal representation, opportunities, and benefits for minority groups in the LGBTQ community, for women across all industries.
Despite this, some say that #MeToo has gone too far.
The Guilty Feminist
Australian-born, Britain-based comedian Deborah Frances-White has led a fascinating life. She has moved across continents, spent her teenage years as a Jehovah's Witness, studied English at The University of Oxford, tracked down her birth family, married her podcast producer Tom Salinsky and welcomed Steve Ali, a Syrian refugee, to her home.
Happily, The Guilty Feminist podcast spends as much time delving into the host's own life as it does to explore the "noble goals of twenty-first-century feminists and the hypocrisies and insecurities that undermine them".
Now with a book under her belt, we felt it was an opportune moment to speak with the author about the journey of #MeToo and why so many people - men, in particular - are struggling to deal with it.
"What's fascinating to me is that there are many men who have lived their lives continually throwing grenades and not worrying about how they land," Deborah told RTÉ LifeStyle.
"Not knowing whether they're being inappropriately flirtatious, bullying, intimidating, sexually explicit - they just don't know because they've never thought to ask. Even during a sexual experience, they haven't thought to ask. That is fascinating and now there are consequences."
Empathy and Consequence
During a particular episode of the podcast, called Taking Control of the Narrative, Deborah shared her theory as to why some men no longer know how to act around women. For her, it all comes down to empathy.
"I just kind of had a revelation when I heard men say, 'I don't know how to talk to women, I don't feel safe talking to a woman, what if I talk to a woman and she later says I was being lascivious'. I suddenly realised that there are men - it's not all men, it's just some men - that have no idea how they come across to women.
"The men who know how what they say lands, know because they check in with women, either looking for social cues or they ask or they have close female friends who tell them. hey are not worried because they know how they come across."
While she has no doubt that these particular men have empathy for their families and even for their colleagues - after all, they would have to understand a manager's feelings and thoughts before asking for a raise - when it came to women, that level of understanding wasn't necessary and so, it simply didn't exist. What's more, there was no consequence.
"Where there was no consequence to their actions, they did not have empathy. And that's how we build empathy in children - we say 'you took that toy from her and now she's crying' and often the child won't have noticed how the other child has reacted so we teach them about consequences by taking the toy away from them and giving it back.
"My hypothesis is that wherever there is a power balance in the world, there is no consequence that has built-in empathy for those abusing the power."
Forgive and forget?
On November 9th, 2017, The New York Times reported that five women had stepped forward to accuse comedian Louis C.K. of sexual misconduct. The following day, he responded to the report with a letter that pled guilty to the allegations and ended with him stepping back from the spotlight.
"I have spent my long and lucky career talking and saying anything I want. I will now step back and take a long time to listen. Thank you for reading," he wrote.
By August 2018, Louis. C.K was back on the stand up circuit.
In a surprise appearance at the Comedy Cellar in New York City, C.K made no reference to the previous year's allegations in a set that left many audience members feeling ambushed.
While many criticized the stand-up for returning to the stage just months after his departure, others began to question where forgiveness fell into the bigger picture of #MeToo. When was enough, enough? How were these men supposed to make a living?
Comedy Cellar owner Noam Dworman told The New York Times that "there can't be a permanent life sentence on someone who does something wrong."
This was followed up by a tweet from comedian Michael Ian Black who wrote "People have to be allowed to serve their time and move on with their lives. I don't know if it's been long enough, or his career will recover, or if people will have him back, but I'm happy to see him try."
Will take heat for this, but people have to be allowed to serve their time and move on with their lives. I don't know if it's been long enough, or his career will recover, or if people will have him back, but I'm happy to see him try. https://t.co/QmqdGJnIjy

— Michael Ian Black (@michaelianblack) August 28, 2018
It seems that in less than a year, the anti-sexual harassment movement has been subjected to spectacle, speculation, resistance and now, despite barely finding its feet, an order to cease and desist. Close up shop, it's time to let the men get back to business.
"I would prefer Louis C.K. would do what he said which is to go away and listen for a long time. I don't think under a year is a long time. Under a year is not even a sabbatical," says Frances-White.
"The issue is that he has non-consensually come out and put himself in front of an audience who didn't know they were paying to see him. If Louis C.K. wants to put on a show, then people can decide if they want to see him or not - that's different.
"If you've bought a ticket and you don't know it's going to be him, it's up to you to be the one who walks out and to cause attention and have people maybe tutting at you. And some people may not be able to. They may not have the strength, they may have been victims of this kind of assault and this kind of power abuse and they may not feel comfortable."
She continued: "While it's very good that he admitted it, he wouldn't have admitted it if it wasn't for the Me Too movement. He denied it for years and he gaslighted those women for years and they were sidelined in comedy.
"I don't think it's good enough to say, 'oh, well he said sorry'. He didn't actually use the word sorry, for a start. Secondly, he only confessed when he absolutely had to, not when he could have."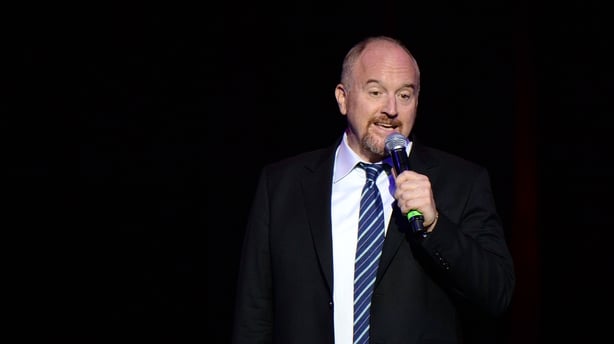 Whose future is worth more?
Some of the more high profile cases have been treated to speculation due to the time that has passed since the misconduct allegedly happened. Why did the accusers of Bill Cosby, Brett Kavanagh and Harvey Weinstein wait so long to come forward? Frances-White believes the answer lies in the fact that society would rather protect the future of a man over a woman.
On January 18, 2015, two Swedish students were riding their bikes through their college campus when they spotted a man on top of a woman by a dumpster. When they approached them, the man ran away, leaving the unconscious woman alone, and partially naked. That man was later identified as Stanford University swimmer, Brock Turner.
Turner - whose mugshot is now used to illustrate the definition of 'rape' in a criminal justice textbook - faced up to 14 years in state prison when he was convicted of three counts of felony sexual assault
In the end, he served just three months of his six-month sentence as the judge felt that a longer sentence would have a "severe impact" on the star swimmer.
"For somebody to assault you, they have to have power over you - by definition. Usually, that is physical strength. So, somebody who has power over you has used that power in a way that has hurt you and now you're meant to stand up like David against Goliath and risk getting hurt again," explains Frances-White.
"Why don't they report it? Because somebody who was frightening to them has harmed them and the fear is that they will be further harmed. You're never standing up over somebody over whom you have power and furthermore, the power structures will not believe you and even if they do - like Brock Turner's case where there were independent witnesses - then you'll be told you'll be ruining a young man's future and surely he didn't mean it.
"There is no right time and way to report this kind of abuse but it is always difficult and you need to take that into account."
Sacrifice
Earlier this year, Dr. Christine Blasey Ford wrote a letter to Rep. Anna Eshoo accusing Brett Kavanaugh (President Donald Trump's Supreme Court nominee) of sexual assault at a party in the 1980's - claims which Kavanaugh heavily denied.
The two were asked to bring their cases before the Senate judiciary committee - the committee tasked with clearing Kavanaugh's nomination prior to the full chamber holding a vote. Ultimately, despite searing testimony from Ford, Judge Brett Kavanaugh was cleared to be sworn in as an Associate Justice of the U.S. Supreme Court by Chief Justice John Roberts.
Judge Kavanaugh showed America exactly why I nominated him. His testimony was powerful, honest, and riveting. Democrats' search and destroy strategy is disgraceful and this process has been a total sham and effort to delay, obstruct, and resist. The Senate must vote!

— Donald J. Trump (@realDonaldTrump) 27 September 2018
While many see the result as a loss for the Me Too movement, Frances-White says there is more to be taken from the hearing.
"Dr. Ford. It's a big old sacrifice on her, isn't it? What she has effectively done is re-written the first line of her obituary to include her attacker's name and none of her achievements. That is a huge sacrifice.
"Her name will be linked with his forever and nothing she has ever done or will do will be as lit up as the moment when he allegedly attacked her - so that's a big sacrifice.
"On the face of it, it might seem that she has lost and Me Too lost but the fact that he was even questioned, the fact that he was in the dock in such a high profile way, the fact that it was clearly emotional for him, and the fact that he was not able to take up that position without having to answer serious questions - I think that is its own consequence.
"It's not the consequence we would like, but it is a consequence that is making parent's face their sons and say, 'you must never do this, this may cause consequences now or later in your life."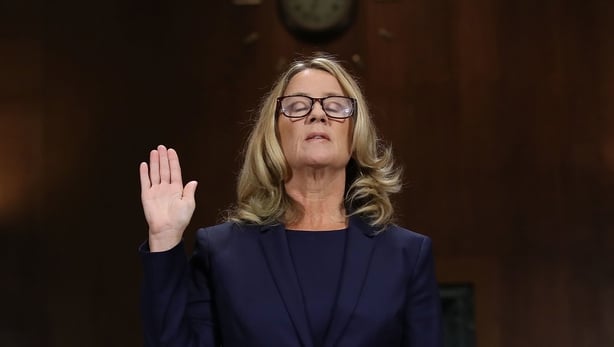 The next generation
Although the possibility of a bad reputation or missed job opportunity shouldn't be the driving force behind the next generation's good behaviour, Frances-White reasons that the result is really all that matters.
"We build consequences for all sorts of things. I don't really care why men aren't attacking women or aren't firing women off their movie sets, I don't care if they need a mercenary motive for it - I care that society empowers and punishes the right thing.
"We need the protection of women to be supported by the power structures. So, even the fact that he had to stand and hear the charges and everybody was looking - will do more to motivate men and motivate parents to tell their sons that there can be a personal cost.
"We need our power structures to support us. It is only right and fair that our power structures support us and just because they haven't done that until now, does not mean they should not do it from here on in."
A step too far?
So, in one short year, has the movement managed to run away with itself? The Guilty Feminist says it best:
"Whenever I think the Me Too movement has gone too far, I do think the previous 'women have to put up with any s**t' movement had a really good run."
Deborah Frances-White's new book The Guilty Feminist: From Our Noble Goals to Our Worst Hypocrisies is on sale now.