Stepping Up is a Girls in Tech mentorship programme to empower Women in Tech and female entrepreneurrs to build and foster an organic community promoting good mentorship.
We went along to a recent event at Fenergo headquarters where, our own Taragh Loughrey-Grant was one of the mentors on the night, and we met some of the leading ladies taking the tech industry by storm. They told us all about the importance of mentorship for young people and why they got involved with the programme.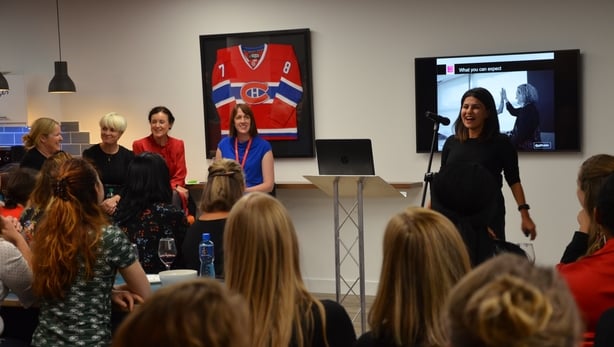 MD of Girls in Tech, Coral Movasseli, began by telling us why the Girls in Tech programme is important.
She said: "Research shows that mentorship can really enhance and elevate one's career but the same research also shows that women don't typically have access to that mentorship.
"A lot of it is traditionally because of the 'old boys club' and also because women don't typically ask for it [mentorship]."
"We're doing this mentorship programme to help to inspire and empower women to go out there and take control of their own mentorship and their own careers and to use the tools and the knowledge they have to cultivate their relationships that will help them to succeed."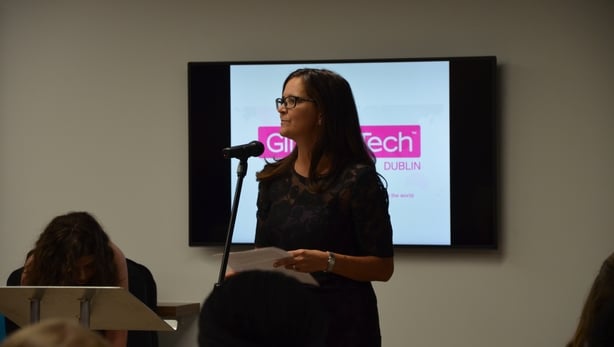 MD of Harvey Nash Ireland, a corporate partner of Girls in Tech, told us more about what's involved in this mentorship programme.
"The vision of the Stepping Up programme is to create awareness about mentorship and provide a forum where women can gain access to more senior executives in technology.
"The ethos around it in terms of Stepping Up is that they approach these women and ask for help with a problem and foster an organic relationship."
"But also a lot of research has shown that your mentor isn't necessarily called your mentor and a lot of young girls that we speak to say that they had a great boss or they had a great peer that they went to with a lot of problems, so a lot of what we're trying to do is to encourage girls to look around the organisation that they work in and realise that there are people that can help them and be very comfortable approaching those people and asking for help."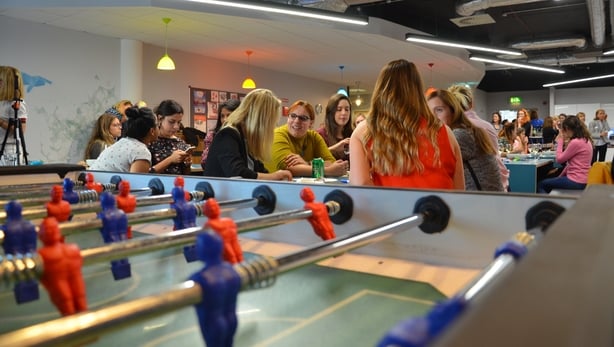 There were lots of successful mentors on hand on the night to share their knowledge and expertise with the attendees and we were lucky enough to talk to a few of them.
Fiona Cummins, Director of Product Management at Fenergo told us why she got involved with the programme.
"I guess from my perspective why I like to get involved in things like this is because throughout my career I've identified mentors that have just come about organically and I like to pay it forward. 
"There's people who have advised me to step up where they saw strengths in me which I may not have noticed myself." 
"I've always reached out to people for advice, if I see someone who I admire from a career perspective, I try to listen to their story and see how I can make something happen for myself."
Fiona is keen that "women shouldn't see events like Stepping Up or career opportunities as a 'just because I'm a woman I need to get this job', it should definitely be focused on seizing all the opportunities that are available and events like this promote how women can go about getting those opportunities which may not have been available to us in the past."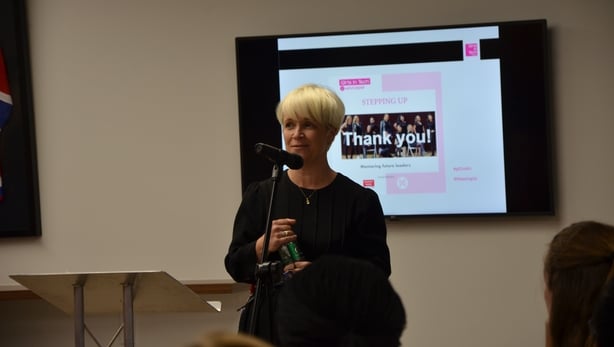 Emer Murray, VP of Global PMO at Fenergo also took the time to share her own experience of mentorship with us.
Emer believes a lot of the reason that there is not a gender balance in the tech industry is that "girls are put off by the very technical nature of the job.

"Women tend not to think of themselves are being very good in that space, which is very unfortunate.
"We probably don't have enough girls coming through the pipeline and we need to encourage them more."
Despite admittedly not being the most technically minded person Emer (may be a little humility in there, she studied Maths in college!) has done exceptionally well in the industry and she wants to reach out to girls to encourage them to explore all the opportunities available across the industry.
"I'm really keen to help the girls in tech and to help them realise that there are lots of roles in tech that they can be part of."
Emer is passionate about the role that mentorship plays for people both young and old.
"For me, it's really important. I have had some great mentors in my time and I have two great ones at the moment and I'm mentoring two as well. I'm using the word mentorship but really it's all about relationships with people, who help me along the way."
"When I have a challenge in my career, when I have something that I can't deal with myself or I can't answer, it's about being able to go to them and say, 'I have this problem, I'm not sure how to deal with it, I'm thinking of this,' and while they never give me the answer, they always give me the tools with which I can answer it myself."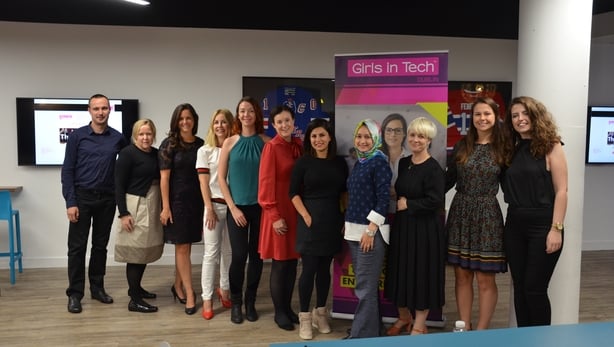 Myra O' Neill, CIO of Vodafone Ireland expressed her enthusiasm for mentorship saying: "I'm very fortunate to work with really talented women in my organisation and I'd love to be able to help other women along their journey to help them to develop their careers."
Myra believes that issues with gender inequality in the workplace stem back to primary school.
"I think in secondary school sometimes women shy away from Maths and science but actually we are quite good if we put our minds to it.
"We need encouragement from teachers and parents to encourage girls into STEM subjects in school."
And while there was lots of positive vibes and hope at the mentorship event Myra believes that "we still have a very long way to go," in terms of gender equality in the workplace, "we're not there yet."
What's happening next and how can you get involved? 
The next scheduled mentorship event will be held on January 31st 2019. You can register here. You can sign up to the Girls in Tech newsletter and follow their twitter page (@gitdublin) to stay on top of all upcoming events.
Separately, Sonya Curley told us all about an initiative they are supporting with Dublin Tech Summit. 
"We're hosting a mentorship-award at the Dublin Tech Summit Women in Tech Awards on the 9th of November. We're hoping to get as many nominations as possible from the tech industry in Dublin.
"Please think beyond mentorship programmes in your workplace, which of course we'll get many nominations from. Think of women who go the extra mile in your organisation and supports younger girls  in their careers."
Krissie Lundy from Dublin Tech Summit told us more about the upcoming awards.
"One of our categories is our Mentorship Award and we really want people to nominate who helped them out and helped their career blossom.
"We want to bring together the tech community to celebrate the talents that are out there and the diversity that are out there.
"One of our other categories is the Rising Star Award, we also have Breakthrough Programmer so it really is for all levels in the industry."
"It's on November 22nd and it will be in the RDS Concert Hall and you can find out more info on  http://dublintechsummit.com/women-in-tech
"It will be semi-formal. A little more informal than your average awards show - the reason we're doing it like that is that is focused on women working in various sectors of the tech industry and we feel a more casual vibe will go down better.

"It's more about having fun together and getting the community together."
To hear more about what the programme founders and mentors had to say watch the video above.