The gut-wrenching goodbye to an ailing parent is one that stays with you forever, but it is rendered even tougher when there are 3000 miles between you and the one you love.
Ireland-based Bostonian lawyer, lecturer and commentator Larry Donnelly joined Ryan Tubridy to share the ongoing painful experience of receiving updates on his 84-year-old father's decline into bad health over the phone.
A sudden deterioration in his condition meant that Larry flew to Boston 10 days earlier than expected for a family holiday and those extra days he spent with his father (Larry senior) became precious.
"They were extraordinary in the sense that much of the time passed in silence. My dad is extremely hard of hearing. Whereas we used to once talk about politics incessantly, now, the conversations are really about the weather and not much more and that was difficult but at the same time, the sense of peace that I got because sitting there, knowing that… there isn't much time left… that I was able to spend the time with him… I wouldn't have traded it for the world."
Larry describes seeing his father's physic decline as "horrendous".
"He's 6 foot 2 and he's well less than 10 stone and it really was quite shocking… To see the person that you remember as that strong, vigorous guy who played sports with you… reduced to that vulnerable position he's in now, is very, very hard to see."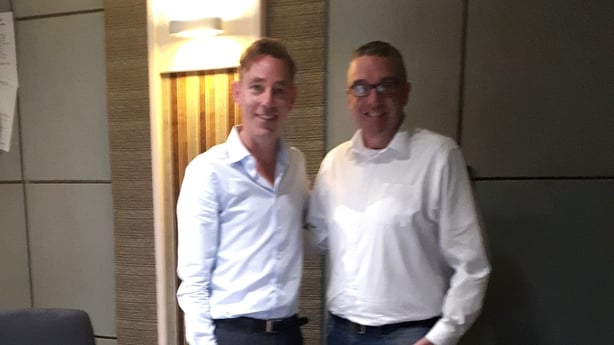 A source of further separation for Larry is the fact that he can't phone his father due to his loss of hearing so he is reliant on the reports of family members for progress updates. These days, Larry dreads texts from his family in Boston, fearing that each one will bring the news he dreads.
With all this in mind, Larry struggled with what to say to his father before leaving Boston after his recent visit.
"I'd been building myself up to it for some time and I was going to say all these things to him about how much he meant to me and all he'd done for me and what a great person and father he had been, but I got there."
"I was determined not to cry because I just didn't want him to get upset. I didn't want him to see me that way… At the end, the time came, we had to go to the airport and I said, 'Dad, I love you,' and I literally turned my head and I walked out as fast as I could."
Amid all these difficult moments, Larry was able to create some special memories, notably one of his young son, also called Larry, being very impressed by his grandfather's assertion to the care staff that his favourite food was now ice cream.
"There they were, joined by a love of ice cream at 84 and 5 and again I think that's the idea of a circle of life."
Listen back to the interview on The Ryan Tubridy Show on RTÉ Radio 1 in the video above.