Earlier today, we took a trip to the gardens of the Royal Hospital in Kilmainham to chat with TV presenter Dáithí Ó Sé and the 57 hopeful Roses who are taking part in this year's Rose of Tralee.
It's that time of year! @daithi_ose is on the run #RoseofTralee ?? pic.twitter.com/3DCsgoTcLi

— LifeStyle on RTÉ (@LifeStyleRTE) August 15, 2018
Now in his ninth year of hosting, Dáithí has been busy training all summer for what is shaping up to be the most physically challenging event in Rose history.
"You need a lot of energy for the whole festival, but especially for the Monday and Tuesday nights. I've been out walking or jogging 6 miles a day for the last 6 weeks, as well as watching what I'm eating and drinking lots of water. For me, that's around 3 pints, which Rita (Talty) would drink for breakfast!' he said.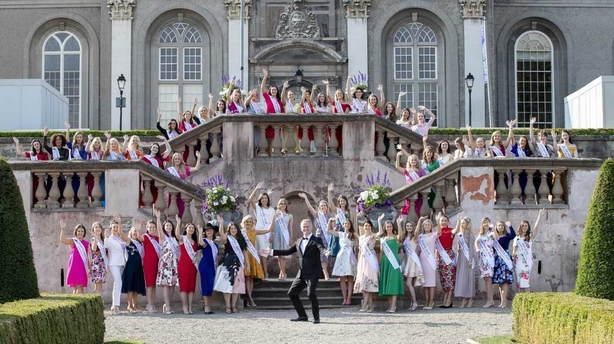 As well as jogging and hydrating, Dáithí shared a weight loss trick that he used for this year's event.
"I bought a thing called a sauna suit which helped me on the way, I got it on Amazon. It looks like a swimsuit but if I walked from here to the hedge over there, you'd start boiling up and you start getting really warm. I was using that for about an hour a day and that kind of trimmed a lot of it," he explained.
Behind the scenes at #RoseofTralee with @daithi_ose ?? pic.twitter.com/QtWbhcSGJf

— LifeStyle on RTÉ (@LifeStyleRTE) August 15, 2018
Dáithí explained that the health buzz usually begins seven or eight weeks before the launch and although he tries to be healthy, he insists that moderation is the best approach.
"Bits of bread every now and then and a few pizzas but other than that, I've been good. Outside of looking a bit better, you feel way better, you sleep better, you're in better form, you have more energy and that's what it's about for me," he said.
While we were chatting, the TV presenter discussed the escorts, the roses and why he thinks the competition should wear its reputation as a 'Lovely Girls Competition' with pride - watch him in our interview above.
The Rose of Tralee will be broadcast live from the festival dome in Kerry at 8pm on Monday 20 and Tuesday 21 August on RTÉ One with a break for the Nine O'Clock News.