World Cup silver medalists and members of the Irish women's hockey team, Katie Mullan, Ayeisha McFerran and Anna O' Flanagan joined Derek Mooney in the studio for The Ryan Tubridy Show on RTÉ Radio 1 to share their success.
A hoarse and exhausted team captain, Katie, told Derek about "a whirlwind couple of weeks," for the team who lost to the Netherlands in the final on Sunday. She described it as "an incredible experience," saying that "to come home and to see the impact that we've had in Ireland is amazing."
"We keep having to pinch ourselves. Is this really happening? It's incredible," she said.
Laughing about her hoarse voice, she added, "we've been singing since we left the grounds on Sunday. I tend to sing too loud so I haven't had my voice since then."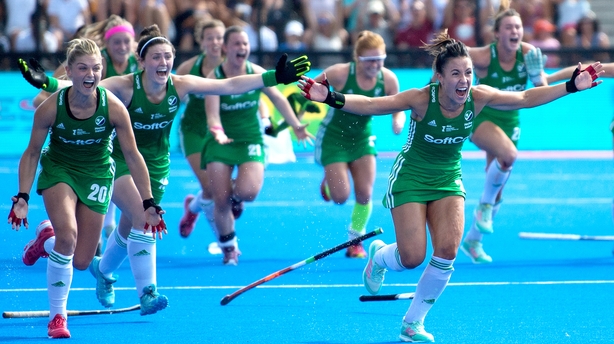 Homecoming
Goal-scorer Anna believes, "one of our key successes during the tournament was how grounded we were and how little we knew of what was going on back home."
Talking about the homecoming that the team received on Dame Street, Anna said: "I think we were just speechless when we walked onto the stage. We couldn't even see how far back people were."
"To have that impact, we're still gobsmacked by it but we're so grateful for it," she continued.
Derek admitted that despite never turning up at a homecoming, he was there on Dame Street on Monday to celebrate the girl's achievement.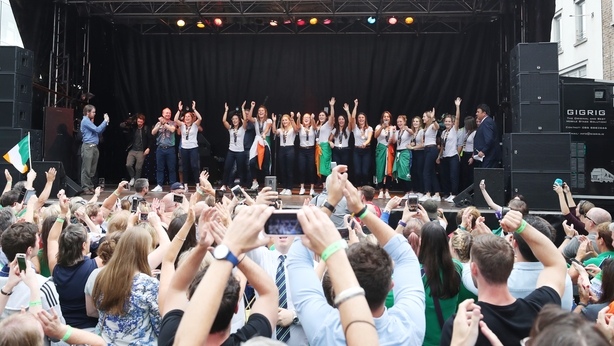 Limited Resources
Derek paid particular attention to the scale of their world cup medals given the "limited resources" they have and the professional status of competing teams such as the Dutch and the British.
Anna described their situation as "a professional outfit without that title."
"We call ourselves amateur but we train as a professional team and we dedicate every day of our lives to this and we make huge sacrifices to get where we got at the weekend," she explained.
Goalkeeper of the tournament, Ayeisha, is currently on a scholarship in Kentucky so she travels transatlantic to train with the Irish team on several occasions throughout the year.
Anna, who trained as a solicitor, decided last year to take some time off to focus on her hockey. She now lives in the Netherlands where she is a full-time athlete. Given the amateur nature of the sport, she had to accumulate sufficient savings in order to support herself before making the decision.
THANK YOU IRELAND ☘️ #GreenArmy #homecoming #youwereamazing pic.twitter.com/pbXJR6u22X

— Katie Mullan (@katiemullan11) August 7, 2018
World Cup
Coach Graham Shaw joined Derek and the girls on the phone to share his thoughts on their international success: "It's an amazing feeling. An amazing achievement for the girls. I am so proud of them."
He described the silver medal position as "beyond our expectations" and gave a particular mention to the belief that the team had in themselves: "The girls smiled the whole way through the tournament which showed the belief that they had."
"They're an incredible group of people. When they come together they can do special things," he told Derek.
Describing the journey they undertook to ultimately emerge as silver medal world cup runners-up Shaw said:
"It's a dream to play in the World Cup. We haven't qualified for a World Cup since 2002. It's difficult to qualify for the tournament."
Given the low ranking of the team, they had to start at the very bottom of the ladder of the 92 teams and progress step by step. It's a journey of 14 or 15 matches, to finally get to qualify.
Going forward, Graham believes a home of hockey is vital in order to develop the sport and sell it to young athletes. "It's hard to do it when you can't see it."
Following on from the promise of more government funding for the sport, Shaw is adamant to keep the momentum going to grow the sport and develop it to a much higher level.
If you can dream it...

WORLD CUP FINAL #HWC2018 #GreenArmy #chaseit pic.twitter.com/EBkDMjlmQy

— Grace O'Flanagan (@Grace_OF) August 4, 2018
Highlights
Giving their highlights from the last couple of incredible weeks Katie told Derek, "I'll never forget getting that silver medal put around my neck and getting a bigger cheer than the Dutch team who had just won the World Cup- it felt like a home World Cup."
Adding to the tournament highlights Anna said, "running out of the tunnel at every game and seeing the sea of the green is an incredible feeling."
For goalkeeper Ayeisha, "Every time the MC called out Ireland, the roar of the supporters," was incredible. She was particularly amazed by all the fans who travelled to London to support the team in the tournament.
#GreenArmy
The Green Army were a cause of much excitement on Irish shores throughout the tournament with #greenarmy trending for much of last week online and thousands of people turning out to celebrate with the team at their homecoming on Monday.
And so our World Cup journey comes to an end. The most perfect end to what has been a dream come true for us all. We are beyond grateful for all of the messages, the support and to every single person who came out & made yesterday so special for us 💚 #HWC2018 #GreenArmy #ChaseIt pic.twitter.com/XgAY9by2gJ

— Green Army (@IreWomenHockey) August 7, 2018
A homecoming beyond our wildest dreams. Thank you to everyone for coming out. We won't ever forget it. #GreenArmy pic.twitter.com/IYadOqgIcn

— lena tice (@LenaTice) August 6, 2018
President Higgins has offered his "warmest congratulations to the Irish women' s hockey team on their historic achievement of winning the silver medal at the World Cup."

Full statement: pic.twitter.com/hCcpDaeMue

— President of Ireland (@PresidentIRL) August 5, 2018
Singing all the way across the Irish Sea. Pleasure to have @irishhockey on board #GreenArmy pic.twitter.com/tQIg3XFrUY

— CityJet (@cityjet) August 6, 2018
You can listen back to the full interview on RTÉ Radio 1 above.