Clodagh McKenna breezed into the studio to show Ryan Tubridy a thing or two about the simple but good life.
"You are officially weird" she concluded when Ryan confessed to not liking beaches, not eating fish and to have a "nursery palate" (just give him a peanut butter and jam sambo and a glass of milk and he's happy) but for the benefit of listeners without such fussy tastes, she spoke about supper, lunch and the easy elegance of doing things the right way.
First of all, what is supper?
"Supper for me is much more relaxed than dinner. When somebody says dinner to me I kind of freeze a little bit… (It's) exhausting, you're not relaxed and just because I have so many suppers at home, like twice a week and all my friends, it's become kind of a thing with me. It's kind of relaxed, informal, a lot of sharing plates, it's kind of an unstressed dinner."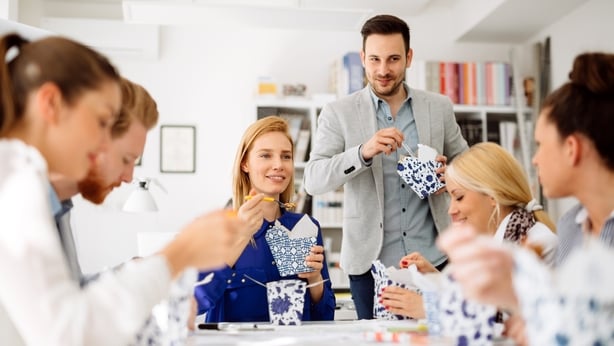 Clodagh's latest campaign aims to help us fall back in love with lunch.
"I think it's more than 60% of people do this thing which I only heard about recently… 'al desko', which is like a most horrible word, eating at your desk…"
"We're doing a campaign for the next few weeks trying to encourage people to move away from their desk at lunchtime, it sounds so basic and just move your body, bring a lovely packed lunch to work, maybe share it out."
"I love the idea of doing communal lunches at work… and doing a rota and everybody doing their favourite dish and then you all go outside… sit down, take a picture and share the love, get healthy!"
It might sound like a lot of orchestration, but actually, Clodagh says, with a little bit of organization, the everyday minutiae can be transformed into special moments worth cherishing.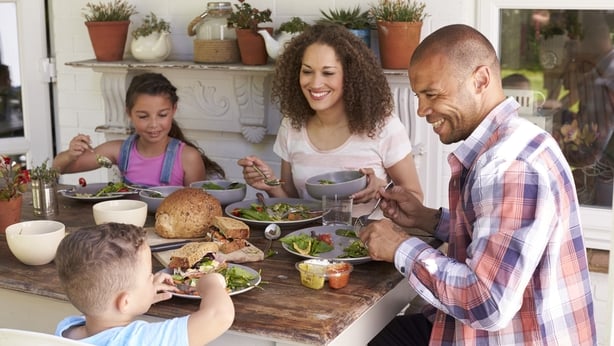 The apple didn't fall far from the tree in this situation. Clodagh was raised in a home where mealtimes were celebrated. She spoke to Ryan about the influence of her Garda dad.
"My dad was amazing… When we were growing up, we always thought it was weird, he gave lists to all of the kids… of all the chores we had to do when we got home and we always had to have a starter, main course and dessert, the table laid, so someone would pick the flowers from the garden and we had a small veg patch, pick the radishes…
"It instilled a real belief of we could have a very rich life without having to be rich financially. He just enriched our lives and taught us how to enrich your life which I think was just the most fantastic lesson you can instil on anybody."
Click on the video above to listen to The Ryan Tubridy Show on RTÉ Radio 1