On Saturday, 19th of May, two young Dublin girls decided to release a message in a balloon during their cousin's first Holy Communion Balbriggan. They could never have known just how far it would go...
The two girls are cousins Emma Dowling and Áine Blount, both aged 10 who go to school in Balbriggan and play Gaelic football with O'Dywers GAA club.
During their cousin Liam's first Holy Communion family dinner in the Bracken Court Hotel, the girls decided to take a helium balloon from the room and attach a note to it, to send into the world.
In this digital age of touch screens there wasn't a piece of paper to be found, so the girls MacGyvered a message using a napkin, a pen and some string.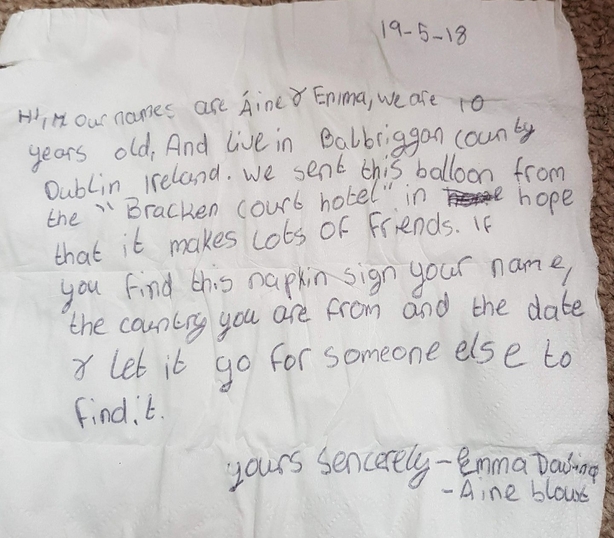 Their note read:
"Hi, our names are Áine & Emma, we are 10 years old and live in Balbriggan, County Dublin, Ireland. We sent this balloon from the "Bracken Court Hotel" in hope that it makes lots of friends. If you find this napkin sign your name, the country you are from and the date & let it for someone else to find.
Yours sincerely,
- Emma Dowling
- Aine Blount."
With the help of Emma's mum Catherine, the girls managed to secure the note and let it loose - check it out in the video above.
Amazingly, their message travelled all the way to Glasgow, Scotland where it was found by two little girls and their dad.
Catherine described the event to RTÉ LifeStyle:
"I never dreamed it would actually go anywhere but they were delighted with themselves so off they went to release the balloon, giving it a little kiss to help it on its way."
"On Sunday evening at around 5.30pm, Gillian (Áine's mum) called me to ask if I had been on Facebook.

"Apparently, the balloon had landed in Glasgow. We were both sceptical but investigated."
"The balloon got caught on a telephone wire in Mount Vernon, Glasgow, it was spotted by two little girls (Emily, 10 and Poppy, 4)."
"They got their dad to retrieve it and they read the note.

"We can only assume that the dad Googled Balbriggan and found a local community page, he sent them a message and they posted it on Facebook.
"The girls feel like local celebrities, they can't believe how much attention they're getting, lots of their friends in school have seen the post."
"They would like to become penpals with the two little girls. The girl's dad estimated the balloon travelled 174 miles!"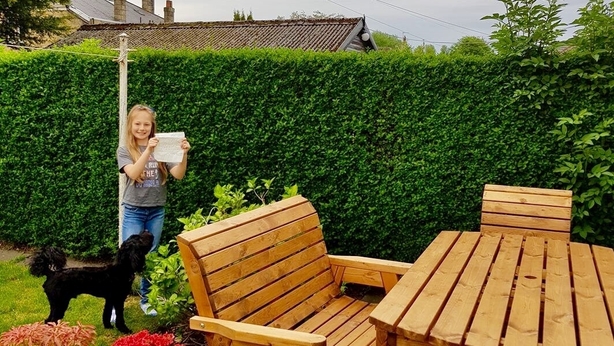 Now, not to dampen one of the best feel-good stories of the year but we do have to mention the warning that the Environmental Nature Centre teaches: "All released balloons, whether they are released intentionally or not, return to Earth as ugly litter – including those marketed as 'biodegradable latex.
"Balloons return to the land and sea where they can be mistaken for food and eaten by animals. They can travel thousands of miles and pollute the most remote and pristine places."

Luckily this one was found by the Glasgow girls so no harm done - just a lovely old-fashioned story of creative thinking, new friendships and finally, a look some of the good work that Facebook can do.