Native Galway girl Ciara-Beth Ní Ghríofa is a Leaving Cert student from Galway who was diagnosed at 13 with 'high functioning autism'.
She spoke to Ryan about an app she has created to help people like her. The app is called MiContact and aims to help individuals with autism practice making eye contact with other people.
When asked about her autism Ciara-Beth explained that, while she is 'high-functioning', she struggles with a lot of sensory issues like loud noises and bright lights which would annoy and upset her along with certain textures of food. Ciara-Beth claims she's not a fussy eater but a picky one.
Meet the 18-year-old who has developed an app to help children with autism. pic.twitter.com/PlUwART2LJ

— RTÉ News (@rtenews) April 10, 2018
"I always say I'm a picky eater not a fussy one. So, I will eat what's in front of me and I will eat around the bits that I won't eat."
Sarcasm is also something Ciara-Beth has an ordeal with. She claims she can't make the link between the sentences and the meanings, which can prove to be quite tricky within our Irish culture.
"We have a lot of those sarcastic phrases like 'It's raining cats and dogs' or 'The cat's out of the bag.' When I hear that I think Which cat? What bag? I don't always do well with reading between the lines".
When asked about her time in school, Ciara-Beth honestly answered that every child has a tough time at some stage but because of her autism, she felt that she stood out that much more.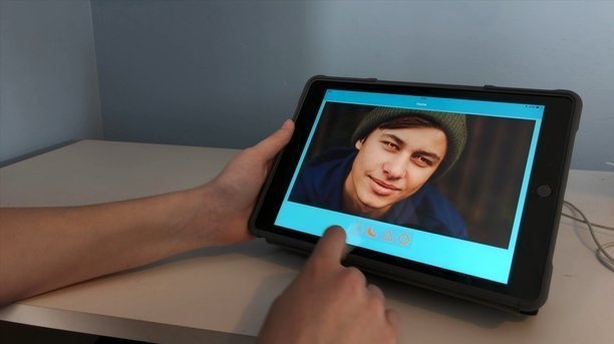 However, she doesn't dwell on this fact as it's these experiences that lead her to develop her app, MiContact.
"I got a little bit more of a hard time for it. But it resulted in my project 'MiContact'. Which is a beautiful thing that came from a kind of bad situation."
She explained to Ryan that it's said that everyone is on the spectrum to some extent and she believes that lack of eye contact is more of a societal issue currently.
Ciara-Beth's app is to help those who feel uncomfortable in holding eye contact by having a face on the screen with different shaped eyes and matching the eye shapes with the shapes below on screen.
While the user is doing this, they are subsequently being de-sensitised to looking at someone's face or eyes, resulting in better eye contact in real life.
"We had one child who was able to look in the direction of a teacher who he hadn't been able to look in the direction of before."
Ciara-Beth shared with Ryan that she wants to help people on the spectrum and make sure people don't suffer.
Click the video above to listen to the interview on The Ryan Tubridy Show.