On March 8th, we here at RTÉ.ie/lifestyle held an exciting podcast event at the Little Museum of Dublin in celebration of International Women's Day. Hosted by our very own Taragh Loughrey-Grant, the event boasted an incredible panel of women including comedian Katherine Lynch, Women's Aid director Margaret Martin and Psychotherapist Siobhan Murray.
Tickets for the event were just €5 and all profits went to Women's Aid, a national organisation which supports women experiencing domestic violence in Ireland since 1974. Our first guest of the night was Women's Aid director, Margaret Martin .
You can read highlights from her discussion below or listen to the full podcast in the video above.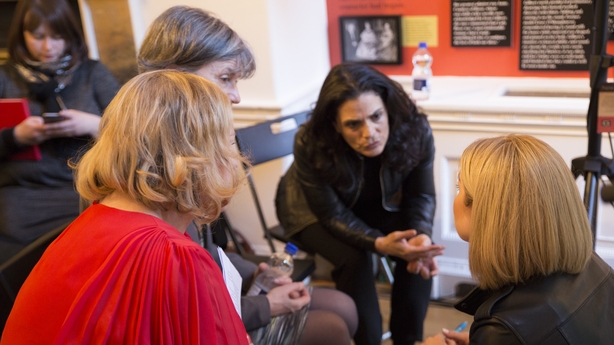 Who calls Women's Aid Ireland?
I think that the most surprising thing, a lot of the time, is that we're really talking about women from eighteen to eighty, from all backgrounds, from all the ethnic groups, from all education groups, from all professions. If you step onto the street and watch twenty women go by, they probably are as representative as the women who call us on the telephone.
We've been around for a long time, so we get a lot of feedback from women as well. We hear from women that maybe have moved on, which is really good because I think part of the work that we do is [...] helping women in the moment, but then also passing on those messages from women who have moved on, whose lives are much better because it can be a dark place.
Silent calls
We would get about 44 calls a day. In 2017, we got about 19,000 calls. What we would get is - the biggest disclosures would be in terms of emotional abuse. I think even for women who are being abused physically, there is something about actually being able to see the scars and understand it and see some sort of healing, whereas, for an awful lot of women, they would talk about the emotional abuse and the scars inside and how difficult it is really for them to understand that sometimes - the deep distress and the deep emotional distress that women feel.
Sometimes, when women would ring our helpline, even though maybe they have worked themselves up to making that call, often when they actually get through to us, sometimes they can't even speak, so a lot of the calls will be silent calls.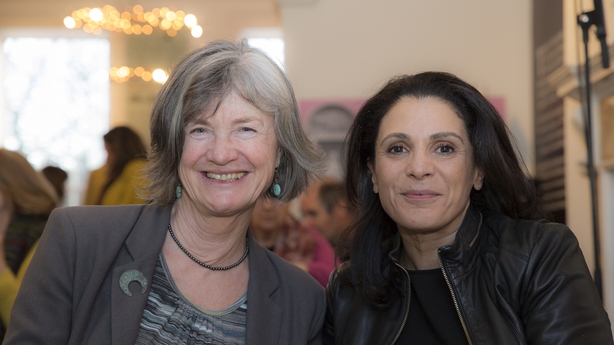 "Just tap the phone"
One of the things to say about the helpline is that the women who are responding on the helpline are a mix of volunteers and staff, and they undergo a very intensive training to understand the issue, to be able to listen really well. Even if somebody can't speak, we're there to listen.
So sometimes if a woman rings, she may start being very distressed, she may be crying - we would say, 'You're through to Women's Aid, it's OK if you're not ready to talk. If you want me to stay on the line, just tap the phone'.
So we would stay on for a couple of minutes and then say, 'Look, maybe it would be a good idea to ring us later, maybe just take a bit of time and have a cup of tea' - because it can be very difficult those first times when you talk about something as well.
It's very distressing, and it can be very difficult and very tiring and at the end of a call, we would very often say to the woman, 'Try and do something nice for yourself today, maybe take a walk, have a bath, whatever it is that helps to restore yourself and start to build back yourself after sometimes going back into that place that was very dark and distressing'.
1 in 5
We have statistics that show that about one in five women experience abuse, so it's extremely prevalent. I mean, there has been research done over a number of years, but that really doesn't change and that's at some point in women's lives.
I think the other thing to understand is that very often a woman will have it happen to them at some point in their life; they have left the relationship but unfortunately their partner hasn't allowed them to leave the abuse. He continues to text them, he continues to harass them - if they have children there has to be contact through access, etc.
So a woman could have left the relationship for ten years, but that ongoing contact can be really very difficult and we don't have systems in Ireland to actually effectively deal with that.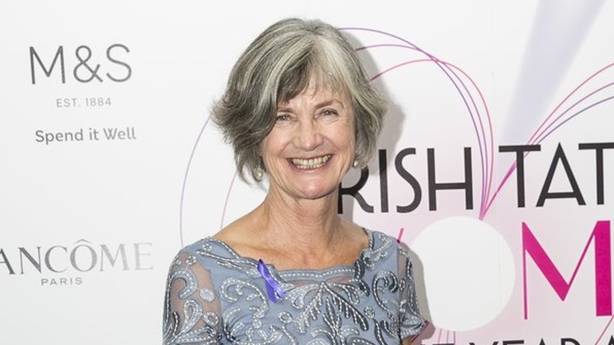 Pregnancy & Abuse
For a lot of women, they know they're trapped. They know they have very small children. I mean, I think one of the things that people find very distressing is that for women who are severely abused, for a quarter of them that happened first when they were pregnant.
I think it's quite astonishing to realise that... you think it's a time for celebration, a positive, and it's a time when women... I think it's two things.
It's my own theory, I don't really know, that (a) they're more vulnerable and they're more attached in the relationship, so they're more likely to stay in the relationship because suddenly, how are you going to leave this person if you're going to have a child with them?
It becomes more complicated but also, for an awful lot of men, they're really only interested in themselves and suddenly there's all this attention moving away from him and onto her.
If any of these issues affect you, and you need to talk to someone, you can reach Women's Aid at 1800 341 900 or find their website here.