Interiors-enthusiast, Jen Connell brings you 12 Deliciously Dark Rooms to inspire you to switch to the dark side.

The dark side
If there's one rule I have about interiors, it's that if an idea really excites you - then just go for it. I took the plunge into the dark this year with my new home against the advice of a few friends and family but I couldn't have been more pleased with results. It transformed a generic living room into a cosy and sultry den. Initially, I was met with mixed reactions when I announced I was painting my entire living room black, including the trim and ceiling. Many questions followed so I thought I'd answer a few of them here!
"Won't it make the room feel smaller?"
It is a common misconception that the best way to make a room feel bigger is to paint it in a light colour. Let me let you in on a little secret - dark colours create an optical illusion that blurs the boundary lines of a room and creates a sense of infinite space. And if you also paint the ceiling and trim dark too, you feel completely enveloped. Nothing creates a more cozy, glamorous and unexpected space like dipping a room in a magical inky hue.
"Won't it look depressing?"
You have a choice. Say nothing with dreaded magnolia or make a statement with colour. Each shade says something different and to me, black says "confidence, elegance and expensive". It instantly elevates a standard room to something magical. One tip is to make sure you nail the lighting scheme with a few different sources of light.
Your home should be an expression of yourself and interiors are about experimentation. If it's a decision between the safe option or more daring, I vote daring! The question is, do you want a pad that feels the same as everyone else's or something that expresses your individuality?
"Which paint?"
There's an option for every budget but it's important to get the correct depth and texture. Matte black paints with natural ingredients tend to work best. Downpipe or Railings by Farrow and Ball are popular but I was impressed with the colour and coverage of Dressage by Colortrend which I used for my living room.
Benefits
Hopefully by now you're curious about crossing over to the dark side, so let's discuss some of the many benefits. Dark walls cry out for rich jewel tones in plush textures like velvet and cashmere. Paintings and art prints sing against darker tones. Metallics like copper and brass suddenly shine like never before!  One of the best advantages of dark tones is that they work with so many styles. Whether you adore classic Victorian and Georgian styles, minimal modern, eclectic Scandi or glamorous Hollywood Regency, don't be afraid of the dark.
So let's get those creative juices flowing with inspiration from the best of the best dark interiors. I'm convinced you'll fall in love and wonder how it took you so long to grab a brush! I'd love to see how you get on so tag me in your dark decor pics. I'm at @okayquitmadstop on Instagram. 
1. Experimental Metallics by Nadia Singleton aka @artynads
"I embraced dark interiors because for me they are bold, moody, sophisticated and cosy, but above all, glamorous, who doesn't want those qualities in a room?"

- Nadia Singleton aka @artynads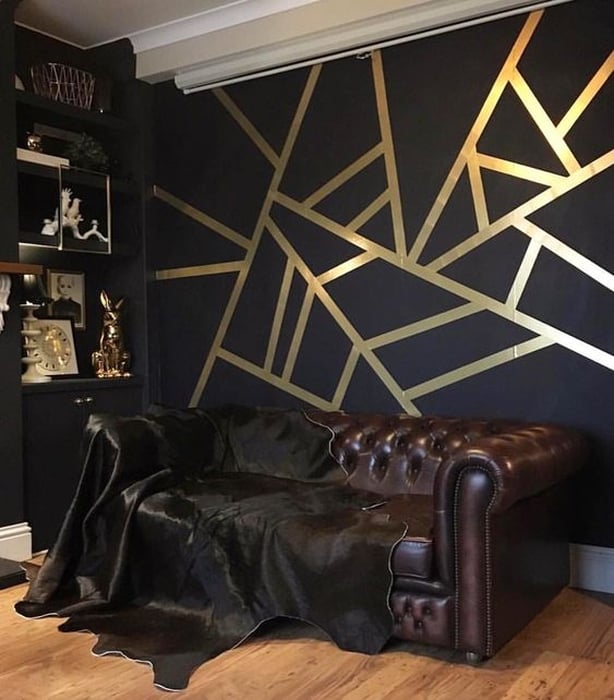 Often name-dropped as the inspiration for many taking the plunge into darker shades. London-based Abigail Ahern's has often said that her 'a-ha!' moment in interior design was turning to the dark side.
"The best thing we did was paint the second part of the studio black. It is now so darn glamorous I feel I shouldn't be sitting here in my pyjamas! I should be wearing a ball gown! I don't know why people are so scared of black I think its one of the most magical hues out there."

- Abigail Ahern, Interior Designer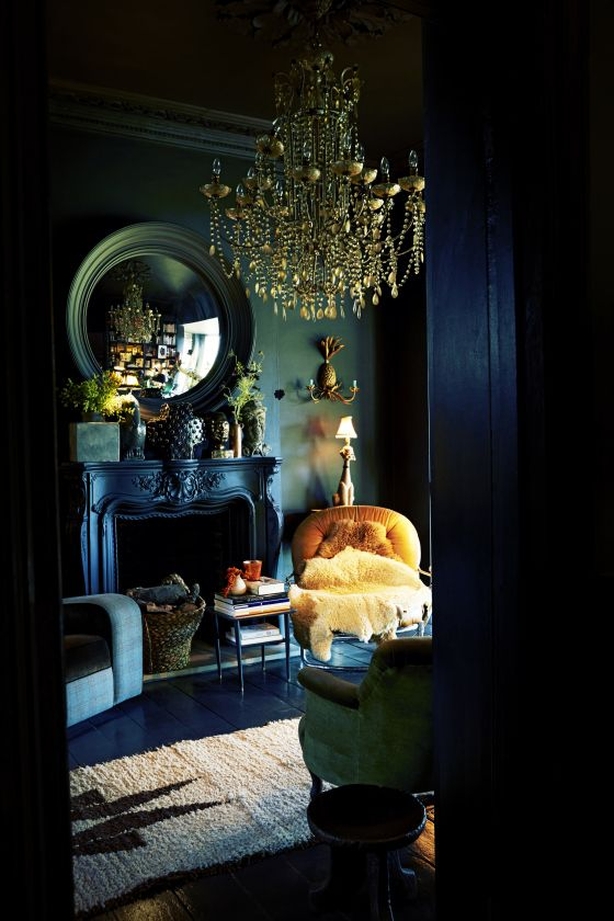 One of my absolute favourite interior Instagrammers. Her sitting room was one of the main sources of inspiration for mine.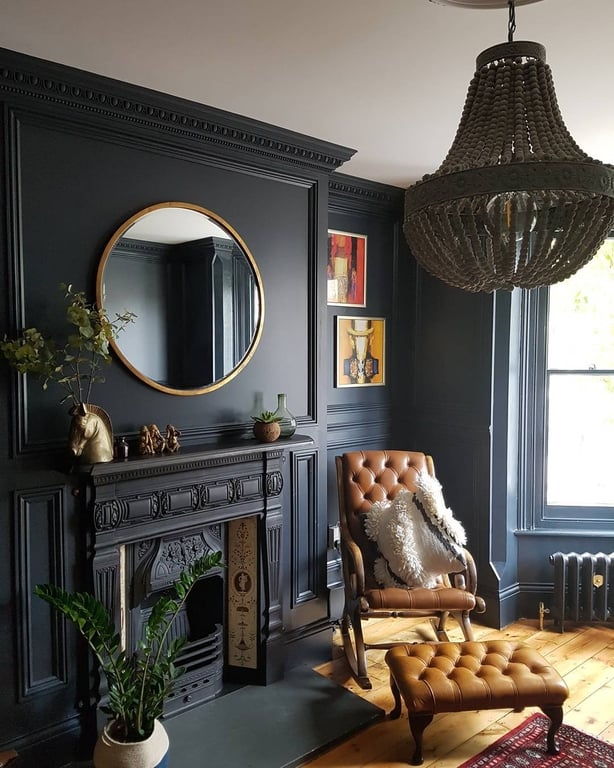 I love everything about this glamourous space, except maybe the taxidermy!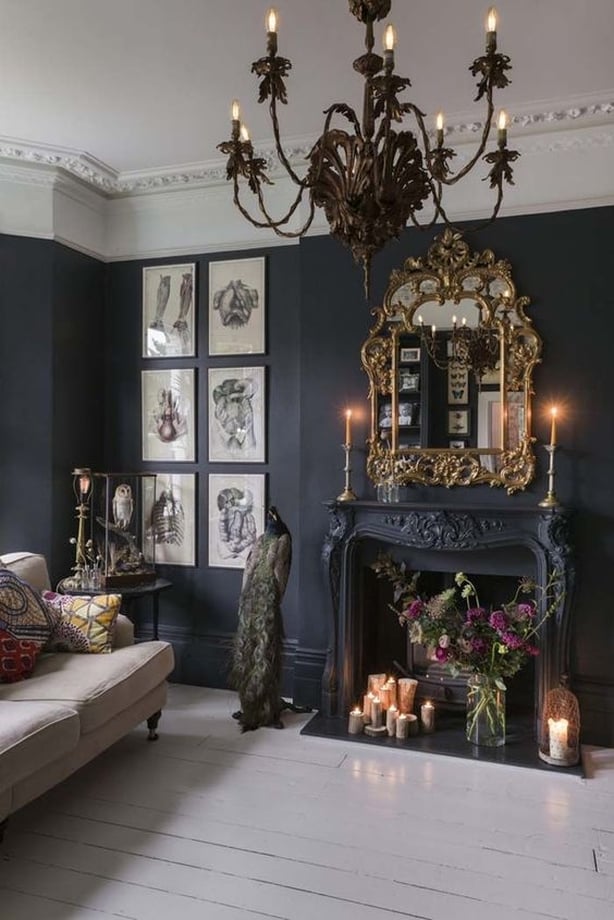 5. Plush, romantic nook in @jazzierere's dreamy home
Another favourite Instagrammer of mine, @jazzierere knows how to make dark spaces feel inviting.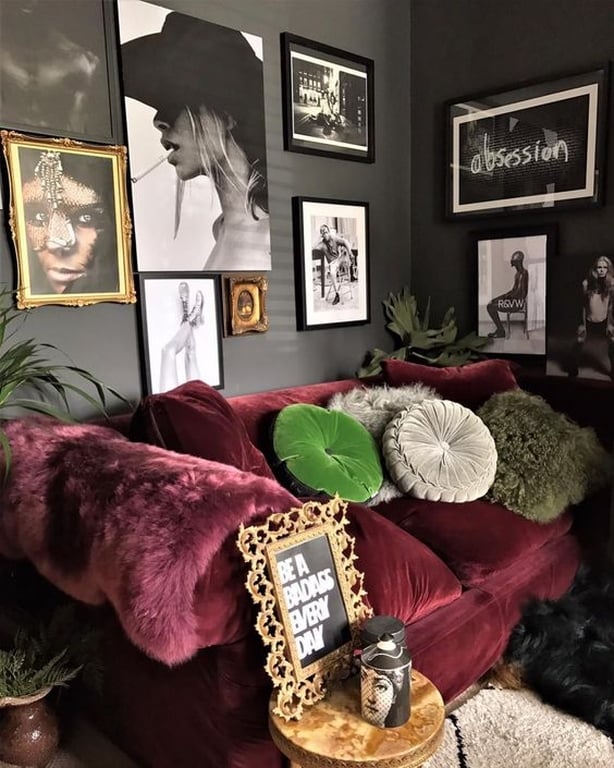 6. Black with pops of colour
This is a great example of how bright colours are amplified by the dark backdrop. Those herringbone floors are beautiful too.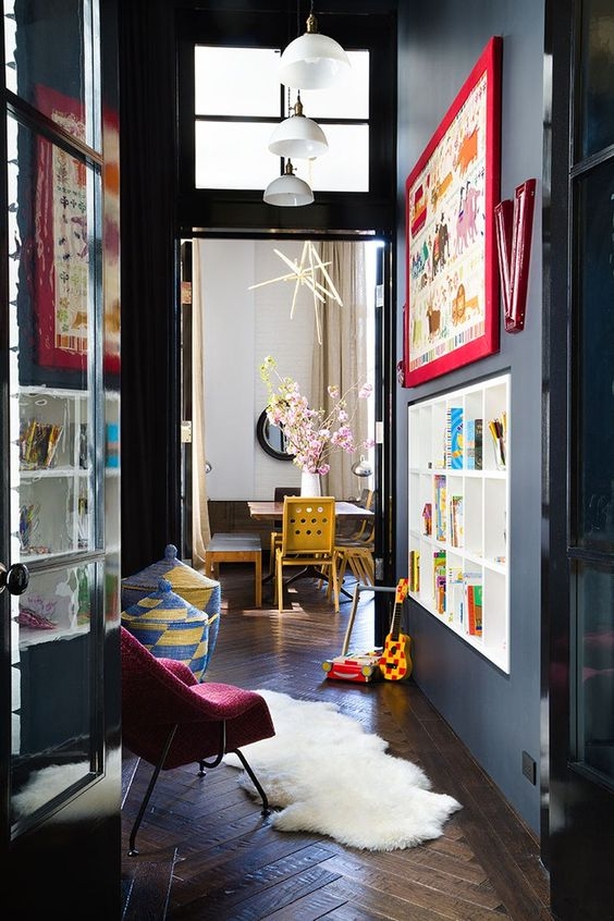 7. Texture and greenery by @hilaryandflo
I can see myself spending hours over dinner in this dark, bohemian dining space.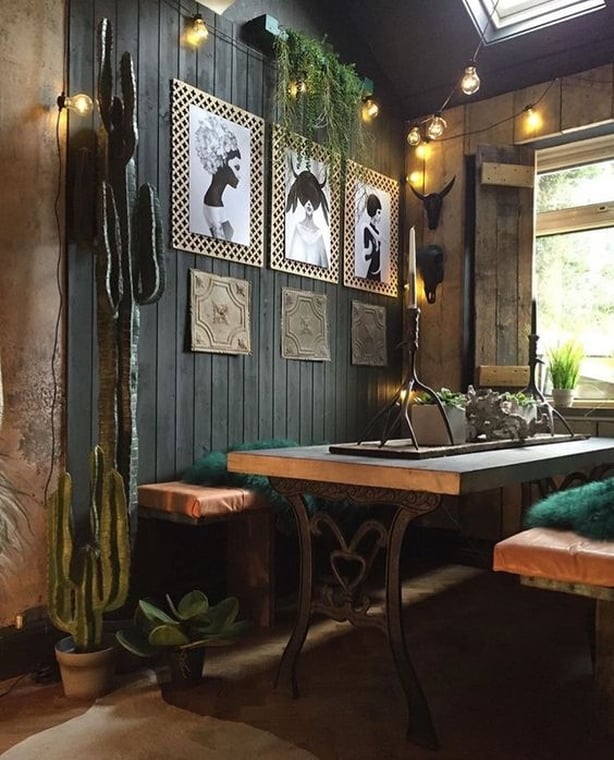 8. Understated Elegance
The dark cornicing and green velvet work perfectly.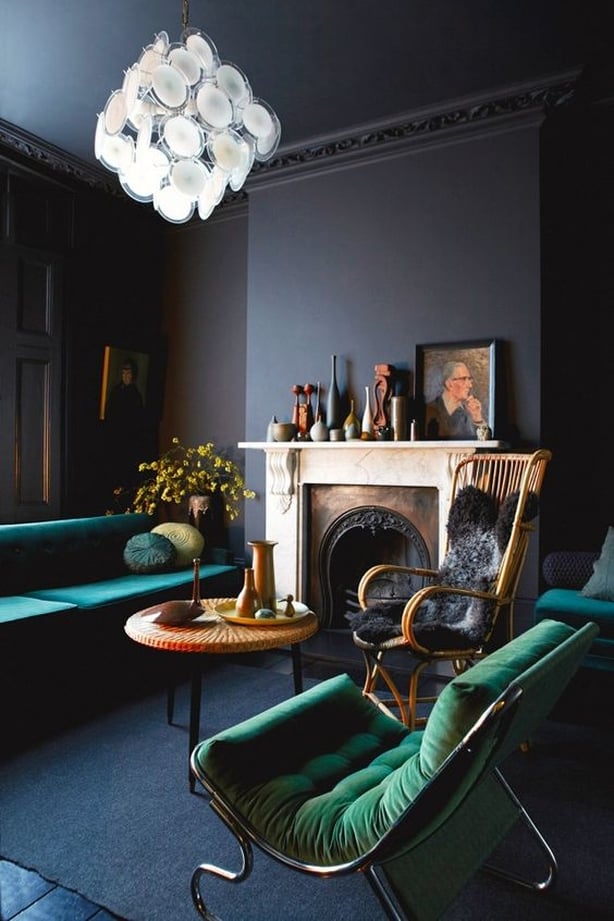 9. Perfectly Panelled
The artwork really pops against the inky backdrop.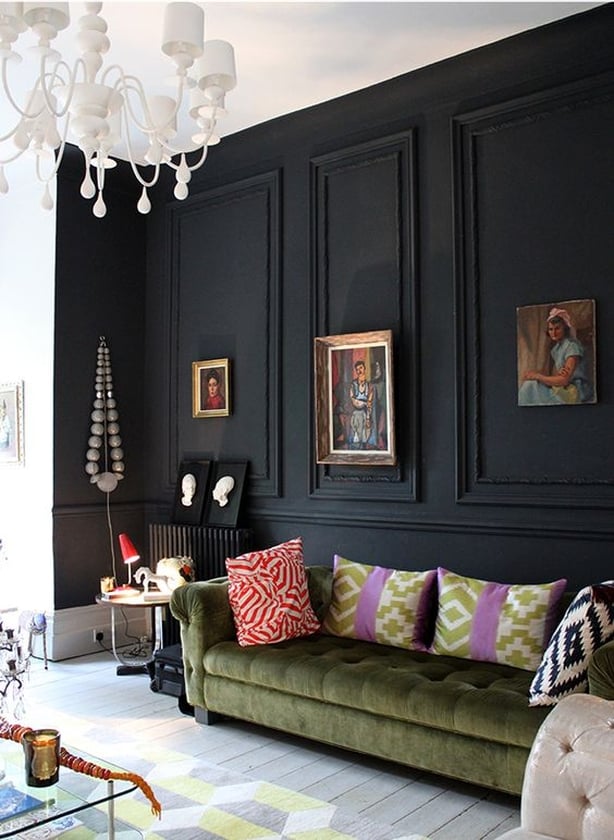 Kate is another pioneer of dark decor. She mixes period elegance with rock and roll to create a magical space.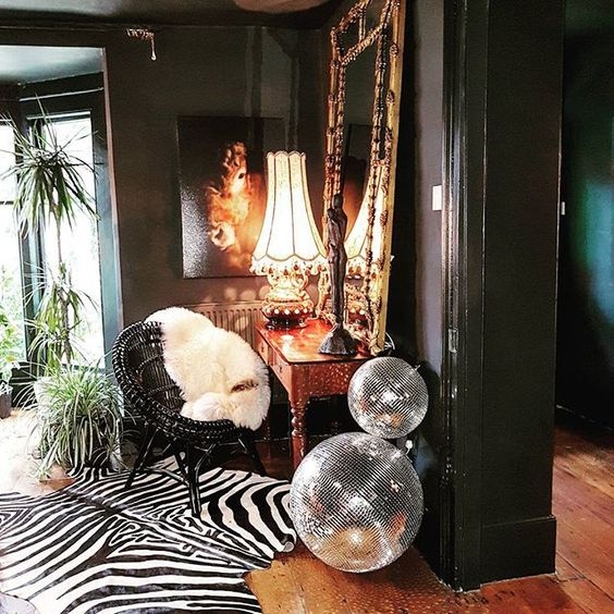 11. Gold and velvet
Who could resist this oversized gilded mirror and dream Gubi Beetle velvet chair?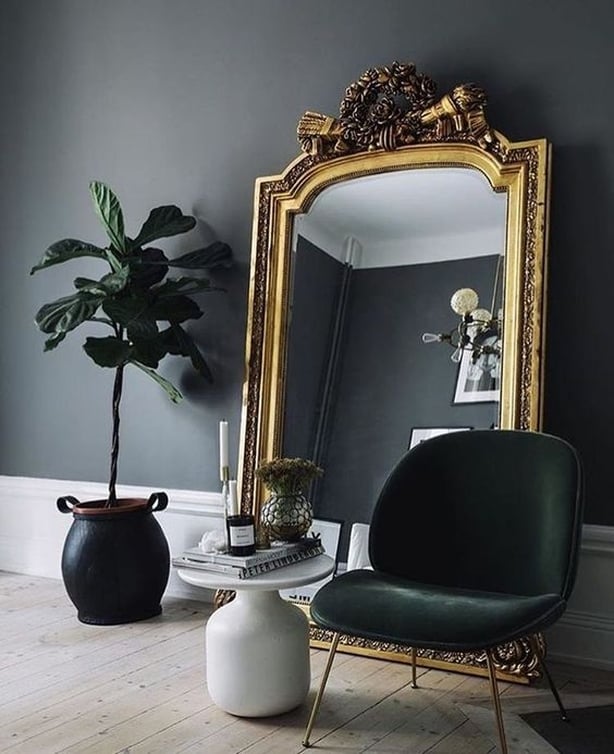 12. Dark and dusky
Why not start small? This is a great example of how to work one dark wall into an otherwise bright space.