BumbleAir is a new wing of BumbleAnce - the charity that transports sick children across Ireland for medical treatment.
Pilot Ryan Hanrahan tells us how they made the first flight happen, the plans for the next flight and the big dream. Listen to our podcast on The LifeStyle Show with Ryan below.
BumbleAir had a very special event planned for Valentine's Day that got moved to tomorrow due to bad weather and Ryan can't wait...
"We will be flying a 6-year-old girl called Soairse and her mum from Sligo airport to Dublin. She has a Wilms tumour and is currently undergoing chemo treatment every third Wednesday.
"Normally, she travels by car which can take hours and be very stressful. Tomorrow, we will fly her from Sligo to Dublin in one hour."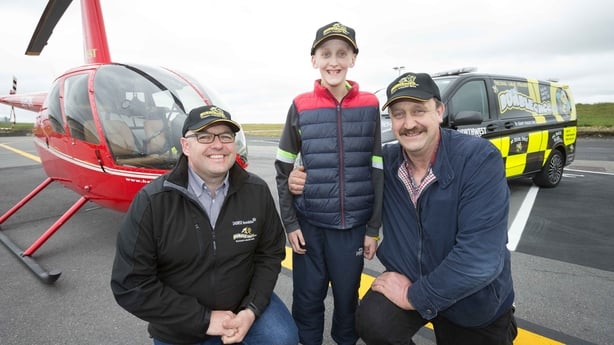 What has happened with BumbleAir since we followed you on your wonderful maiden voyage?
"Our first flight was so well received, we had many people contact us to say what a fantastic service this is for the sick children. We have received a donation from a local Dublin business that will allow us to fund five more flights.
"We now have funding in place for twelve missions - this is fantastic as it means that we can help twelve families who have to constantly struggle with their journeys to Dublin for treatments.
"We have upgraded to a larger aircraft a Bell 206 which can carry three passengers in the back and more luggage for their overnights in Dublin."

Fundraising wise - what have you achieved so far and what will that money do for the charity?
"So far we have raised 15k for flights, this will fund twelve missions. These flights will be from all areas of Ireland to Dublin.
"The flights have a profound effect on the kids and their families and we are super excited that there are people willing to help us help those families struggling on their journeys. Our aim is to do 24 missions over the next year - about two a month."
Ryan Hanrahan talks to Taragh Loughrey-Grant on The LifeStyle Show about how he decided to become a pilot and help set up BumbleAir - listen to the interview below.
How much more do you need to raise and why?
"We need to raise another 35k to fulfill our goals to do the 24 missions. This is up from three missions we tried to do last year - two of which didn't happen due to the weather.

"Our long-term goals are to have a full-time service available to fly families that otherwise have to deal with very stressful journeys by road to get to their children to their hospital treatments."
How do you decide which children to fly?
"This service is open to any family that has to travel for hours by car on their way to receive hospital treatment for their children."

How can children or their families apply?
"We are aware of many families that have very difficult journeys to take with very sick children. If you feel that this service would really benefit your sick child then please contact the Saoirse foundation."
You can find out more about Bumbleance or make a donation here.