Room to Improve presenter Dermot Bannon spoke to Nicky and Jenny about making the show and working with Daniel and Majella. Watch the interview in the video below.
Our Sunday night fave @DermotBannon (soz Nicky) is here to chat all things #RoomToImprove & Daniel & @Majodonnell of course ??https://t.co/b8U8zPs8oV

— RTÉ 2FM (@RTE2fm) February 23, 2018
Speaking on his experience with Daniel and Majella, Dermot told Nicky and Jenny that they made the same mistake everyone does. "This is my opportunity to clear it all up," he laughed.
"People come to me with a budget and they always lie at the very beginning and they give you a wish list and you design up something and then they say 'what about if we add this in and what about if we add this in?'
"And that's what happened when I went to Daniel and Majella - they had a wish list and they got it under budget and that is evidenced on the show. And then they added loads into it."
Dermot insists that Daniel's only concern when it came to the new house was fitting in an en-suite at every opportunity. "We ended up with six toilets in that house," he said.
"That extra one had to be shoe horned in, it wasn't that easy so the budget escalated and escalated so then when we sat down with them and said 'right, we're going to have to make some decisions here, what's going? we're way over budget' - then they get really annoyed.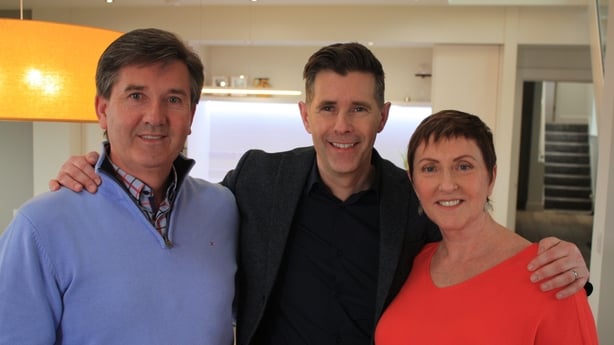 Did celebrity ego make Daniel and Majella tricky to work with? According to Dermot, everyone's a liar when it comes to design.
"Please always think when I'm designing a building - it's all a big ego thing and that I have this vision - it's not. I go to people and I will have a chat with them for two or three hours. What they tell you in the 1st half hour is a bit like Facebook - they'll lie to you - they'll tell you 'we love cooking, we entertain all the time!"
"You have to rifle through the rubbish first and then they'll start to tell you how they really are. You actually have a little bit of an intimate relationship with then yo understand how they live. I try in my head to live their lives. So when I'm designing their house - I am them. I do things in other peoples houses that I wouldn't do for myself."
As for pet hates, the architect insists that Ireland needs to move on from one particular trend...
"Conservatories! I hate Conservatories - there no need for them in Ireland, they're for growing tomatoes in. Full stop. They're freezing in the winter - they're roasting in the summer. you can use them for two weeks in March and November - Conservatories in Ireland - useless!"
Watch Room to Improve every Sunday on RTÉ One at 9.30pm and catch up on RTÉ Player.