Vicky Phelan joins Ray D'Arcy in studio to speak about her terminal cancer diagnosis and getting onto a drug trial. Watch the segment in the video below.
In 2014, Vicky was diagnosed with cervical cancer at which point she underwent five weeks of aggressive chemotherapy and radiation treatment. The treatment was a success and the mother of two was cancer-free for almost three years.
Unfortunately, in November of 2017, cancer returned to her lymph nodes and doctors discovered an inoperable mass close to her aorta.
Now at 43-years of age, Vicky has been essentially been offered palliative treatment by her doctors.
However, as her brother told Ray in his letter to the show, Vicky is a fighter and has plans to get into a trial in Maryland, USA. The family have set up a gofundme page in the hope that enough money can be raised for Vicky to cover her cost of care.
We need your consent to load this Facebook contentWe use Facebook to manage extra content that can set cookies on your device and collect data about your activity. Please review their details and accept them to load the content.Manage Preferences
Working in higher education, Vicky describes herself as a natural researcher and has done a huge amount of work to find suitable trials and medical professionals to speak to.
"They only take small numbers on these trials. The particular trial that I'm looking at - I mean, I'm looking at a lot of trials because I can't put all my eggs in one basket but the particular trial i'm looking at only takes one patient per month."
Speaking with her oncologist, Vicky discovered that she would have access to one particular drug in America that wasn't available to her doctors in Ireland because it's not licensed for cervical cancer - only for melanoma and some lung cancers.
"This doctor [in America] has tried this a couple of times with cervical cancer patients and all he does is cervical cancer and that's why, I feel in my bones... my gut feeling is that I need to get to him"
Speaking on her mental health, the Limerick woman says she has her bad days but overall is trying to keep a positive outlook in life and enjoy her time with her family.
"I'm happy to be alive, basically, that's my first thought [in the morning]. I got up this morning, look at that blue sky out there - it's great, you know?"
"I think my family are getting very anxious that I'm not a treatment at this stage and they're worried. I am too but because it's happening to me, it's easier to kind of contain it."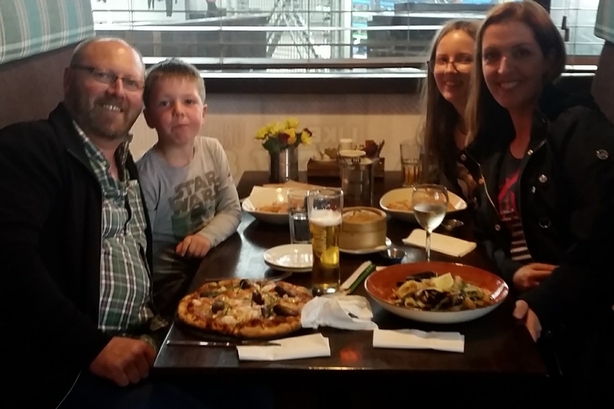 Vicky has refused to go through anymore rounds of chemotherapy because, although it may give her more time, it would make her extremely sick and the mother of two insists she wants to spend time with her 7-year-old son Darragh and 12-year-old daughter Amelia, who has has her own health difficulties.
"The reason I am the way I am is because of her. Amelia was born with a congenital disease, she's had a really tough life - if you think my life is hard, hers has been a lot tougher"
In the past ten days, the family of fighters have inspired 2,215 people to raise €110,280 of the €100,000 goal.
If you would like to contribute to Vicky's gofundme it page you can click here.