The week of love - and a week the kids love! Mid-term break provides a great opportunity to get out and spend some quality family time together and there are lots of different events on all over the island to entertain even the most fickle of children.
You'll find thousands of ideas for things to do in Ireland on YourDaysOut but we've selected a few of our favourites below.
1) Chinese New Year
Chinese New Year begins this year on 16th February.

Celebrating the Year of the Dog there are lots of events over the next two weeks including family crafts, dancing, art, spring fair and much more.

On Friday the National Museum of Decorative Arts & History in Collins Barracks will run a special art workshop for families from 14:30-16:00. The workshop will explore Chinese art styles, including traditional illustration styles and calligraphy. All the materials will be provided at the workshop, however you will need to book ahead to ensure your place.
Imaginosity, Dublin Children's Museum will celebrate with some very special arts & crafts workshops on Friday, Saturday & Sunday where children will use their personal creativity to make their very own Chinese Dragon Puppet for them to take home and celebrate with!
2) Northern Ireland Science Festival
With over 180 events across 50+ venues, the NI Science Festival offers a stimulating and wide range of events focusing on the wonders of science, technology, engineering, and mathematics.
These events present some of the best scientists from NI and beyond to discuss their work, cutting-edge research and what the future might hold.

During the day, the Festival offers a range of workshops, talks and interactive activities for young people, parents, and schools. In the evening we will present an eclectic mix of scientific debate, talks, theatres, comedy, music, and film for adults.
3) Toy Soldier Factory
The Toy Soldier Factory is open all through mid-term and you can also cast & paint your own metal miniature figure to take home after your visit.
Choose from their vast range of themed moulds, create your figure, bring it to life with your own imagination & take it home to show to all your friends & family. Options include a solider with a castle door and a fairy with a magical fairy door.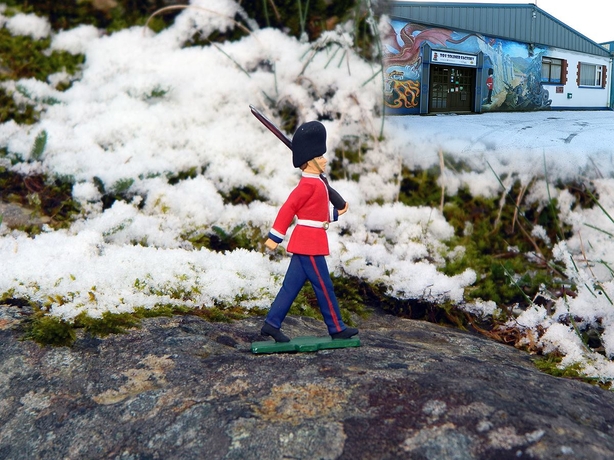 4)Roscommon Arts Centre
Roscommon Arts Centre hosts Jay Ryan of Branar Téatar do Pháistí on Friday morning in a fun and energetic 90-minute puppet making workshop where participants will have the opportunity to explore the world of puppetry by designing and creating their very own puppets.
The children will create a puppet out of paper, learn foundational puppetry skills, create a group story with their paper puppet and present a story to the rest of the group.
On Saturday, they have two performances of How to Catch a Star, based on the beloved book by award-winning Irish author Oliver Jeffers. Once there was a boy who was always looking up. He dreamt of having a star as a friend. This is the story of his adventure.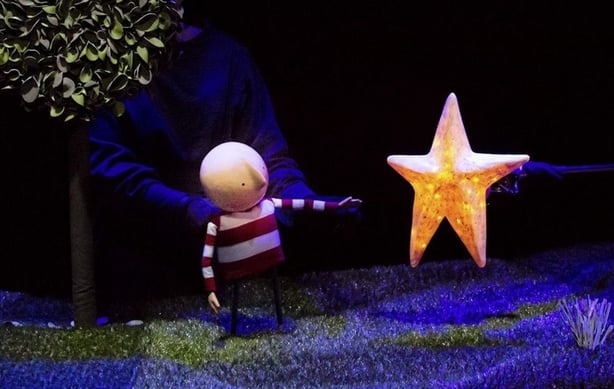 5) Winter Wooly Walk in aid of Cancer Fund For Children
Starting this weekend and running until 4th March, each walk ranges from 2 – 4 miles, taking in beautiful forests or wild and windy beaches. Walkers are free to stroll leisurely or can walk as briskly as you wish – it's all about having fun together as a family, getting out in the fresh air and enjoying the wonderful wintry scenery.
And by getting involved and fundraising, you will be showing your support to local children affected by cancer. So bring the kids, the grandparents and get the woolly hats on!
6) The Model, Sligo
Artists Sinéad O'Hanlon and Ana Faye take over The Model in Sligo this spring with ArtTrap on Sundays. This is a perfect space for children to innovate, explore and experiment, using art and craft-making processes.
It will run every Sunday from 12:30 - 14:00 until March 18th (no class on March 4th).
7) Castle Espie Wetlands Centre
Dusty Duck was kindly designed exclusively for WWT by the world-famous Aardman studios, the studios behind Early Man, Wallace and Gromit and Shaun the Sheep and you can join Dusty by grabbing your wellies, getting outside and having a splashing time at Dusty's Puddle Jumping Championships this weekend.
Bring your friends and family and see who can make the biggest, craziest splash as measured by our special splash-o-meters. The Championships are open to children no matter what age or ability, so come on down and make a splash.
Competition times: Fri 16th, Sat 17th & Sun 18th, 12-4pm
8) Glór, Ennis
Bosco meets Hansel & Gretel in a special performance with The Paula Lambert Puppet Theatre on Saturday 17th at 13:30.
A Bosco show is a completely interactive experience, with Bosco employing traditional theatre call-and-response methods to interact with the audience, and the audience – often young parents with their small kids – absolutely laps it up.
9) An Tain Arts Centre, Dundalk
Troll Puppet Tales is a fun family show for 0-3 yrs on Saturday 17th 11:30am.
Artist Cliodhna Noonan, who specialises in theatre for early years, will lead you and your little one on a journey through Swedish fairy tales, starring some loveable trolls. What do trolls sound like? Can they sing? What do they sing about? What do they look like? Where do they live and what do they eat?
Go along and find out!
10) Grand Opera House, Belfast
George's Marvellous Medicine runs until Saturday 17th in Belfast.
This show will be bursting with growing grannies, feathery farm animals, and bags of frothbuggling family fun. Don't miss Roald Dahl's treasured tale brought to phizz-whizzing life!
11) dlr Lexicon
On Saturday morning, dlr Lexicon host Feathered Friends for 8-11-year-olds.
This creative workshop for children will explore birds, their patterns and pattern making with artist Shirley Copperwhite whose work is currently on display at the Double Vision exhibition at the library.
12) Bray Comedy Festival
Bray Comedy Fest returns with another fantastic line-up and some fun family events. Running from 14th - 18th acts this weekend include Rubberbandits, Karl Spain, Kids Science Magic on Saturday & Sunday afternoon and the Punch Lion Kids' Comedy Club on Saturday afternoon.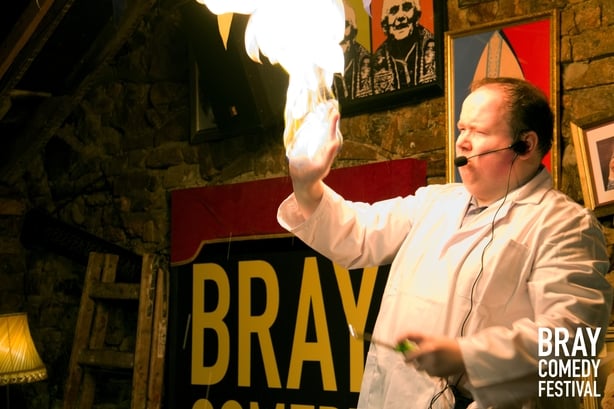 13) Castlecomer Discovery Park
Don't be climbing the walls this mid-term and climb the trees at Castlecomer instead.
Home to the longest zip wire in Ireland they are open for mid-term, every day from 11:00 - 15:00 with zip line, tree top walk, high ropes, the elf and fairy village, junior adventure course, climbing wall, forest walks, and woodland café.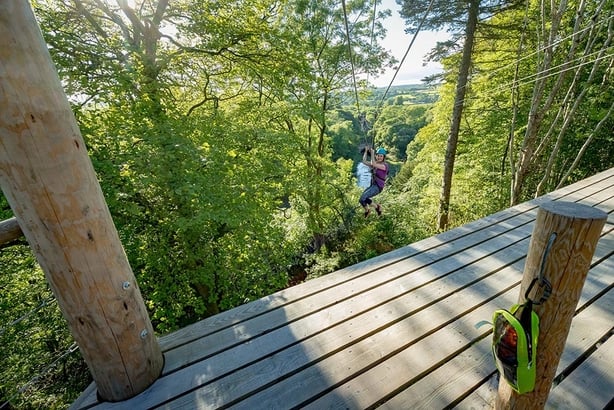 14) GAA Museum Junior Explorer Tours
The GAA Museum at Croke Park has announced it will be bringing back it's wildly popular Junior Explorer Tour for young families on Saturday mornings from 17th February with additional tours added Thursday 15th and Friday 16th February to entertain the family during their mid-term break.
The family-friendly tour, created to bring to life the magic of the home of Gaelic games for younger visitors, was a sell-out success last year with the countries littlest GAA fans taking over the iconic stadium. The tour lasts about 1.5 hours and the route is fully accessible for buggies.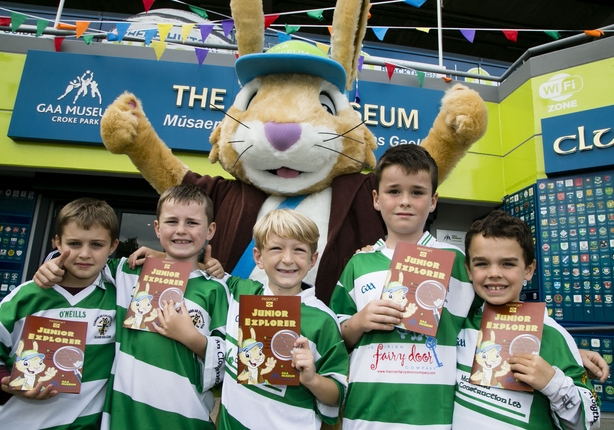 15) Courtown Adventure and Leisure Centre Family Day
Freedom Fit is an exciting new festival that promotes the diverse activities, health, and well-being offering that North Wexford has to offer. As part of the festival, Courtown Adventure & Leisure Centre has a special 50% family discount this Saturday.
Experience their new Junior Adventure Course, choose from Laser Tag, Archery, the new Zip Line, Climbing Walls or their 3 Swimming Pools and Water Slide. The ticket is valid for 3 hours on the Saturday, 17th, and pre-booking is essential.
16) JumpLanes Galway Under 5s Session
Every child loves to bounce on a trampoline but, due to safety concerns, they must usually be over five years of age.
However, JumpLanes in Galway continue their popular toddler mornings this Saturday where the smaller kids get to experience everything the big ones love about JumpLanes with a parent by their side. The session is from 10:00-11:00 and cost only €6 per child with a parent going free.
17) Ardgillan Castle & Playground
On Sunday, Ardgillan Castle hosts a special Fairy Party with a chance to meet the Ardgillan Fairies. The party will be held inside the castle where the children will get the opportunity the explore the fairy castle and find out where the fairies live in Winter.
Three things to do next week:
1) Northern Ireland Science Festival
The festival continues all week with some entertaining and educational events including Dr. Megaphone's Irish Jaunt in the Ulster Museum, Science Storytelling in various libraries and Life as an Astronaut in the Armagh Observatory and Planetarium.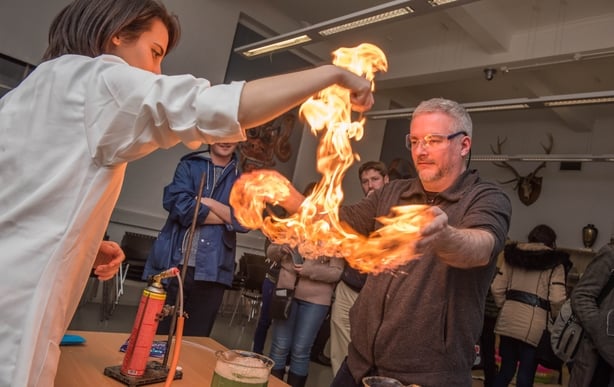 2) National Print Museum | PrintFest
Printfest gives you the opportunity to see the engineering behind the traditional craft of letterpress printing, as active retired printers and compositors demonstrate highlights of the Museum's collection and share stories of their time in the print industry. Printfest is suitable for all ages, with many printing and craft activities for all the family!
3) Engineers Week
Engineers Week is a week-long festival of nationwide events running celebrating the world of engineering in Ireland from 24 February to 2nd March.
The National Wax Museum will host numerous events and you can discover and experiment with the work of some of the most important Irish Engineers.
NUI Galway hosts a family fun day on 24th with plenty of science and engineering shows, movie screening, workshops and hands-on activities. Also, LSC in Cork will host two Robotics Workshops enabling children in the community to discover Engineering in a fun, engaging way.