Clinical Child Psychologist David Coleman was on Today with Sean O'Rourke to answer the difficult questions of parents at the end of their tether.
One parent wrote in with a scenario that may be familiar to many.
"We have a very good 14-year-old daughter but we're having problems for the last few weeks. She has worn short dresses before but the dress for the Valentine's disco she wants to buy online has so little material a swimsuit would cover her more.
"I've never seen anything like the tantrums and screaming for the dress. We are saying no… How can you talk to them?"
David says that although your children may disobey you, you must hold firm.
"Fair play to the parents for holding firm. I think if more of us held firm more often actually, we wouldn't have that kind of peer pressure on our kids.
"You see it sometimes with clothing absolutely for discos, you see it with the insidious arrival of mobile phones in primary schools and that's all because some child is allowed to do something and then that puts pressure on other kids to feel like they have to match it."
David says that in all likelihood, the dress will be purchased by a friend and she will sneak into it before the disco but that it's important for the parents to stick to their guns and to clearly explain their rationale for doing so.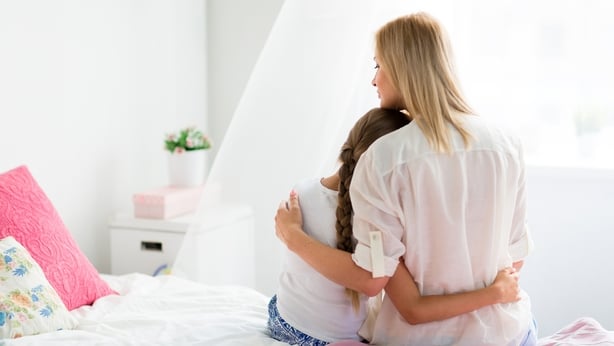 Another parent wrote in about an altogether more serious issue.
"My 12-year-old boy has become very badly behaved. He gets himself all worked up and keeps talking of killing himself and his funeral. He gets very distressed and we as his parents are at a loss… He's not that happy in school either. What am I to do?"
David says he would be very concerned about the fact that the boy has taken the suicide ideation to this level, considering what would happen after his death. Urgent action is required.
"I would bring him to the GP and ask for a referral to the local child and adolescent mental health service as a priority so he'll be treated as an urgent case given the level of suicidal ideation he's expressing…
"As well explore maybe a little bit more about the school. If he's very unhappy in school and his unhappiness in school is linked in some way to him being more sad and distressed and upset, I would just wonder if there's something like bullying happening.
"I've come across it time and time again where youngsters have been bullied, they've kept it a secret… It absolutely can lead to thoughts of self-harm and suicide."
If any of these issues affect you, and you need to talk to someone, The Samaritans can be contacted for free, 24 hours a day, on 116 123.
Click on the video above to listen to the interview from Today with Sean O'Rourke.
---
Did you know that today is Safer Internet Day? Check out our top parenting tips below:
Jennifer O'Connell shares her top parenting tips for Safer Internet Day
Digital Dad shares his top tips for keeping your kids safe online.
Brenda Power warns parents & teens about dangers of internet.